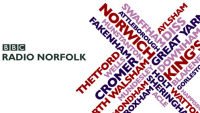 One on the Radio and Telly team was asked to appear on this morning's breakfast show on BBC Radio Norfolk to discuss problems with Freeview after the digital switchover.
Talking to Chris Goreham on BBC Radio Norfolk at 08:40 this morning, Pete from our site talked about the problems experienced by those in the Anglia region after the region's switchover in November 2011.
What problems are people experiencing?
Most typically, it's picture break-up, known as pixellation, and this indicates that the Freeview receiver is not getting a good, clean, signal.
As you're watching your favourite show, the picture may 'lock up' or break up into a mess of pixels, as the signal gets interrupted. In a lot of cases, this is temporary, and soon clears, but nonetheless, is incredible frustrating, and something that people weren't expecting after the digital switchover.
Why is this happening?
Digital TV signals are not as forgiving as the old analogue signals. If you've ever listened to DAB digital radio, you'll be familiar with the audio version of pixellation, where the sound cuts out or 'wobbles' – that's the digital effect, where the stream of zeros and ones is being interrupted or interfered with.
Common causes:
The main cause for interference and picture break-up is due to the Freeview TV or set-top box not getting a good signal. The 'strength' and the 'quality' of the signal are very important, and somewhere in your receiver's on-screen menu, there may be a meter to let you look at your signal to see what's going on.
Other key factors causing this include:
Weather and atmospherics
Interference from home appliances, such as central heating thermostats, washing machines, etc.
Local interference – taxis, motorbikes, lawnmowers, etc.
What's the advice?
It's best to try to work out what's causing the problem, before working out how to fix it:
Check how much signal you're getting, using the on-screen signal meter
Are your neighbours affected? (If not, then it could be a problem with your setup)
Does it happen at specific times of the day? (If so, it could point to lights, heating, appliances, etc)
It is on all of your TV sets? If no, then it might be an issue with TV extension leads and connectors
How to fix the problem
First off, do a "scan for channels" from your receiver. This will check to see if there is a stronger signal available
If you're getting interference from household appliances, then look at improving your home aerial wiring. TV extension leads, adapters and splitters all reduce the signal, as does "looping through" your video recorder. Using high-quality double-screened cables, and decent connectors can make a big difference
In some cases, a signal booster can help. This will only help where the signal strength is weak, and not where the signal 'quality' is poor.
Check your aerial – It could be that the aerial is damaged, not pointing at the right transmitter, or the cable is not in the best of shape
Problems from 2013
This is that last thing that people having problems will want to hear, but from next year, the problem is set to get worse for around 900,000 homes in the UK. Once the switchover completes this year, part of the TV spectrum will be sold off to mobile phone companies for the new UK 4G mobile network.
This means that your TV aerial will be picking up signals from mobile phone masts, causing more picture breakup and interference. People affected will be offered a filter to reduce the problem, and these will be funded by the mobile phone networks at an estimated cost of  £180 million. Around 10,000 homes will need to switch to a service like Freesat (via a satellite dish), as filters won't solve their problems.
We have more on this story here: 900,000 homes need a Freeview filter
More help?
If anyone in the Norfolk area needs advice on the problems they're getting, the following links might help: