View Quest WiFi200 Pocket Internet Radio Reviewed
The ViewQuest WiFi 200 is the smallest Internet radio we've found, and it packs an impressive audio punch for such a small wi-fi radio. Here's our full hands-on review of this pocket radio.
The View Quest WiFi200
A first for us – this product was something of an impulse purchase after watching one of the shopping channels on Freeview. Yes, after scorning TV shopping channels, one of our team saw this, and bought it. We'd actually seen one a few months before release at the 2010 Gadget Show in Birmingham. But we digress.
This is an impressive product. What we believe to be the world's smallest Internet radio – and as well as looking small and sexy, it's got an impressive sound.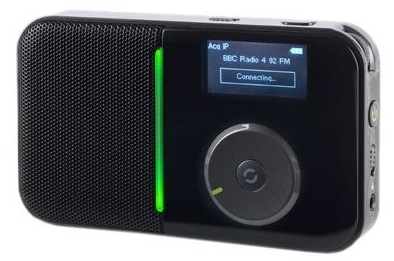 The View Quest WiFi 200 Internet Radio
Here are the basics:
Over 12,000 internet radio stations
Weighs just over 5.5 ounces
Search by country or genre
15 hours of radio on a single charge
Simple to use interface
Internet Radio
Internet radio's where it's at – wherever you are in the world, if you have an Internet connection, you have access to thousands of stations across the globe with an Internet radio. Tune in to your local station whilst travelling, or dip in and get a basin-full of any country's radio output.
Setting up the View Quest WiFi 200 was a piece of cake. At switch-on, you have to select a wireless network – the View Quest can remember 3 access points. Once selected, you have to enter the WEP or WPA security key of the wi-fi access point – you do this using the rotary dial on the front. A little fiddly, but you only do it once.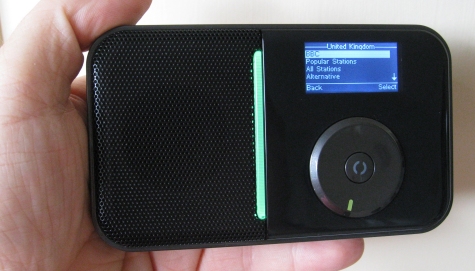 Selecting Stations
Pretty intuitive – Switch on the radio, and from the menu, select "All Stations". This gets you a list of stations on the vTuner portal. United Kingdom appears by default, and you can select by Location or Genre. BBC is at the top of the list, with the national then local stations listed. You can also choose from a list of popular stations.
Our podcast team run an online radio station, and this wasn't listed by default – but it's very easy to add a station that's not in the listing. You visit the vTuner website, create a free account, and enter the radio's Mac address. Add your station, the it appears in 'Added stations', which you can optionally assign to one of the 12 presets.
The controls
To switch on, hold down the Power button for a couple of seconds
The dial of he front is used for scrolling and menu selection. There's a Select button the centre
On the top, there's a Back button and on the top right, there's a rotary volume control
There's a 3.5mm stereo headphone jack on the right-hand side
Underneath, there's a USB mini socket and a reset button, under a rubber flap
There's a Lock switch to prevent accidental keypresses
View Quest Internet Radio Availability:
Available from the following online retailers:
Supplied with
The View Quest Wi-Fi radio is supplied with a slip case, manual and USB lead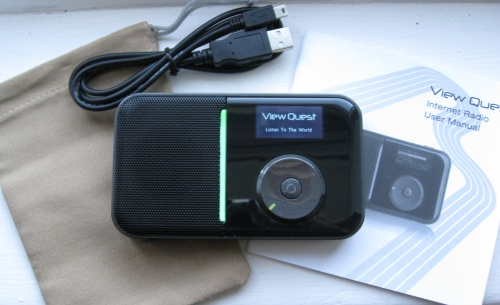 View Quest Connectors
The View Quest has a mini USB socket for charging, and a 3.5mm stereo headphone jack.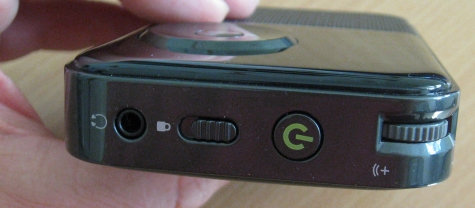 Summary
The View Quest Pocket WiFi Internet Radio is easy to use, and delivers a decent sound. We're happy to recommend this little radio!