Digital TV in the UK Explained
There are several different digital TV services on offer – Some require a monthly subscription, whilst others are free. On this page, we aim to explain the options and help you to find the service that's right for you.
What is Digital TV?
Between 2007 and October 2012, the UK's old analogue TV service was switched off as part of the Digital Switchover. With the analogue TV system now phased out, the UK is now "digital". Digital TV offers a far better TV viewing experience than the old analogue system and offers access to hundreds of channels.
Digital TV also offers other benefits including high definition channels and on-demand access to TV shows and movies. Digital services make use of on-screen electronic programme guides, offer interactive content, offer improved sound and picture quality, and optionally come with easy-to-use hard-disk recorders.






Digital TV services available in the UK
What are the Digital TV options?
The options open to you if you want Digital TV in your home, are:
Freeview
Freeview is received through your standard TV aerial. All channels are free to watch, there's no installation or subscription cost, no contract, and no engineer needs to visit.Freeview offers around 40 TV channels and 25 radio stations – the channel line-up is more limited than services from Sky and Virgin.

Getting Freeview: You either need to buy a special Freeview set-top box and connect it to your existing TV set, or get a TV that has a built-in Freeview.

See our Freeview pages for full details and answers to common questions.

Satellite TV from Sky
Here's why Sky Digital is the market leader for subscription TV:

Widest choice of TV channels, including Sky One, Sky Atlantic, GOLD, Comedy Central, SyFy, Disney, Nat Geo, Sky Living, Dave, Watch, Fox and MTV
Unrivalled Sports and Movies service
Up to 50 channels in HD (widest choice)
Record TV with the award-winning Sky+ box – the service that changes how you watch TV

Getting Sky: To get Sky, you sign up online and arrange for a Sky installer to install a satellite dish and hook up a digibox to your existing TV.

Prices: Sky is offering the following package: Over 250 digital TV channels, unlimited Broadband Internet access and free UK evening and weekend landline phone calls.


For more details on Sky, see our Sky page, or go to www.sky.com/shop.

Cable TV from Virgin

If you live in a part of the UK that's covered by cable TV operator Virgin Media, they may be able to provide you with a cable TV package, as well as home phone and high-speed Internet access. They will install a set-top box and an engineer will call to connect it to their fibre-optic cable.More on our Cable TV page. To see if cable is available in your area, go to www.virginmedia.com
YouView
The new YouView TV is designed for people looking to get more than the standard Freeview channels, without the expense of a long-term contract with Sky or VirginYouView offers access to catch-up TV from the BBC, ITV, 4oD and Demand 5, as well as Freeview HD channels, movies from Sky and a growing range of other services.

Getting YouView: You have a couple of options… buy the box for a one-off payment of £250, or get a free box from either BT or TalkTalk

Recommended – Great if you want more than the basic Freeview channels, without paying Sky's prices

More details on our YouView Explored page – or get a free YouView box: YouView from BT

BT TV
BT's TV service combines live TV from Freeview, with on-demand TV shows and movies. You get the BT TV Pro box which lets you record up to 600 hours of telly, and gives you access to content over a Broadband Internet connection. The service offers movies, TV shows, kids programming and sporting events. Now TV, NetFlix and BT Sport are available as optional extras, and you can access catch-up TV services from the BBC, ITV, Channel 4 and Channel 5 too.

Getting BT TV: BT TV is only available to BT Broadband customers.

More details at bt.com/tv

Satellite TV from Freesat
If you'd prefer not to subscribe, a number of free-to-view channels are also available with a suitable dish and digibox. Freesat offers free-to-view channels via a dish. This is a joint venture from the BBC and ITV.

More on our Free Satellite TV section.

TalkTalk TV
Formerly known as Tiscali TV or HomeChoice, this service is available in parts of the UK including London, Birmingham and Liverpool, and offers TV channels via your phone line. It's no longer available to new customers, as TalkTalk is now a YouView partner. More on our TalkTalk TV page.
What does digital TV offer?
More channels – Sky offers the biggest channel line-up, but check your potential provider to see if they have what you're after. Popular digital TV channels include Sky One, E4, BBC3, Dave, Sky Atlantic, Sky Living, G.O.L.D, Comedy Central, Watch, Fox and Alibi.
High Definition: There are over 50 channels of HD now available in the UK, offering stunning picture quality and impressive immersive sound.
EPG – An on-screen electronic programme guide, so you can control what you view and record. King of the EPGs is the Sky Planner, showing up to a week's worth of programmes on all of the available TV channels.
Reduced interference – Nice sharp pictures, without ghosting and interference. Freeview is susceptible to electrical interference in some environments, but in most cases digital TV offers better picture quality, and improved reception of Channel 5.
Digital recorders – These set-top boxes allow you to record one digital channel while watching a different channel, and are a much better recording experience than good old videotape. You may like to consider Sky+ , a Freeview PVR , the BT Vision box or the Virgin Media V+ box. These are hard-disk recorders that give you greater control of what you record.
What is Interactive TV?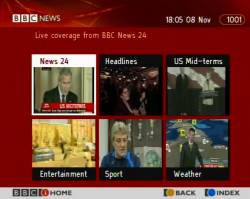 Most providers offer some kind of interactive service. Think Ceefax and Teletext, mixed with the Internet. Information on demand, plus two-way services over your phone line, such as email, online shopping and banking.
Sky TV viewers are encouraged to "press the red button" to get interactive, and try the news, offers, games, features, and pay services of their interactive offering, Sky Active. Alternatively, check out BBCi, the Beeb's excellent interactive service.
The science bit
If you're interested in the technical side, Digital TV uses something called multiplexing, to combine and compress multiple TV channels into a single transmission that can be decoded by a suitable digital receiver.
In the UK, digital TV follows the worldwide DVB (Digital Video Broadcast) standard. Digital TV via a TV aerial is more properly known as Digital Terrestrial TV (DTT).
More on Digital TV:
The world of digital TV changes fairly rapidly with new innovations such as 3D TV and Internet-enabled TV sets. As such, recommending the right digital TV set can be tricky, and it's not a service that we offer here at Radio & Telly due to the ever-evolving consumer market for TV sets. If you're looking for an online store to buy a low-priced TV set from a known manufacturer, we suggest you take a look at the Tesco Digital TV store.
Although we can't recommend the perfect TV for you, we're happy to help with recommendations for TV services though. For more on digital TV in the UK, you may find the following links of interest:
Digital TV Survey – You opinions on digital TV services
For more on Sky, see our Satellite page.
For help with connecting, reception problems and other TV issues, see our Freeview FAQ page
Discuss digital TV in our TV forum
For details of hard-disk recording solutions, see our Personal Video Recorder PVR page
Help and Advice: BT Vision , Freesat, Freeview, Sky TV, TalkTalk TV, Top Up TV, Virgin Media