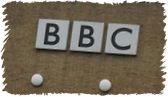 The BBC are still looking to make some drastic cost reductions as a result of the licence fee freeze. Plans to close BBC 6 Music and the Asian Network look like they've been put on hold, but the spotlight might now be turning to BBC local radio.
The BBC has a network of 40 local radio stations in the UK, and there's been a proposal to reduce the amount of local content produced by the network of local stations. If the plan was to go ahead, stations would keep their breakfast and drivetime shows, but during the day and overnight, would broadcast BBC 5 Live.
The BBC has been quick to point out that no decision has yet been made, and this is just one of the cost-cutting ideas being discussed.
You can find more on this story here: Guardian website