Adobe Audition Help and Advice
Information on the audio editing package Adobe Audition – A great tool for editing audio for radio and podcasting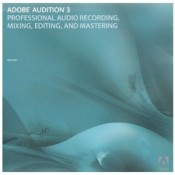 What is Adobe Audition?
It's a PC package that allows you to record, edit, mix and master audio. The package was formerly known as Cool Edit Pro, until it was bought by Adobe.
The package is used by podcasters, home recording studios, radio stations and audio enthusiasts to edit and alter audio.
Editing with Adobe Audition
Audition excels at editing an manipulating audio. At it's most basic level, it can be used to record audio from a microphone connected to the PC, then that audio can be edited, manipulated and altered.
key features include adding effects, audio processing, changing speeds, applying fades, and normalising audio levels. The package works with linear audio (such as WAV files), so that no audio quality is lost.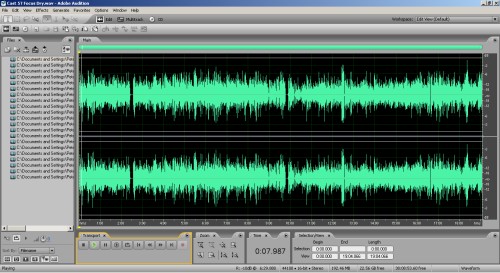 Adobe Audition Edit View
Another killer feature is that the package can 'restore' audio with Adobe Audition. If you work with a lot of sound files, particularly audio from old tape recordings or vinyl, you'll find there are a lot of artifacts to clean up.
With Audition, there are tools to fix common sound problems, including tools to remove microphone 'pops', tape hiss, earth hum, and clicks. You can also alter speed and level, and use a powerful graphic equaliser to try to clean up a poor audio recording. Audition doesn't work miracles, but the suite of noise reduction click/pop fixers and audio processing tools can make a big difference when restoring sound.
Mixing with Adobe Audition
Once you have your audio files on the PC and edited to your requirements, you can then use Adobe Audition to make a master mix – you use the Multitrack view to build up layers of sound, including voice, music, sound effects and instruments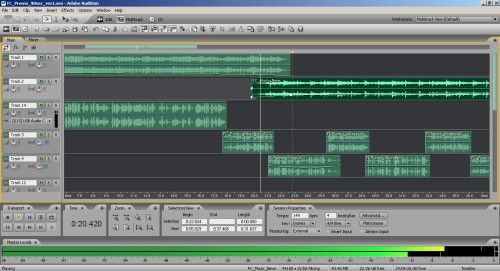 Adobe Audition Multitrack View
Using Adobe Audition's Multitrack view, you can trim and apply fades to grouped clips simultaneously. Record, edit, and mix any number of stereo tracks, and duplicate tracks for mixes.
Our podcast, FrequencyCast, is recorded, edited an mixed using Adobe Audition.
Adobe Audition – UK Availability
You can buy Adobe Audition from the following places:
Alternatives?
Although Adobe Audition is an excellent software package, it's not cheap. If you're looking for a free alternative that allows you to edit audio, we'd recommend you take a look at Audacity.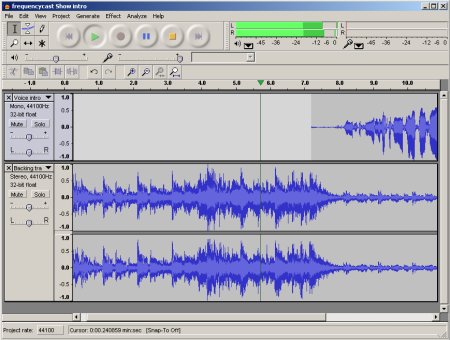 Audacity, the free alternative to Adobe's Audition
Adobe Audition Questions
Got a question? Please ask us
Error Message: We've seen this message when running Adobe Audition 2.0 "Adobe Audition could not find a supported audio device. Please check your device settings"
This has appeared after performing a tidy of our hard drive (deleting unwanted registry entries and/or startup apps). We couldn't find a fix, but for us, a re-install worked. You don't need to do a full re-install, a "Repair installation" seems to restore functionality.
Handy Links