Benny Hill – The Lost Years
This page contains a review of 'Benny Hill – The Lost Years', a new comedy DVD released in August 2005.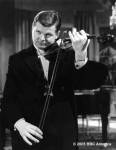 For fans of British comedy, the name Benny Hill needs little in the way of introduction. Many of us grew up on his cheeky humour on this half hour comedy shows. Benny Hill is, of course, no longer with us, but what many may not realise, is just how lone Benny Hill had been a part of British TV – It's a lot longer than you may think.
The Benny Hill Show began its long run on BBC Television way back in January 1955, and has been loved by many for generations. If you're a fan of this classic British entertainer, you might be interested to know that there's a DVD out there, that you may want to track down – "Benny Hill – The Lost Years". This first became available in August 2005.
Lost Years DVD
This DVD features a compilation of vintage Benny Hill material showing just what an all-round entertainer and great funny man that Benny was. His comic style established him as one of the UK's most naughty, but loveable, comedians.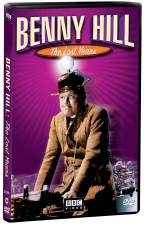 This DVD is a must for anyone who appreciates all things "Benny Hill", and it shows a more creative and considered side of his comic skills – no high-speed running around, or slapping bald-headed chaps on the head… this is more reliant on accents, clever comic timing, and observed humour.
The DVD contains content from 1958 to 1968, and is mostly in black-and-white. On the disk, you'll find three full-length episodes:
Bennys from Heaven (28 mins)
Benny & the Jests (30 mins)
The Good, the Bawd and the Benny (26 minutes)
These episodes feature Benny in a variety of guises (obviously), and feature appearances from famous faces such as Patricia Hayes, June Whitfield, Jeremy Hawk and Peter Vernon. Some of the sketches include:
An early sighting of Fred Scuttle (sans beret), as a TV audience research expert
Z-Cars, The Bo Peep Story
A small collection of some TV ads, including a German spoof of the Stork Taste Test, Bisto Gravy, and Benny's Indigestion Tablets
The fastest film-maker in the West
The Castle, a medieval tale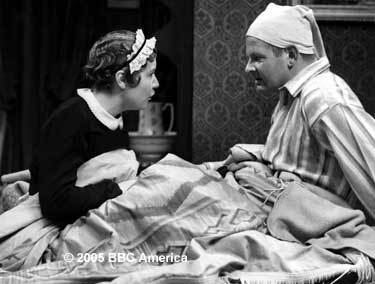 DVD Bonus Material
The bonus content on the DVD includes 15 minutes of extra snippets, and a small amount of cast biographical information. In total, the DVD includes 34 minutes of previously unreleased sketches.
Availability:
Released 2nd August 2005, this DVD is available in the US from Amazon.com
As far as we know, this isn't yet available in the UK. UK fans can order the Region 1 DVD from Amazon, or alternatively, may want to order The Best of Benny Hill.