Roberts Gemini 26 DAB Clock Radio
This page takes a closer look at the Roberts Gemini CRD26 DAB Clock Radio
Features:
DAB Digital Clock Radio
4 alarms – wake to DAB radio or buzzer
10 station presets
Blue display backlight
Favourite station function
Large easy-to-read 16 x 2 character display
Adjustable Sleep & Snooze timers
Auto display dimmer
Line out socket
Headphone socket
Review of the Roberts Gemini 26 DAB Clock Radio
The Gemini 26 from Roberts operates very well as a clock radio, and does exactly what you'd expect – it's not overly feature-packed, but as it's a clock radio, does it need to be? We think not…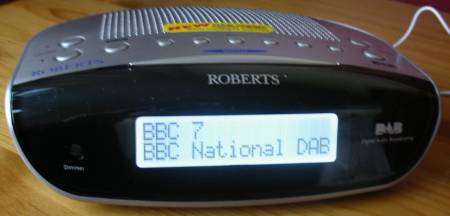 Rear of Roberts Gemini 26
The Gemini 26 works perfectly well as a DAB radio – as you'd expect with a clock radio, the aerial is a little dangly wire at the rear of the unit. Perfectly acceptable in areas where DAB signal is good, but likely not to be great in weaker areas. For us, the Gemini pulled in all of the local and national stations that we were expecting, and reception and sound quality was pretty good.
Alarm functions are pretty standard – there are four alarms, and you can select "weekday only" for your alarms as required. You can select Radio or Buzzer to wake you up. As well as these alarms, there are snooze and sleep functions.
One nice feature is that the clock radio has an auto dimmer located on the front of the radio that automatically adjusts the brightness of the display to suit the ambient room lighting. The main display can be togged to either a full-screen clock, or a two-line display with clock on one line and date on the other. The clock automatically updates based on a time signal sent over-the-air with the radio channel, so it's accurate and self-adjusts when the clocks change.
When listening to DAB, the Display button toggles between various modes, which are: Scrolling text, Programme Type, Multiplex Name, Time and Date, Channel and Frequency, Bit rate and audio type, Signal strength

Control buttons on the Roberts Gemini 26
The above shot shows the Gemini's buttons – nothing unexpected there. The next shot shows the rear of the unit, with the DC power socket (for use with the supplied mains adapter), and a headphone socket and Line Out socket.


Rear of Roberts Gemini 26
In summary: This is a pretty nice radio – sounds good, and has all of the features you'd expect from a clock radio – i.e. an alarm, and a snooze. Lacking? Well, there's no FM radio, and there's no option to run from batteries, if there's a power cut. Not enough to put us off, and we'd recommend this radio. Roberts has a good pedigree with DAB radios, and this is a well-made DAB receiver that just does the job
Availability:
Available for £69.99 from Currys
Specification
Power: Mains
Connectors: Stereo headphone socket, line our socket
Loudspeaker: 1 x 66mm
Output power: 1W (8 ohms)
Dimensions:178 x 144 x 51 mm
Question? Got a question on the Gemini 26? Contact us
Links
DAB radio models – View comments on the range of DAB receivers
DAB forum – Get talking and ask for advice in our Digital Radio forum