Denon AH-NC732 Noise Cancellers Reviewed
We live in noisy times, and that's why having a decent set of noise-cancelling headphones to allow you to get a little peace and quiet… is a must. We take a listen to the Denon AH-NC732 headphones.
Denon AH-NC732 Overview:
These are great-sounding closed-ear headphones that claim to eliminate up to 99% of background noise.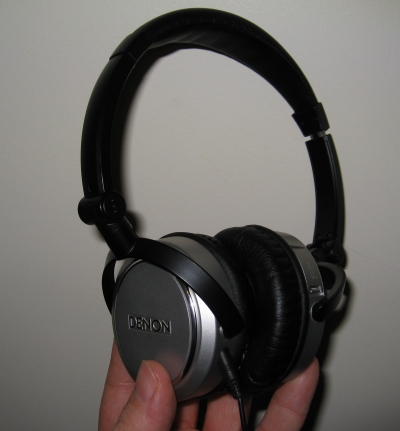 Denon AH-NC732 Specs: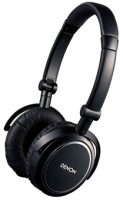 Here's a summary of the specification for these noise cancelling headphones:
Input impedance: 40 ohms
Sensitivity: 105 dB/mW
Maximum input: 100mW
Playback frequencies: 4Hz – 28kHz
Weight: 146g (no cable)
Cable length: 0.7m and 1.5m OFC cable
Plug: 3.5mm gold-plated stereo plug
Power: 1 x AAA battery (approx 40 hours with alkaline battery)
Denon AH-NC732 Review
These noise cancellers claim to reduce external noise by up to 99%, and in our informal tests, they certainly are pretty good at cutting out background noise. Note that where noise cancellers excel, is filtering our continuous noise, such as air conditioning, plane and train engine noise, and fans. What they're less good at, is zapping noisy commuters on the train, or crying kids. They work by listening to background and cancelling constant noise. These Denons do that job very well.
They're a nice comfy fit, hugging the ear nicely, and they don't look as ridiculous as some of the more chunky, and cheaper, noise cancellers on the market.
The Denon AH-NC732S are quipped with 40mm diameter driver units and acoustic optimiser, and they are powered from a single AAA battery that lives in the right ear housing.
Our previous favourite set of noise cancellers from Sennheiser required two batteries and a dongle that had to clip to a shirt pocket, so headphones with a built-in battery make for a welcome change.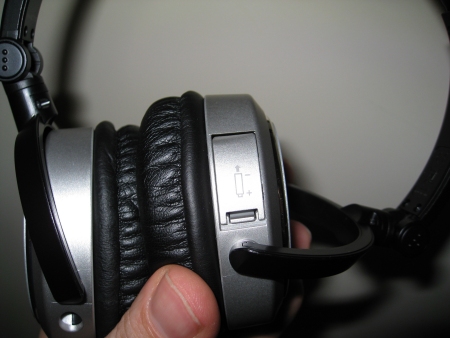 The battery compartment in the right ear
The earcups are made from a special urethane foam material, and do a good job of enclosing the ears, without cooking them
.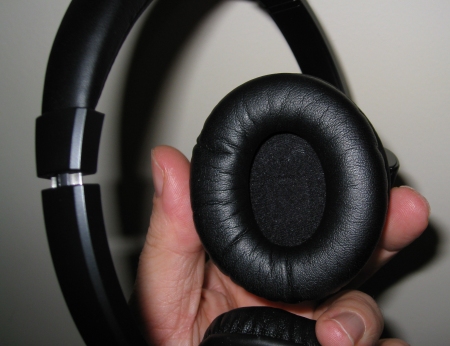 What of the sound? Well, pretty impressive. You get a nice natural sound, with not too much bass. The headphones work with or without the cancellation switch in place, and as with most cancellers, flicking the switch results in a momentary 'whoomph', followed by a slightly odd feeling while your ears adapt to the cancellation effect that these headphones employ.
You get around 40 hours on a single AAA battery, and if you don't have enough battery, they still function as standard headphones, just without the noise-cancelling bit.
Denon AH-NC732 UK availability:
Available in Black or Silver. Here is a list of online suppliers:
Supplied with?
Tough carry case
Headphone cables (both 0.7m and 1.5 m cables)
3.5" to 1/4 inch adapter
Aircraft headphone socket adapter
1 x AAA battery
Owners manual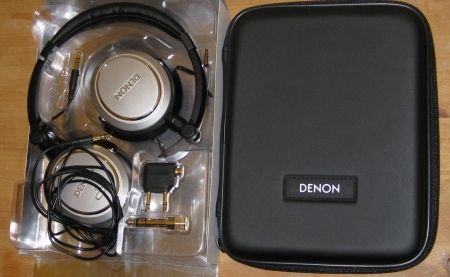 What's supplied with the Denon AH-Nc732 headphones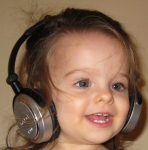 Denon AH-NC732 Summary
We've been very impressed with these headphones. They offer a warm sound, and do a solid job of isolating your ears from the outside world without applying an uncomfortable clamp.
We've tested these on a busy commuter train, and after a stressful day, sitting hack in your own little world listening to some good tunes is a great way of unwinding. It's amazing just how much of the background is removed – the constant rumble and ambiance of "train" is gone, and background chatter is only noticeable during quiet bits of audio.
They also work perfectly with home hi-fi – we found switching off the cancellation mode at home was the best option. Our podcast team was also impressed with these headphones. Take a listen to Show 34 to hear the guys review these Denons.
Quality headphones – and the perfect choice for travellers that want to block out the world.
Denon AH-NC732 FAQ
This section includes the answers
to frequently-asked questions we've received…