Griffin iTrip Dual Connect Explored
Got an iPhone or iPod Touch and want to listen to music in your car? This could be the perfect answer… get your audio on your car radio whilst you charge your Apple.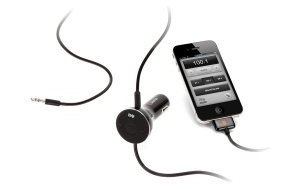 Griffin iTrip Dual Connect
What is the iTrip Dual Connect?
It has an iPod socket on one end, and a 12V car cigarette plug on the other – charge your iPod or iPhone whilst you drive, listening to your music:
Play your music or podcasts on your car stereo from the built-in FM transmitter
Cigarette charger has Play, Pause, Back and Forward controls
Free app available on iTunes to set transmitter frequency
Can also connect to a car sound system's AUX input
Smart frequency selection and engine noise reduction
Griffin iTrip Dual Connect GA22050 Specification
Compatibility: iPhone 4S, iPhone 4, iPhone 3GS, iPhone 3G and iPod Touch (2nd, 3rd and 4th generation).
Output Power: 5V at 1A
FM Frequency: 88 – 108MHz
Audio Frequency Response: 50Hz to 15kHz
Cable length: 1 metre
AUX Cable length: 90cm
iTrip GA22050 UK Availability:
The Griffin iTrip Dual Connect is now available from Amazon.co.uk
Know another supplier? Let us know
Griffin iTrip Dual Connect Review
We've been using the iTrip DualConnect for a few weeks now, and have been surprisingly impressed. In the past, we've used a small FM transmitter that plugs into the base of our iPhone 4, but having the unit in the bottom on the phone means it doesn't sit so well in the windscreen mount, and it makes charging whilst driving a little more difficult. This new product seems to make the difference.
The part that does the work plugs directly into the car's 12V cigar lighter, with a lead running to the iPhone's standard charging/data socket.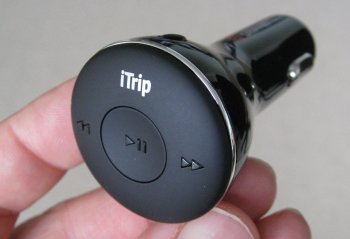 Griffin iTrip Charger
It sits comfortably in the socket, and the 1 metre cable reaches to the windscreen without a problem.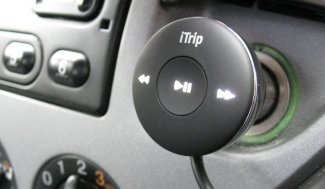 Griffin iTrip Controller
When plugged in, the three controls light up (a little too brightly at night), but do allow you to skip forward and back, as well as pause your music. That's about it for controls, as the rest is handled by the iOS app.
Griffin iTrip Application
The iTrip is controlled from the iPhone / iPod using a free app available from the iTunes App Store.
The app does the job well, offering an on-screen rotary tuning control to help you find a frequency, or you can auto-search for a free slot. From within the app, you can control what track you play, and also see album art – Once the app's running, you can task away and use the normal Music app for your tunes or podcasts.
Here are a couple of screenshots of the app in action: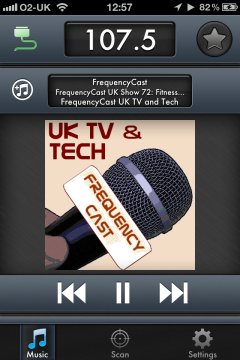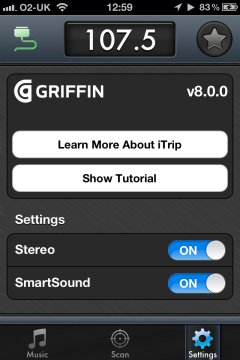 Griffin iTrip iPhone Screen 1
Using the iTrip
It's been working well for us. Physically, the product connects without a problem and works with our existing car mount. As with all low-power FM transmitters, finding a free frequency on the crowded FM dial is tricky, and in a long journey around the northern part of the M25, a couple of re-tunes were needed as we got close to some local radio stations, and a pirate or two in the London area.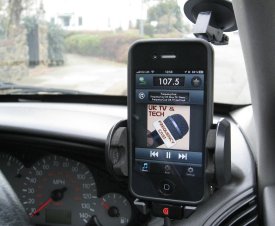 Griffin iTrip in situ
Audio quality is generally good. In-car transmitters are never that great, as the output power has to be kept at a minimum to not upset nearby cars, so don't expect miracles, but this is certainly one of the better solutions that we've tried, and the combined transmitter / charge does solve lots of problems.
Hard to fault the iTrip, although a few minor niggles. The iTrip broadcasts what track it's playing so that your car radio's RDS display can see it – this was pretty hit-and-miss on our test drive, with "ROXETTE" showing most of the time we were driving, even though we'd played lots of tracks since playing this early track. As mentioned before, the LEDs on the buttons are quite bright, which we found a little distracting at night. Also, on occasions, the audio 'dipped' in volume briefly (although this could have been the iPhone or even the RDS scanning on the radio)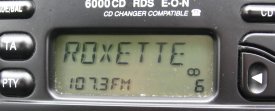 Griffin iTrip showing on an RDS radio
In general though – a good solution, and it works better than a lot of others we've tried. The 3.5mm socket for cars with a standard line-in jack is a bonus too (the Dual part of DualConnect)
Supplied with
The iTrip GA22050 is supplied with a very basic manual and a 3.5mm-to-3.5mm audio lead.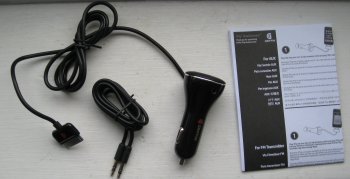 Griffin iTrip Supplied With
iTrip GA22050 UK Availability:
The Griffin iTrip Dual Connect is now available from Amazon.co.uk
Griffin iTrip DualConnect FAQ
This section includes the answers
to frequently-asked questions we've received…
Got a comment or a question on the Griffin iTrip? Ask here
Related links
Podcasts – Information on getting free speech programmes for your iPhone
Griffin Navigate – get FM radio for your iPhone
DAB radios – A list of DAB radios available in the UK