Mikomi Digital Recorder ET-880 Reviewed
Review of the Mikomi ET-880 Digital Dictaphone

We were struggling to find a review of this 64Meg handheld dictation machine before we bought one. To help anyone that's been considering buying one, this page contains a few notes on this handheld recorder.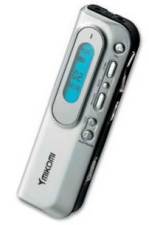 The Mikomi ET-880 Digital Dictaphone
A look at the Mikomi ET880:
This has the following specs:
Blue EL backlight.

MP3 player, voice recorder and player.

Hold key

Recording modes: Long play = 18 hours, short play = 4 hours.
Availability:
The Mikomi Digital Recorder is available from the following sources:
Sorry – unable to find a supplier
Looking for an alternative digital recorder? We suggest you try Argos
Thanks to site visitor Ian for telling us the following: "Aldi has the Mikomi Digital recorder. It is being sold under Aldi own label, Tevion, as of 31 Dec 2006, for £29.99 for a 512mb unit"
Update from site visitor Keith (Jul 07): "Aldi are now selling this off as the Tevion Digital Recorder… now reduced to about £14 in stores where still available"

Found an online supplier? Please let us know.
Alternative? Consider the Olympus DS-30
Mini Review
The recorder has a built-in memory of 64Mb and records in two modes: High quality (240 minutes recording) or Low quality (1080 minutes). Rather than write a product review, we'll provide a quick summary of the functionality, and tell you the things we think you want to know…
It measures 105 x 30 x 16 mm and weighs 36 grams
The unit is powered by two AAA batteries
Other info: output power 90Mw, frequency of recording 500Hz to 2.5KHz
It has three connectors – a stereo headphone socket, a mono mic input socket (3.5mm type – impedance 2k ohm) and a USB connector
The ET880 is very easy to use – it can either be used as a digital voice recorder (via the built-in mic or an external mic), or as an MP3 player. It has a small built-in speaker, which is adequate for listening back to recordings or MP3 files.
PC connectivity is via a supplied USB cable. On Windows XP, no special driver was required, and a drive appeared in My Computer for copying files between recorder and PC.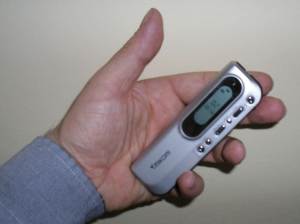 The Mikomi in hand
Recordings are made in the .act file format, and a small application, called acset.exe , is supplied on the CD to play these files back on a PC and to convert them to MP3. Once converted, the resulting file is an MPEG Audio Layer-3
32Kbps MP3 file. The following short file was recorded in Standard-Play and converted from the native ACT file format to MP3 using the supplied software: Test audio file
As you'll hear from the test file, audio quality is acceptable, but pretty basic – don't expect to be able to use the audio for anything other than basic playback and transcribing of audio – although with a better mic, results may improve.
In summary, for it's price (under £30), this is quite a capable recorder – the audio quality is pretty low (as expected from a unit like this), but it has some nice extras – such as the external tie-clip mic, MP3 playback, and the little adapter kit that allows recording of phone calls. With four hours of higher-quality audio recording, it's a handy gadget for recording meetings, capturing family tree notes or other similar activities – the mic is quite sensitive, so can pick up quiet background sounds. PC connectivity is also a bonus, as most digital recorders of this type don't support copying audio to a computer.
Thanks to site visitor Richard Langner for submitting the following:
I just bought the ET880 from Aldi (31 Dec 2006). It looks and performs just great, although the instruction book reads like a bad translation. Here are some comments:

On SP it records WAV files, on LP it records ACT files which can be converted with the utility supplied. The converter only does one file at a time though.
Quality on LP is good although a little noisy.
There is a VOX setting which records only when sound is present. This does not work on SP although there is a menu setting for this.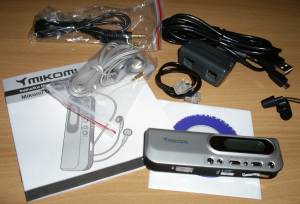 Our Mikomi ET-880 came packaged with the following:
18 page instruction book
CD
Stereo headphones
External tie mic
USB lead for PC connection
3.5mm to 3.5mm audio lead
Adapter for recording phone calls
FAQ
This section includes the answers
to frequently-asked questions we've received…
Connect to PC
PC connectivity is via a supplied USB cable. On Windows XP, no special driver was required, and a drive appeared in My Computer for copying files between recorder and PC. You simply drag the file to the PC.

If using Windows 98, there's a special driver on the CD, called MDiskSetUNI.exe

You then need to convert from the native ACT file format to MP3 using the supplied software (see below)

Having problems connecting? Make sure the Mikomi is switched on, and the device is plugged into a working USB slot. If having problems, try using a different USB port, or check in Windows Device Manager to troubleshoot the USB device

Converting files

By default, the Mikomi records audio in the ACT file format. You can convert this to the MP3 file format using the application supplied on the CD. The application is installed via the file ACSet.exe . Once installed, select the "Play Sound" option – this allows you to play a sound in ACT format, and there's a tick box to allow export to MP3


Playing and converting an ACT file

We've been asked by a couple of visitors if we can help with the ACT converter file, as they've lost the CD. We've put a copy of the file on this site, to help those struggling to find it. This has been published in good faith, and will be removed if requested by Mikomi – Download and use at your own risk. Download ACSetup.exe (1.5 Meg Windows exe)

Setting the clock
We've been asked the following by a site visitor; "How do you set the clock on the ET-880?"

No idea… We didn't even know there is a clock on the Mikomi ET-880

Recording phone calls
Our Mikomi unit was provided with a telephone recording adapter, which oddly isn't mentioned in the manual, on the box, or on the Argos website. In response to a message from a site visitor, we tried this out. The adapter has three connectors: an audio lead that goes from the adapter to the mic in socket, and two RJ11 square phone sockets – one of these connects to the phone line, and one connects to the telephone handset.

We tried this out, and all we could get was a buzz. Perhaps it doesn't work with our broadband line or handset, or perhaps it doesn't work in the UK. If you have any info, please let us know

Thanks to Richard Langner for telling us the following: " The PHONE ADAPTER should not be connected to the phone line – ring voltages exceed 100v and will wreck the device. The adapter may only be used on a corded phone. Disconnect the curly lead which is between the handset and base unit. Insert the adapter and it's lead to complete the circuit." (Dec 2006)

Thanks to Mike Kearey for the following: "I Purchased the ALDI Tevion 512Mb 32Hr/144Hr version and tried the telephone adapter. My phones handset lead has the smaller RJ connector while the Phone Line has the larger RJ, as used in the adapter. I found from the Maplin catalogue, that some commercial adapters are made to interface in-line with the phone rather than the handset, so I tried it. I connected as the adapter is marked, with The Line to 'Line' and Telephone to 'Tel'. It works very well.
As a rule I would unplug the audio lead from the ET-880 when not actually 'making' a call (the phone still works as normal with the adapter left in ), that means it won't be connected at the time of an incoming call but If you need to, you can just plug the audio lead into the ET-880 during a call. You should tell the caller that you are recording the conversation.