Freeview in the North West goes Welsh

We're getting a number of reports that Freeview viewers in North West of England have lost their regional programmes after rescanning their set-top boxes. BBC North West has been replaced with Welsh regional programmes.
We've had messages from Freeview viewers in the Liverpool and Manchester area, and it seems that those in range of the Winter Hill transmitter are being affected.
We've found the reason for this – at the end of October, the North Wales TV region completed part of the Digital Switchover, meaning that the power from the Welsh Moel-y-Parc transmitter is now stronger than the Winter Hill Transmitter for some viewers.
Viewers in the North West that have been affected, may find that their regional channels have been shifted to a set of channels reserved for regional "duplicate channels". If you've lost your regional programmes, take a look at channels starting with number 801 – your missing regional channels should be hiding there. As an example, one viewer tells us that BBC1 North West has moved from Freeview Channel 1 to Channel 805.
Our tech team has the following advice for affected users:
If your Freeview box or Freeview TV allow it, manually retune BBC-A and D3-4 (the two multiplexes that carry BBC and ITV programmes) to the UHF channel numbers for your local transmitter. Here's how to find the UHF channel numbers:
Go to http://www.digitaluk.co.uk/ and enter your postcode into the postcode checker.
Click on the pink box labelled "Full reception forecast"
Select "How do I retune?"
There, you'll find advice on how to do a manual retune, and also the UHF channel numbers for your nearest transmitter (see example below). "Group 1" is the BBC multiplex and "Group 2" is the ITV multiplex.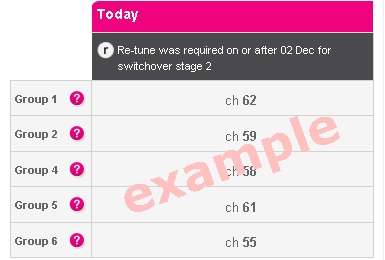 By doing a manual retune, you should be able to get your local regional programmes back to their rightful place in the Freeview channel lineup. There's a handy page instructions on how to retune at digitaluk.co.uk/retuning
If you need help with retuning, please ask in our Freeview Help Forum, or if you need help over the phone, call Digital UK's helpline on 08456 505050.
Affected by this issue? Please let us know in our comments section.
Originally posted 29 Oct 09. Updated 16 Dec 09