Freeview Launches iPhone App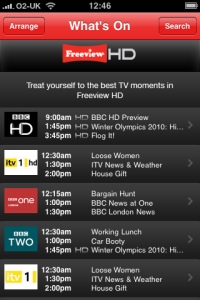 Freeview has just launched its first iPhone app, offering access to TV listings for over 50 Freeview channels, including BBC HD and ITV 1 HD.
The Freeview HD App includes a "top ten channel list", a powerful search option, the ability to re-order your channels, and access to Freeview's Twitter feed for news and programme recommendations.
When you view a listing, you're also presented with "if you like this, we also recommend", which throws up some rather interesting results on occasion!
An odd choice to call it "Freeview HD" when Freeview HD's availability is currently so limited, but this may mark the start of Freeview's big push to increase HD awareness.
All-in-all, a well designed and powerful little app, great for iPhone and iPod Touch wielding Freeview fans.
"Freeview HD for iPhone" is available for free from the iTunes App Store