Nikkai LCD Digital and Analogue TV Reviewed
We fell across the Nikkai A00JQ LCD TV at our local Maplin store – A 7 inch analogue and digital TV with support for multimedia – for £70. Here's our review of this small telly.
What is the Nikkai LCD TV?
The model number for this little telly, should you need it, is the Nikkai JV-TVC707EA.
This compact little 7″ TV is made under the Nikkai brand for UK firm Maplin has proved to be the perfect little find. Ideal for sitting on a desk in a home office to provide TV while working on the PC.
The Nikkai LCD TV has both an analogue and a digital tuner, so it's capable of getting the Freeview TV and radio channels if your aerial can get a decent Freeview signal. For those in areas that have not made the digital switch, it's also capable of getting the standard analogue signals of BBC1, BBC2, ITV, Channel 4 and 5, as well as from a Sky box RF out socket.
It's also capable of playing back media from a USB stick – handy for watching AVI files, watching a slideshow of photos or listening to music.
Here's a summary of what this TV, better known as the Nikkai JV-TVC707EA, has to offer:
Receive Freeview (DVB-T) channels as well as analogue TV
AV video input allows connection of a camcorder, VCR/DVD, or security camera
USB and SD/MMC/MS inputs
Playback MPEG4 (AVI) compressed video (DivX etc.)
Playback your MP3 music collection
Digital photo frame mode – view JPG photos, with 12-picture preview and rotate function
Supplied with indoor and 12V car power supplies
Integrated stand and removable pan and tilt mount
Use either supplied telescopic aerial, supplied DVB-T mini aerial or link to a main aerial feed
PAL tuner suitable for reception throughout Europe
7-day Electronic Programme Guide (EPG)
Fully featured remote control accesses the on-screen menu display
Internal stereo speakers and output connector for external speakers
Let's take a little look at what this telly can do in a little more detail…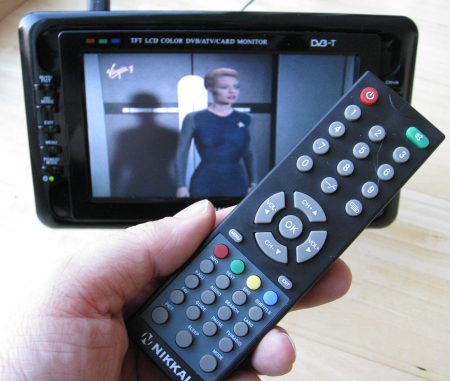 The Nikkai TV comes with a telescopic aerial, which for us was not able to get a great signal, and we stood no chance getting Freeview where we live. The telly is also supplied with a more sturdy desktop base aerial (intended for cars, we assume), which got an acceptable analogue signal. The telescoping aerial can be removed, leaving a standard co-ax aerial socket for connection to a rooftop aerial. We plugged into an aerial socket, and hey presto – all of the analogue and all of the Freeview channels. Auto-setup made scanning for channels a breeze.
We've also been using the Nikkai as a digital picture frame with images on a connected USB memory stick, and for playing back our small collection of TV shows in DivX AVI format.
It's also great with Freeview with a workable 7 day electronic programme guide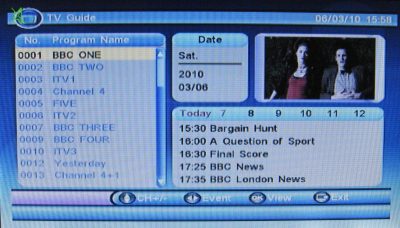 Our thoughts
The Nikkai is pretty easy to use. Most of the functions are available from the buttons on either side of the screen, but everything can be driven from the remote.
Negatives? No – not really. The TV is not the most stylish unit in the world, but that's aesthetics. The only real down size is the audio – the speakers are fairly small, and on the rear of the TV, which means the sound is adequate, but not stunning. Compared with a larger TV, or even a TV on a PC with a decent set of speakers, the audio is a little tinny, and MP3 music playback was a little disappointing. Good news is that there's an audio out, so you can hook it up to a better set of speakers, or run the sound through headphones.
Otherwise, hard to fault – good clear picture, easy-to-use.
Nikkai LCD TV Specification:
Input: AV video (3.5mm jack with 3 x RCA adaptor)
Output: earphone jack
Power: DC 12-24V, 10W (car and mains power supplies included)
Dimensions: 230 x 135 x 35 mm
Weight: 556g
For more details of the Nikkai TV, go to Maplin.co.uk
Supplied with?
The Nikkai TV from Maplin is supplied with:
Telescopic aerial and desktop aerial
Mains transformer
Desktop stand
Remote control and batteries
Stereo headphones
12V car adapter
Instruction manual
AV connector
Co-ax aerial adapter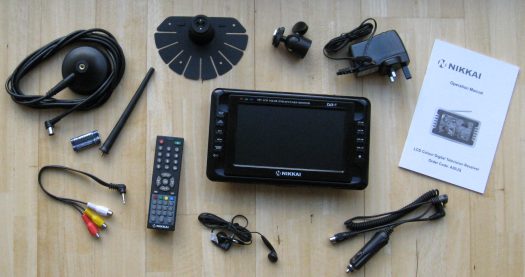 Need help?
Got a question about this little TV from Nikkai and Maplin? Ask away.
Your Questions
Power Supply:
"I've bought a Nikkai 8″ tv from ebay and it does not have a power supply with it model no is A13fg can you tell me what type i would need ie power and wattage"

We have the 7″ Nikkai TFT LCD TV (Model JV-TVC707EA), and this model is supplied with the following power supply (see image of power supply label)

Manufacturer: Golden Profit Electronics Ltd
Model: GPE182-120120-3
Input: 100-240V ~ 50/60Hz 0.5A
Output: 12V 1200mA 14.4VA
Tip is positive, shield is negative
Manual for Nikkai A00JQ:
We've received a few requests for help in finding a manual for the Nikkai 7″ TV. This was available as a PDF file from the Maplin Site – It was shown on the entry for the Nikkai 7″ flatscreen TV at Maplin – Last time we checked, the product was no longer listed, meaning the manual was not longer listed either. If you can't find the manual, try contacting Maplin Support.
Picture Upside Down
Question: "A problem with Nikkai LCD DVB-T model No JV-TVC707EA. TV has worked well until today when switching on the picture is both  upside down and reversed, so it can't be watched even if we turn the  set upside down."

It's an easy fix. Press the "Mode" button to get to Analogue TV mode (a blue screen with "TV" in the left corner). Now, press 'Menu', scroll down to 'System' and scroll right. Scroll down to the forth icon (a square with two arrows), and change the value. For us, option "3" shows picture the correct way round.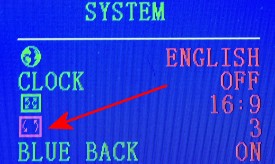 Picture Off The Screen
Question: "My Nikkai digital TV 9 inch the picture has moved up of the screen and I can't see the menu in order to fix"

As far as we can tell, there is no way to change the settings other than through the on-screen menu. There is no reset button.
The only thing I can suggest is that you try to navigate to the menu using the instructions in the book – Even though you can't see the screen, you should still be able to follow the steps in the manual to change the menu options and change the picture position.

We have the 7″ version here – If we can help with the menu settings, let us know. Otherwise, give the Maplin helpdesk a call.
How to re-tune this TV:
Question: "I can't work out how to re-tune my Nikkai 7 inch DVT-3 TV" (Nicola)

To re-tune (scan for Freeview channels), press 'Menu', scroll right to "SETUP" and select "Installation". Then press the "OK" button to scan AUTO SCAN.
Lost the remote
Question: "I bought this TV from Maplin about a year ago but having refurbished my kitchen, I have mislaid the remote. Can you tell me how to get a replacement" (Nicola)

Normally, we'd suggest getting a programmable Universal controller as a replacement, but as the Nikkai is not a common model of TV, we're not sure a universal controller would have the codes needed. Probably best to contact Maplin's Customer Support team to see if they can help with a replacement. Their number is 0844 557 6000, and their website is here: www.maplin.co.uk.
Red Button?
Question: "I am a bit disappointed that the red button doesn't work on BBC. Is this not available – even though the remote has these buttons, or is it a fault." (Nicola)

Sadly, it's not a fault. The 'Red Button' / Digital Text services are not available on this little telly. We assume it doesn't have the appropriate MHEG software built-in to support this functionality.
AV Cable Wiring
Question: Is there any chance of getting a pinout diagram of the AV cable? I've got a compatible cable but not sure of the pinout. (Alex)

Sure. See the picture below. Looking at the 3.5mm jack, left to right:
The left pin (S) goes to the screen of each of the three phonos
The next (Y) goes to the inner core of the yellow video lead
The next one (R) goes to the inner core of the red audio lead
The tip of the plug (W) goes to the inner core of the white audio lead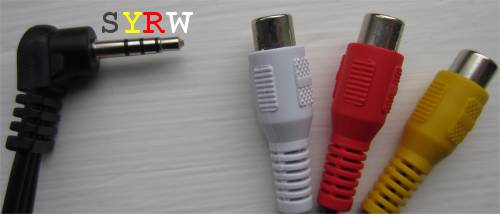 Subtitles
Question: How can I turn the sub-titles Off permanently for watching TV programmes."

To disable subtitles, go to the "Setup: Installation" menu, and set "Subtitle Language" to "Off". You can also toggle subtitles using the grey Subtitle button on the remote control, which pops us a Subtitle dialog letting you turn subtitles on or off.
Playing back music
Scott asks: "Ive bought a nikkai 7″ tv and put my music  on a sd card and it plays with no sound so im just wondering why not and is there some thing i can download?"
The Nikkai TV supports playback of MP3 audio files. There's no need to download any additional software. To play music, copy your music MP3 files onto a USB stick or SD card, and do the following: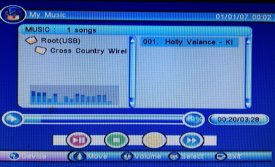 Insert the USB stick or SD card into the TV
Press Menu
Scroll to Multimedia
Select My Music
Scroll to the track you want to play
Use the Red button for pay/pause, and the Green button to stop
If you're not hearing music, make sure the TV is not on Mute and the volume is turned up
Related Links: