Radio Controlled Clocks and Watches
In the radio and TV industry, having accurate clocks in every studio is essential – to make sure that key programme junctions are hit, and to ensure that the radio and TV news happens exactly at the top of the hour.
Until the 90's, stations used expensive systems for getting the accurate time, but now radio controlled timepieces are available for home use. Radio-controlled clocks are accurate to the second as they get updated with time information over-the-air from an atomic clock. They self-correct when the clocks go back or forward due to summertime adjustments, and so are incredibly accurate and need little if any adjustment, ever…
How do they work? Radio-controlled timepieces receive regular time and date updates over the air via a constantly broadcast long wave radio signal. Clocks on sale in the UK either receive their time signal over-the-air from Anthorn in Cumbria (MSF 60kHz), or from the DCF77 European transmitter in Mainflingen, Frankfurt, Germany.
For details of the UK MSF service, click here. Note that in 2007, the UK MSF signal moved from Rugby to Anthorn in Cumbria (more)
Here is an example of the range of self-updating clocks and timepieces available in the UK



Wall clocks

There are a whole range of radio-controlled wall clocks available. Take a look at the following links:

Basic silver Acctim model (pictured) for under £10 from Argos (Cat no:255/1966)

Digital Wall Clock £29.99 from Maplin Electronics

Precision Radio Controlled Wall Clock with internal and external temperature display- £24.99 from Argos. (Cat no:255/3469)

Aluminium Klik Wall Clock for £17.99 from Argos. (Cat no:255/1502)




Radio-controlled watches

Junghans has a name within that industry for accuracy and quality, through their use of radio control technology. Their watches contain a radio receiver that regularly checks for the current time from the Frankfurt transmitter, and some are solar powered. The practical upshot of this is that you never need to adjust your watch (it even corrects for GMT/BST changeover), it'll never need a new battery, and it's never more than a second inaccurate. The downside? They're not cheap, with prices starting from around the £200 mark!
See the range at www.junghanswatches.co.uk.

Another option to consider, is the Casio range of Wave Ceptor watches. These radio controlled watches are dual-band which, unlike other radio controlled products, allow you to switch between the UK and mainland Europe time signal transmitters in Anthorn and Frankfurt for a wider signal range. As you'd expect from Casio, as well as being watches with atomic timekeeping, many of the WaveCeptor range come with other features, such as: world time, stopwatch, Illuminator (EL backlight), 5 alarms, date alert and some are water resistant to 50 metres.

Prices start from around £55 – For a range of Casio Waveceptor watches, go to argos.co.uk. At the time of writing, there also a good range at Amazon – See Waveceptors at Amazon


A lower-priced alternative is available for under £30. The silver and black watch to the right comes with alarm, backlight, date display, and it's water resistant. Watch face measures 20 x 15mm.

Clock Radio

A Morphy Richards AM/FM clock radio with dual alarm set to daily or weekly. Snooze button. Adjustable sleep timer. LCD display with backlight. Auto time change at start/end British summertime. Resets time every four hours

Sadly, we can no longer find a supplier for this. Recommend an alternative?




Radio Controlled Desk / Wall Clock

Features: Clock, date and month, alarm and snooze function

Available for £19.99 from Maplin Electronics




Projector – Projects the time onto the wall/ceiling of a darkened room.

Features: 8-minute snooze function , Crescendo alarm with increasing volume, radio controlled clock with time synchronised by MSF radio signal from Anthorn in Cumbria (Always accurate and changes from BST to GMT) . Hi-Glo backlit display. Measures 110 x 100 x 56mm. Mains and battery powered – ships complete with 2 x AA (1.5V) batteries and mains powered AC adaptor for constant projection. Both the UK power adaptor and the UK-based MSF signal used to set the clock mean that this product is for us in the UK only.

Available for £24.95 from Firebox

Also worth considering:

Radio Controlled Projection Alarm Clock with AM/FM Radio from Argos. (Cat no: 255/1241)




Radio Controlled Travel Alarm Clock

A variety of radio controlled travel clocks are available, some with features including built-in FM Radio, indoor temperature measurement in Celsius or Fahrenheit, snooze, hourly chime function and backlight.

A range of clocks is available from various gadget shops.
Radio Controlled Clock Suppliers
The following online retails can help with radio controlled clocks and watches:
Keep your PC on time
Ever find that your computer's clock has drifted? You can keep your PC's clock running to an accurate time by getting it to talk to something called an NTP server.
Instructions for Windows XP:
Double-click on the clock in the bottom-right
Select the "Internet Time" tab
Select a server. The defaults is time.windows.com, but our NTP server of choice is europe.pool.ntp.org
Press Apply.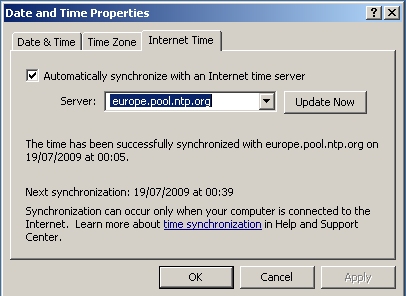 Keep your PC clock accurate too, with an NTP server.
Radio Controlled Time FAQ:
Questions from our site visitors. Got a general question about radio-controlled clocks? Let us know and we'll try to add an answer
Automatic updates
Provided your clock or watch is able to receive the signal from the time transmitter, it should automatically update to the correct time – so when the clocks go back and forward for GMT / BST, your device should advance or go back by one hour as appropriate.
Changing the hour?
We've been asked whether it's possible to change the hour on radio controlled clocks. The normal reason for wanting to do this, is for where you're using a clock outside of the country where the transmitter is – i.e. using a clock in the UK that's tuned to the German timesignal.

Radio-controlled clocks and watches normally provide a way of manually advancing the hours, to offset timezones, e.g. "This clock is 1 hour behind the transmitter". This may be via a button to step forward in units of one hour, or a wheel/dial to advance the hour hand manually.

Travelling
A query from site visitor Lisa: "I still don't understand whether the watch automatically sets itself to local time when you go abroad? I'm considering buying one for a friend who travels a lot so they don't have to keep changing the time on their watch – will it do it automatically?"

A radio-controlled watch will be tuned to receive its signal from a fixed time transmitter. For watches available in the UK, this will either be the transmitter here in the UK, or the transmitter in Germany. Your watch has no concept of timezones, so if you move from one timezone to another, the watch won't automatically correct.

If your watch is getting a signal from Germany, all the watch is aware of, is the time in Germany, and it can't tell which timezone you're currently in. For that reason, radio-controlled watches allow you to "offset" the hour manually – If you travel from GMT to GMT+2 you will need to advance the watch by two hours. Here's how.

If the watch is still in range of the transmitter, the minutes and seconds will still be corrected automatically.

Transmitter coverage

A question from site visitor Syam: "Can I buy a radio controlled watch in Germany and use it in India ? Will the watch be able to receive transmissions from any transmitters across the world ? Will it function just a regular watch if it is in a place where there is no signal ?"

A clock purchased in Germany will probably use the European transmitter in Frankfurt. It's unlikely that India will be able to get a signal from the German transmitter. A clock or watch that's been able to sync to a timeclock will continue to operate when it's out of range of a signal, it just won't be able to update itself, so will slowly lose its accuracy until it's able to get a signal again.

A similar question from PlummerNick: "I'm considering buying a radio controlled watch. I would like to know if it will automatically correct itself when I am travelling in the UK, across Europe or America. Will it automatically re-tune in to that Country's atomic signal. "

Watches bought in the UK will either get their signal from a transmitter in the UK or from the European transmitter in Germany. These services operate on different frequencies, and a radio controlled clock or watch is pre-tuned to a specific frequency . The German transmitter in Germany has a wider reach, and if travelling in Europe, look for a watch that can receive from DCF77 from Frankfurt. This transmitter doesn't cover the US. A clock or watch that's been able to sync to a timeclock will continue to operate when it's out of range of a signal, it just won't be able to update itself, so will slowly lose its accuracy until it's able to get a signal again.

Problems with clocks / watches?
Having a problem with your radio controlled clock or watch? Some suggestions:

First off , try inserting a fresh battery
Next, try a full reset of the clock (it may have a reset button, or may rely on battery removal – check the manual supplied with your timepiece)
Then, leave the clock / watch in an area that's free from electrical interference, somewhere where it stands a good chance of getting clear reception of the time signal.

From our experience, most problems with radio-controlled timepieces comes down to not getting decent reception of the signal. If you're still having problems, refer to the instruction manual or contact the hardware manufacturer.

No signal

A question from site visitor Mustafa Cankurt: "
I have bought a Comet Radio Controlled Desk top Watch. But I'm living in Isparta City, Turkey. Can I set up my watch in here? But I can't receive any signals from Frankfurt Transmitter. Can I use an amplified antenna for to catch signals? Or can I set up my watch with another ways like internet, or online connection or directive antenna?"

We're struggling with a good answer to this one. It may be possible to design an aerial to receive the signal from Frankfurt – but working out how to connect that aerial to your watch's radio receiver would be a problem. We know that it's possible to build a small transmitter that can re-broadcast the time signal, but you'll need some engineering knowledge, and it won't be too cheap to manufacture. You should find that the watch manufacturer has provided a method to allow you to set the watch manually, in areas where there's no signal, so it might be worth checking the watch's manual, or direct with the manufacturer. If you know of something we can add to this answer, please let us know.

Update: Mustafa has come back to us with good news: "I'm a DXer and shortwave listener. I know that 77.5 KHz broadcasting receptions is available with a good antenna like ferrite core or long wire, but some problem how signals connected from aerial to watch. I have built up an antenna horizontal lying (exactly parallel to Frankfurt transmitters) my window to other building's roof with isolated copper wire as 5 metres horizontal strained wire known Marconi thin wire. I have a coil 10-20 turns the wire end within the window when I will tune to distant radio receptions. I will have tried with ferrite core with in the coil. Today, I have closed up my watch to the coil. Then the watch resonated with signals and watch was set up Central European Time. This may have been atmospheric conditions."
Useful Links: