Sky Digital TV in Ireland
Thinking about getting Sky Digital TV? Here's the basics on how to get Sky's satellite television service in the Republic of Ireland.

The site you're on now, Radio and Telly, is based in the UK, but we get lots of visitors from Ireland looking for help and advice on Sky TV, so we've added this page of information to help out those on the Emerald Isle.
If there's something you'd like us to answer or add, please let us know.
Sky in Ireland – The Basics: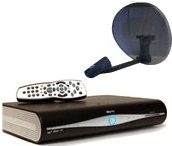 Sky Digital is the market leading provider of digital TV services in Ireland.
The vast majority of homes in Ireland should be able to receive the Sky signal. To be able to receive Sky's satellite signal, you'll need a satellite dish, which Sky will provide you with.
After Sky's engineers have called round to fit your satellite dish and box, you'll be able to watch hundreds of digital TV channels, and listen to a wide selection of radio stations.
If you have an HD-ready TV set, you'll also be able to get the largest selection of HD channels available, if you decide to go for Sky+HD.
Latest Sky Offer:
Here's a summary of current offers if you sign up to Sky Ireland online:
Free Sky+ or Sky+HD box and standard installation when you order online

For more details on Sky in Ireland, and to sign up, go to www.sky.com/ireland
How do I get Sky Digital in Ireland?
To get Sky Digital, you'll need to have a satellite dish and a Sky TV digibox installed at your home, and you'll need to pick one or more of Sky's digital channel packages to subscribe to.
You can order Sky online – when you book, you'll be able to select a date for installation (including Saturday and Sunday installation in some cases).
One of Sky's engineers will turn up and install the Sky dish and digibox, connect it all to your telly, and set everything up for you, so you're ready to watch.
For more on Sky Digital TV in the Republic of Ireland, see www.skyireland.ie
What does Sky offer?
Here's our summary of the features offered by Sky's TV service:
Hundreds of digital TV and radio channels – Far more channels than you'll find on any other TV service in Ireland – View Sky's packages.
Sport – Unrivalled sports coverage with 4 Sky Sports channels, Sky Sports Extra , Sky Sports News, plus Eurosport , ESPN Classic and attheraces. Sky's a must for football, rugby and cricket fans.
Movies – Sky has ten movie channels and a whole range of Sky Box Office pay-per-view films
HD – Over 46 channels of stunning High Definition TV
Onscreen TV guide – Sky's Electronic Programme Guide, with 7 day planner (pictured below), plus series link if you go for Sky+
Extras: Sky offers the widest choice of High-definition content, as well as their revolutionary Sky+ digital video recorder.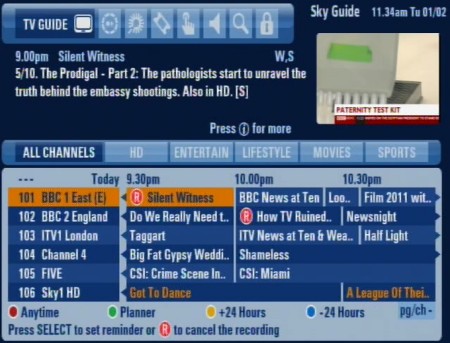 Sky's Electronic Programme Guide
The Sky box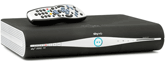 If you sign up to Sky's TV service, you'll be provided, for free, with the Sky+HD box.
This records up to 180 hours of TV on the built-in hard drive, and supports features such as Series Link, the ability to pause and rewind live TV, and you can even programme the box from your mobile phone or web browser, so you never miss one of your favourite TV shows
Got a question on Sky Digital? Need help setting up Sky?
Take a look in our Sky FAQ, or ask in our Sky TV forum
Useful Sky TV Links