Spectrum Radio 558 Remembered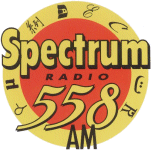 This page contains a collection of memories of the early days of Spectrum Radio, London's International Radio station.
Spectrum Radio appeared on London's airwaves on the 25th of June 1990, broadcasting from studios in Endeavour House, close to the Brent Cross Shopping Centre in North West London. The early days at Spectrum were troubled ones – the station was due to launch on the frequency 558AM, but at launch, that frequency was occupied by the pirate radio station, Radio Caroline, meaning that Spectrum International had to launch on a temporary frequency of 990AM.
The station's aim was to provide radio for London's multicultural communities – Asian, Afro-Caribbean, Chinese, Jewish, Arabic, Greek, Italian and Hispanic… This was an ambitious project. As the station progressed, it later adopted some other communities too, including Persian, Irish and the gay community, as well as an early morning show for London's Dawn Traders
This page was put together by Pete Sipple, who spent four years with the station from the early days in 1990, as the Commercial Producer, and then as the station's engineer. This page contains a few nostalgic memories from those early days, including a few pictures and sound-bites.
Special greetings to: partner in crime Brian Lee, Jon-Tek Hart , Keith Belcher, Tim "Who is here" Lloyd, Jon Kaye (on Spectrum each day…), Julie, Kirsty, Liesl, Laura, Louisa, Bloomsbury Jake, Angela, Alice & Joseph, Susie Mac, Pedro, Mike Mendoza, Ian Sweiger, Beverley Bond, Wolfgang Bucci, Hank ("hello baby"), Dennis Onion, Andy 'Rockin' Sheldon, Angie Greaves, John Kyriakides, Patric 'next on four' Walker, the man with no name, Tony Patti… and Mr Katchatorian-Os.
You were a great bunch to work with, and it was a lot of fun… Pete Sipple – October 2003
Spectrum Radio photos
A collection of photos from 1990 to 1993…

Mike Mendoza at the front door



Tim, Asif, Laura, Sue & Keith



Spectrum Studio 3



Jon Hart on the bus



Julie and Kirsty on reception



The Team – Pete's leaving Do



Louisa and Brian, in Traffic



The June 2000 re-union



Endeavour House, NW2 1JT
Spectrum Radio Sound Bites
If you remember working with me there, please drop me an email to say hi… and if there's a memory you'd like me to upload to this page, let me know. Pete
You'll find details of today's Spectrum Radio at www.spectrumradio.net