TellyGuides Home
Online TV Listings
On-screen EPG TV Listings
Mobile TV Listings
TV Listings Software
Digital TV Compared
Digital Switchover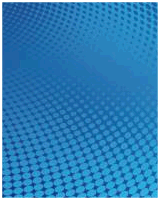 TellyGuides: TV Listings Magazines Compared
TV This, TV That? There's hundreds of TV listing magazines out there - but which is best for you?
We look at which guide offers the best Freeview, Freesat, Sky, Virgin and BT Vision channel coverage.
TV Listings Magazines Compared
The traditional way of keeping track of your TV viewing, is the weekly TV listings magazine, but which one to choose?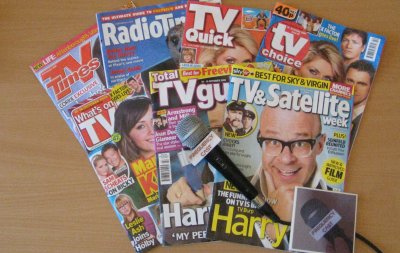 To allow us to do a side-by-side comparison, we picked six of the leading listings magazines for the same week, and looked at which offered the most channels and had the most pages dedicated to listings. Here is a summary of the results:
| | | | | | | | | |
| --- | --- | --- | --- | --- | --- | --- | --- | --- |
| | Price | Pages of Listings | Total Pages | Listing pages per Day | Planner View | TV Channels | Radio Channels | Film Pages |
| TV & Satellite Week | £1.20 | 63 | 108 | 9 | YES | 89 | 0 | 7 |
| Radio Times | £1.10 | 63 | 148 | 9 | No | 71 | 14 | 7 |
| TV Times | £1.05 | 42 | 100 | 6 | No | 54 | 0 | 4 |
| Total TV Guide | £1 | 70 | 100 | 10 | No | 76 | 11 | 7 |
| TV Quick | 80p | 42 | 76 | 6 | No | 61 | 0 | 3 |
| What's on TV | 47p | 42 | 100 | 6 | No | 53 | 5 | 4 |
| TV Choice | 40p | 42 | 84 | 6 | No | 61 | 0 | 4 |
Based on survey of issues from 10-16 October 2009
TV & Satellite Week - IPC Media

Widest channel coverage, and a clear layout. Handy red "NEW" and "SERIES FINALE" indicators, and a section for 9 HD channels. Also has a one-page Evening Planner, showing a grid of 45 channels from 7-11pm. Sadly, no radio listings, but it does carry channels such as TCM2, Turbo, CBS Drama and some HD channels not listed elsewhere.

Decent Sports section and a handy two-page kids TV week planner too.

SUMMARY: Our Magazine of Choice. Largest number of channels. Best choice for Sky, Sky+HD and Virgin users.

Radio Times - BBC Magazines

The heaviest of our selection with 148 pages, this is a well established and well respected publication. More of a magazine than a listings guide, Radio Times is known for it's good articles and solid content. The listings are clear and well organised, but a little dry. VideoPlus numbers are clearly displayed, and a there's a whole two pages for each of the main 5 channels. There's also the best coverage of radio, with the BBC stations, plus Talk Sport, Absolute Radio and Classic FM.

The evening listings for the main 5 stations carries a handy "digital TV at a glance", for easy reference. A top publication, but the layout is a little uninspiring.

SUMMARY: Recommended for the high quality articles. Best choice for radio listeners. Good for Freeview.

TV Times - IPC Media

Considering TV Times is at the upper end of the price range, it carries a surprisingly low number of channels, less than all but one of the magazines we tested, making it not the best value for money.

Layout is very clear for the main five channels and the magazine is well laid-out. The issue we reviewed carried seven pages of soap content.

SUMMARY: High price and low number of channels make it hard to recommend, sadly.

Total TV Guide - Bauer Publishing

Good clear layout and very usable listings. Nice clear channel numbering. Also covers the major BBC national and commercial radio stations. Good clear "NEW" indicators, and a handy 4-page Sports Planner, as well as a nicely laid-out seven day film planner. Freeview users will love the daily "Freeview channels" section.

Articles a little more rounded and less "soap-ey" than the lower-end guides.

SUMMARY: Clear layout, and all the channels that matter. Best choice for Freeview.

TV Quick - Bauer Publishing

OK. We don't understand this one. This title and TV Choice are owned by Bauer Publishing - The listings are identical, but this has eight less pages and costs twice as much as TV Choice. Are we missing something here?

SUMMARY: Nope. Twice the price of TV Choice for the same listings.

What's On TV - IPC Media

Almost the cheapest of the guides we reviewed, this has a fairly good layout, especially for the main digital TV channels such as Sky, ITV2-3 and BBC3-4. Handy "Freeview channels" section, but some of the listings for the digital channels look a little cramped. Six pages dedicated to soaps, plus a quarter of a page per-day on the 5 BBC radio stations.

SUMMARY: Low-priced and good for Freeview viewers and soap-lovers. Not overly legible on the minor channels. Some radio channels.

TV Choice - Bauer Publishing

The cheapest of the bunch, this perfectly usable. It carries a decent collection of the key channels and highlights Freeview channel numbers well for easy reference. Channels such as Sky1, ITV2 and E4 don't get much real-estate and could benefit from some end-of-line breaks to make reading a little easier.

SUMMARY: For its price, good, but digital channel listings are a little cluttered.
Images shown above are scans of the first listings page for Monday 12 October.
TV Listings Magazine Summary
As you'd expect, you get what you pay for - We go from a perfectly usable 40p publication, to one at 3 times the price.
For us, TV & Satellite Week was top choice, but also the most expensive. Total TV Guide comes a close second, as it has almost as many channels, plus 11 radio station listings.
At the lower end, What's On TV just pips TV Choice, as it dedicates a little more space to the main digital TV channels, and is slightly easier on the eye.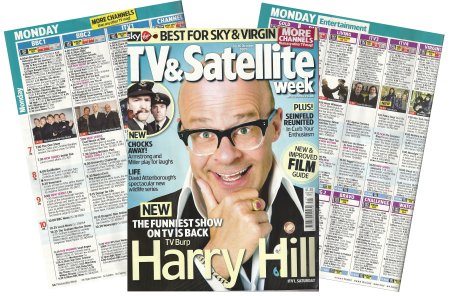 Radio and Telly's winner: TV & Satellite Week
Cheaper Subscriptions
Instead of trekking to the supermarket or newsagent for your TV listings magazine... get it delivered to your door through the post. Chances are, that'll save you money
For a discounted subscription on your TV listings magazine, check out www.magazine-group.co.uk


Note to publishers. Scans were published after transmission, and have been compressed to ensure listings content is obscured. We have published scans in good faith and it is not our intention to infringe copyright or intellectual property. Please contact the webmaster should you require removal of content on this page.