Virgin Media TV – Your Questions Answered
On this page, we answer a few common questions asked by our site visitors
Is cable TV available in my area?
To find out if you're able to get Virgin Media's cable service, enter your postcode at http://www.virginmedia.com.
When will cable be available in my area?
Cable TV can be found in many built-up areas of the UK, but the network has not expanded much recently, due mainly to economic reasons. If you're not in a Virgin Media cable area at the moment, don't expect much to change any time soon.
If you want the definitive answer on whether cable will be coming to your area, you'll need to ask Virgin Media. You can contact Virgin via www.virginmedia.com.
If you're not in a cable area, you can still benefit from Virgin's broadband and phone services – but you won't get the benefits of their high-speed fibre-optic connection – details on Virgin Media's site.
No coverage? If you can't get Virgin, consider TV delivered via satellite, a TV aerial or over the net. Check out our Digital Options page.
We can also recommend YouView from BT. Like Virgin, they offer TV content and movies on-demand over the Internet.
Cable TV on Freeview
We had the following question from a visitor: "My TV has built-in Freeview, but my area will not have the digital signal until 2012. I watch TV through cable so am I right in thinking the Freeview tuner or twin tuner will not be able to decode the cable signal?"
Correct. Although Freeview and Cable are both "Digital TV" services, they use a different technology and so you can't tune a Freeview receiver into a cable TV feed.
Watch one channel, record another
A site visitor asked us for advice about recording Virgin cable onto DVD. He wanted to be able to record one cable channel onto DVD whilst watching a different cable channel.
Well, a standard Virgin Media cable TV receiver box can only output one channel at a time. If you connect a TV and a recorder, they will both be fed the same TV channel from the Virgin box. To be able to handle two cable channels at the same time, the options are:
Get a second Virgin Media V box (one for your TV and one for your recorder)
Get a Virgin Media V+ box. This has a built-in hard-disk recorder and will let you record a digital channel onto the onboard storage while you watch a different channel.
Go to www.virginmedia.com to order either of these boxes.
Virgin Media V+ Box
The Virgin Media V+ box is Virgin's top-of-the-range hard-disk recorder, which rivals the Sky+ recorder. It holds 80 hours of TV, supports HD programming, live pause and series link.
For full details, check out our Virgin Media V+ Box section.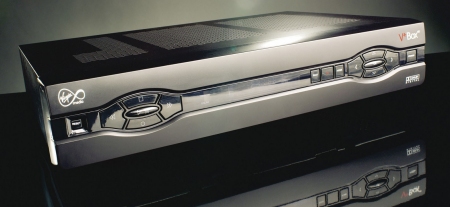 The Virgin Media V+ HD box