Creative Zen Micro Information
A closer look at the Creative Zen Micro
There's quite a range of handset portable audio devices out there, most notably, the Apple iPod… On this site, we're far more interested in Creative's new Zen Micro because as well as playing MP3 audio files, the Zen Micro has something extra, notably FM radio… This page take a deeper look at why this is a great buy…
Creative Zen Micro Overview:
5Gig hard disk – holds up to 2,500 songs

FM radio, recorder, calendar.

Smaller than an iPod mini!
Creative Zen Micro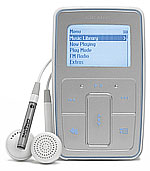 Creative's Zen Micro appeared in November 2004, and is a great alternative to the Apple Mini Ipod. As the name suggests, it's micro-sized and fits naturally into the hand, placing the touch-sensitive control pad in the  perfect position for navigation with just one finger. The Zen Micro will store up to 2,500 songs in WMA or 1,250 in MP3 on its 5GB hard disk, and its easy-to-remove rechargeable battery delivers up to 12 hours of high-quality digital audio. FM radio and voice recording further extend its versatility. The Zen Micro is ideal for use with on-line music services and Windows PCs, supporting downloads at up to a song per second via its USB 2.0 port.
The stats
Storage: 5GB hard drive
Size: 51mm x 84mm x 19mm
Screen: 160×104 pixel resolution, White LED backlit LCD
Battery: Removable, rechargeable lithium-ion (12 hours)
Weight: 3.8 oz. (inc battery)
Signal-to-noise: 98dB
Holds 2,500 songs on 5GB hard drive
Get up to 12 hours playback on a single charge
Plays MP3, WMA, WAV files
FM radio – listen to and record radio stations. Supports storing 32 station presets
Built-in microphone for up to 10hrs voice recording
Access over 2 million songs through Zen supported music services
High fidelity earphones with dynamic bass response
Contacts, Calendar and To Do List
Functions as an external hard drive for backup of computer files
Backlit LCD displays track info
Repeat, resume, and random play
8 EQ settings (Acoustic, classical, disco, jazz, new age, pop, rock and vocal)
Sleep and wake timers
Customisable main menu, so the features you want are right at your finger tips
Works with both USB 1.1 and USB 2.0 (for a faster connection). USB cable included
Belt clip / stand
Better value than an iPod Mini
Available in 10 electrifying colours (Black, White, Silver, Dark blue, Light blue, Red, Purple, Citrus orange, Lime green and Pink)

Mini Review
We've had our hands on one of these little beauties for just under a week, and are very impressed. As stated in the advertising blurb above, the Zen Micro naturally going to be compared to the iPod Mini – and compared very favourably – It's smaller, has an FM radio and have 5gigs of storage space (verses the iPod Mini's 4Gig).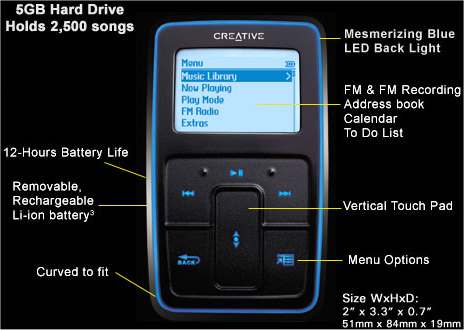 As has been stated in other reviews, the navigation is a little unexpected – most of the work is done via a central up/down slider, and the sensitivity out of the box wasn't set to what we thought was the best setting. After an hour or so of use, you
get used to the quirks of the navigation, and from then on, it's actually pretty clever, although manually searching for a keyword is still a long process of scroll-and-accept. Most of the lower half of the front panel is touch sensitive, so the Lock switch on the top has to be set to prevent accidental touches when in a pocket (I can't help feeling that an auto-keylock, such as those on a mobile would be a nice touch!)
Audio quality is superb and can't be faulted, and the features built-in make using the device a dream.
Recording and Radio
As we're a site dedicated to TV and Radio, we opted for this model as our favourite due to the fact is has an FM radio onboard – well, we all get sick of hearing the same old MP3 tracks, and catching the travel news on the train is really useful.
The Zen can also record the FM it's listening to, for listening later – great for recording shows at work and catching them on the train home. The Zen Micro has 32 nameable FM presets.
Access to your tracks
We're also a fan of the way that you can select what to listen to – you can obviously play through all of your MP3s and make use of playlists (that you create on the device, or copy over from the PC), but you can also browse by genre (Rock, Pop,
speech, etc… the information's encoded into the MP3 files) – you can also play selected albums, search by artist, or use the rather nifty DJ mode (that can randomly pick an album of the day, do random play, play your most popular tracks, or offer you a "rarely heard" selection.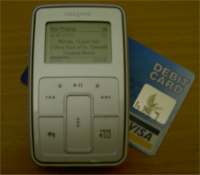 Get organised
The Creative software can be used to copy across your address book, to-do tasks and calendar entries from Outlook – another bonus. Oh, and the Zen Micro can also be used as a USB storage device, so you can use it to transfer files, documents, video etc for use on any PC with a USB port (you can specify how much of the 5Gig you want for this storage – between 128MB and 4GB)
Connectivity
The PC software supplied with the Micro is pretty good, but before we got going with our review Zen, we upgraded to v2.00 of the firmware, which meant we could use Microsoft's Media Player to handle copying our tracks across – definitely our preferred option.
Copying songs across was a piece of cake, and faster than we expected – partly down to the USB2.0 compatibility. The stated figure of 2,500 songs makes an assumption that Windows Media Audio (WMA) is being used. For MP3 files, the figure is likely to be closer to over 1,000 tracks – but that still more than enough to hold an impressive amount of audio.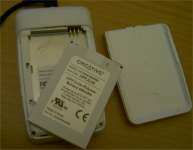 No real downsides to report – With the possible exception of the battery life. It's rated at 12 hours by Creative, and some reviews we're read state that this is achievable… although we're seeing around
8 hours of practical use. The Creative website states that the battery life is reduced if you're making a lot of use of the hard-disk (and admittedly we're hammering the hard drive on ours), but surely that's what you want to do with a device like this? Ultimately, this isn't much of a problem though, as our device came with a spare battery, and the USB lead (a standard mini USB) can be used to charge the Micro (for times when you're not lugging the mains adapter with you). Fortunately, the battery is removable and very easy to change – unlike some other MP3 players we could mention
Summary
We're very impressed. This beats the iPod Mini hands down on features (FM radio, removable battery, support for WMA format, voice recorder and Outlook Contacts/Calendar synchronisation), and is very good value for money. Its style, pulsating blue light, and the tiny size make it a great conversation piece too.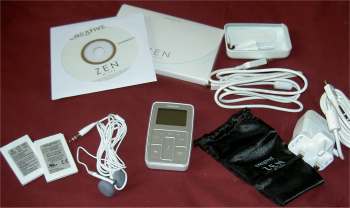 Our Zen (from the BT Shop) came packaged with the following:
Instruction book
CD
Headphones
Belt clip / stand
Pouch
Mains adapter
USB cable
Battery (our box had two)
FAQ
This section includes the answers to frequently-asked questions we've received…
Firmware upgrade?
The software controlling the Zen Micro is referred to as Firmware, and be updated by downloading the latest version from Creative's site. This can be installed via USB.

Latest: Version 2.21.02 (as of Dec 2005)

To check your version of software, from the main menu, scroll to System > Information.
Latest versions of software and firmware can be downloaded from the Creative Support site. Drivers can also be found on the Creative Nomadworld site.

Can I jog with my Micro?

The official line from Creative is: "You should not subject Zen Micro to continuous shocks, such as those that are likely to occur while you jog or run", however it may not present much of a problem much of a problem, and the micro has been used when running, mountain biking, snowboarding, etc…. with no ill-effects, according to posters on mp3 player forums. Giving a definite "yes" or "no" isn't easy, so the choice has to be yours – obviously Creative are keen to cover themselves.

The Zen Micro makes use of a hard-disk with moving parts, so excessive shock can cause damage – but most of the large-capacity MP3 players (such as the iPod) all use hard-disks, so there's little to say that the Zen Micro is any better or worse than other devices out there. if you're concerned, consider an MP3 player with a solid state drive (no moving parts), although these often have much smaller memories.

How do I copy music to the Zen?
The Zen is supplied with a USB cable that connects to a USB port on your computer. The Zen is supplied with software that supports copying of music over to the Zen. Here are the options open to you:

You can 'rip' content from your CD collection – the software supplied allows you to use your computer's CD player to extract songs from your CD collection in a file that can be copied to your Zen.
You can use the supplied software to copy existing songs (such as MP3 files) onto your Zen
You can order and download songs from an online service such as Napster – Follow the instructions at www.napster.co.uk on how to find and download songs as MP3 files from their servers onto your PC, and then use the supplied Creative software to copy the songs onto your Zen.
If you're looking for something other than music, try an audio book, comedy file or a podcast from Audible.co.uk

Can I use iTunes?

Creative supplies its own software for copying tracks to the Micro, or you can use Windows Media Player (our preferred option). The Micro gives you more software choice, and you're not tied to Apple's software (which you have to register to use). The iPod supports MP3 and AAC formats, and the Zen supports MP3 and WMA formats, so if you're buying tracks with iTunes in AAC format, you're tied to the iPod. The formats used by the Zen are fine with other products from Creative, Philips, iRiver, Samsung, etc.

To copy music from iTunes to Zen Micro, all you do in iTunes is to go to purchased music, click 'burn disc', pop a blank disc in, write the files to disc, then copy them from CD.

Thanks also to site visitor Lisa for adding the following: "At least in the new versions of iTunes, you can go to the Edit menu, click Preferences, and under Advanced, Import, you can choose the file type to save imported music (from cd's) in. You can choose between AAC, MP3, and also AIFF, Apple Lossless, and Wave formats. You can easily convert any music already in iTunes to MP3 by selecting the song(s) you want to convert, right-clicking, and selecting Convert to MP3 from the menu. The songs are saved in My Music/iTunes by default (view the location by going back into the Preferences menu, it's under Advanced, General tab. You can also right-click the headings in iTunes and add the "kind" heading to see the file types, and sort by that heading to quickly convert all AAC files to MP3, then resort and delete the AAC files entirely if you only want MP3 files.

Podcasts

Expand your listening pleasure on your Zen product by downloading podcasts onto your player. A podcast is an audio file available for download and transfer to your device. They're often updated regularly and are a new type of broadcasting set to change what we listen to. You can subscribe to channels of interest and get updated recordings synced to your Zen on a range of subjects.

In 2006, podcasts reached new heights when Ricky Gervais and Stephen Merchant from the BBC's Office made a free (and hilarious) podcast available.

Supported OS
Software to support connectivity between Zen and the PC is available for download from uk.europe.creative.com/support/downloads/ – this includes the Zen Micro Media Explorer package, which supports:Microsoft® Windows® XP, Windows 2000, Windows Millennium Edition and Windows 98 Second Edition.
Playlists
We've had a couple of questions about how the Zen Micro handles playlist creation, so here's a quick overview. It's possible to create playlists "on the go". This can be done as follows:

Select a track to add (by browsing or searching), press the Menu button, then select "Add to selected".
Press the Back button and select another track as before.
When you've completed your selection, go back to the main menu and select 'Now playing'.
Press the menu button again, and select "Save as playlist". You are then prompted to name the playlist.

To access a playlist, go to Music library > playlist from the main menu.

You can edit a playlist whilst playing it by touching the slider pad once from the Now playing screen. This brings up the 'Selected Music' screen – The menu has a 'Remove > tracks' option as well as the option to select the repeat-type (shuffle, etc). For more on this, see page 31 of the manual supplied on the Zen CD.

Storing data

You can use the Zen Micro to store data as well as music – for example to transfer documents between home and work. From the Extras menu, select 'Removable Disk' and allocate an amount of storage to be used for data – you can select a size between 128MB and 4GB. When you connect your Zen to a PC via the USB cable, the data area of the drive appears in My Computer as a removable drive.

How much can I store?
The depends on the format you store your songs, and the sample rate that you use. As an approximate indication of what the 5Gig Zen can hold:

WMA files (64kbps sample rate): 178 hours, or 2500 songs , or 215 albums
MP3 files (128kbps sample rate): 89 hours, or 1250 songs , or 108 albums

Numbers approximate – assumes 4 minute songs, 50 minute albums

Better than a mini?
We think that the Micro beats the iPod mini for a number of reasons

The iPod Mini only holds 4 gig of music, the Zen Micro holds 5 gig
The iPod Mini doesn't have FM radio or a voice recorder
The iPod Mini has a built-in battery that can't be removed by the user – the Micro's is removable.

Recordings?
Like most MP3 players, the Micro doesn't have a line-in socket so can't record directly from a hi-fi system or tape player. Music tracks have to be copied via a desktop computer in one of the supported formats.

Unlike many other MP3 players (including the iPod), you can record via the microphone or FM radio (see below)

Microphone
The built-in microphone can be used to make recordings in WAV format. Files created on the Micro are sampled at 64kpbs, 4 bit, mono files in IMA ADPCM format. Test recording (37k WAV file).
To retrieve recorded material, connect to your PC, then browse to the Media folder. Your recordings are in the "My recordings" folder.
FM Radio
The built-in FM radio supports 32 station presets, and uses the headphones as an aerial. The FM reception is acceptable, but it's not as sensitive as other handheld personal FM radios we've tried.

It's possible to record from FM for later playback, or for editing on a PC- To record radio, go to the main menu and select 'FM Radio'. Tune in to the station of your choice, and then press the Menu button. A menu pops up with the first option being "Record Radio" – select this, and the recording should start. The recording will be autonamed with the time and date of the recording. To access recordings, go to the main menu and select Music Library > Recordings. While recording FM, controls include Pause, Stop and Split are available.

Radio recordings are made as stereo WAV files. The format is 22kHz, 4bps, bitrate of 177 kb/s. Test recording (13 seconds, 292k WAV file).
To retrieve recorded material, connect to your PC, then browse to the Media folder. Your recordings are in the "My recordings" folder.

Headphones
So, what are the headphones like? They're OK – nothing special, but pretty well-made. After using ours for a few days, we swapped back to our Sennheiser MX500 earbuds (the inline volume control makes the difference). The freebies with the Zen are perfectly fine, and a good comfy wear, but our darker headphones with the volume control have meant that the Zen earbuds are sitting on the shelf. For a larger pic of the Zen headset, click on the image on the right.

Although there's nothing wrong with the supplied headphones… if you're looking to get more for your listening pleasure – consider getting some Sennheiser headphones – either a set of top-quality earbuds, or if you're budget can stretch to it – a set of noise-cancellers – especially recommended for train or plane travellers! More on the Sennheisiers on our Accessories page

Not working?
Some ideas if you're having problems:

First, try a reset: Turn the Zen off, take the battery out, wait 5 seconds, and reinsert the battery
Or, try running off mains power, not battery (in case you have a dead battery)
If you're able to get in to the system, try going into Recovery Mode (see below) and run a 'Clean up'

If you're not still not able to start the Micro, or you find you're stuck in the Recovery menu – the final thing to try is connecting to the PC. Connect via USB and see if the PC can recognise the drive. If it can, take a backup of all of the files on your Zen Micro. As a last resort – you can try re-installing the firmware onto the Micro. This will result in the loss of all data on the device.

Otherwise, if you have a dead unit, consider returning it to the place of purchase, or contact Creative to get your machine repaired. If the Zen is less than one year old, you should be able to get it repaired under Creative's warranty. For details on how to do this, go to uk.europe.creative.com/support/warranty , or you can call +353 1 4333200.

Recovery menu
There's a hidden 'Recovery' menu that lets you defragment or format the hard drive, reboot, or reload the firmware. This is for advanced use only, and you're advised not to play around with these options unless you know what you're doing.
To access this, take out the battery, hold the switch in the 'on' position, and with this held to 'on', reinsert the battery. A menu will appear.

Language

Here's what to do if you've accidentally set your machine to a different language and want to reset to English:

Hold down the bottom left key for a few seconds to return to the main menu
Scroll down to the last item, 'System' and press Select
Scroll down to the fourth item, which is 'Language', and press select.
Scroll to the first entry, 'English', and select.

Mains supply

We've been asked whether the UK power supply can be used outside the UK. We're not experts in such things, but if it helps, the UK power adapter states the following: Input 100-240VAC ~ 50-60Hz, 0.3A. Output: 5V 1000mA. If these values are compatible with your destination, then with the appropriate socket adapter, there should be no problem. The power adapter lead terminates in a Mini USB plug.

See below for some options for spares (including mains supplies and spare batteries). Note too that the Zen can be charged from a computer's USB port – handy for when you don't have your mains adapter but have access to a PC

Accessories?
If you're looking for accessories for your Zen, such as spare batteries, headphones, and the remote control referred to in the manual, we've found the adapter and batteries available on AdvancedMP3players.co.uk and Amazon. There are also some on ebay.co.uk.

A selection of accessories are available from Creative's UK site, or by calling the Creative freephone number – 0800 376 7954. They can supply spare batteries for around £27 by mail-order.