Freeview HD
Freeview HD Boxes
Freeview
Sky Digital
Virgin Cable
BT Vision
Internet TV
Internet Radio
3View - Freeview HD Internet TV Box Explored
A look at the 3view box - the Internet-enabled Freeview HD hard-disc recorder that lets you watch streaming video on your TV.
LATEST: The 3View site is no longer live, 3View boxes are no longer available, and as of early 2012, there are question marks about 3View's future. More when we have it!

Alternatives to 3View?
With the future of 3View uncertain, we can't recommend a 3View box. As an alternative, you could consider YouView.
BT offers a high-spec YouView box with access to over 7200 TV shows on-demand, movies from Sky, as well as catch-up TV from BBC, ITV, Channel 4 and Channel 5. Details at youview.bt.com

What is the 3view Box?
Here are the headlines on what this digital TV box can do:
Watch and Record Freeview and Freeview HD channels
Watch on-demand content via the BBC iPlayer
Watch online video content from YouTube
Use Facebook and Twitter on-screen whilst watching TV
Play back media (video, audio and photos) from connected USB devices
Dual-tuner PVR with 500GB hard-disc storage
Internet surfing with optional keyboard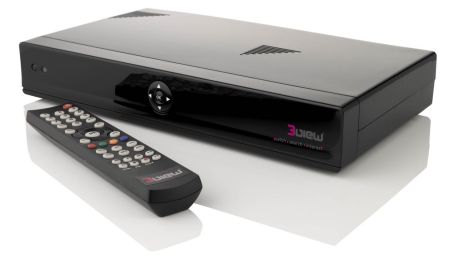 3view Box Overview
We got our first look at the confusingly-named 3view Freeview HD box at The Gadget Show Live in April 2010. The 3view box is a Freeview HD receiver plus a hard drive so you'll be able to watch and record Freeview standard definition and high definition programmes (as long as you're in a Freeview HD coverage area). The box supports the standard PVR functions such as pause and rewind of live TV.
In addition to Freeview content, the 3view box is able to access Internet content. The 3view box allows you to watch full-screen catch-up TV from BBC's iPlayer, as well as YouTube. It'll soon be possible to watch from the Sky Player service, we understand.

Access to the online content is available via the on-screen electronic programme guide. When we saw this live for the first time, the interface did seem a little overly complex, but we're hoping to be able to review this in more detail when we can get hands-on with the 3view for a longer period of time.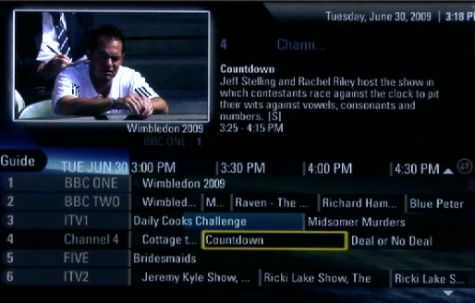 The 3view on-screen guide
The 3view box does more than allow access to on-demand video content though, making use of the Internet connectivity to provide extra content using widgets. The 3view comes pre-loaded with widgets for Facebook and Twitter, so you can keep in touch with your chums on-screen while watching the TV (an optional keyboard is available). More widgets and content can be expected in due course.
3view also comes complete with half a terabyte of hard disc storage, enough space for hundreds of hours of recorded Freeview TV. In addition, 3view can also handle most common media file formats allowing playback of video, audio and images either from a device connected to one of the two USB sockets, or streamed over a home network using uPnP / DLNA.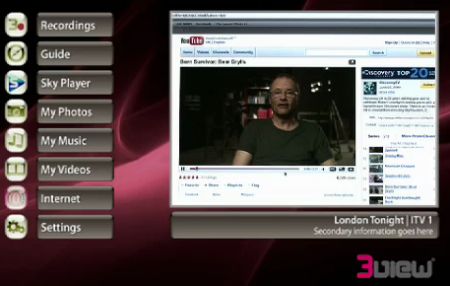 YouTube on a 3view box
The 3view box has been developed in the UK and uses what's known as FineTune technology, for top Freeview HD reception. Apps including a home energy monitoring service are apparently in the pipeline, and the box supports something called zWave for future networking / home automation. The 3view box can be upgraded over broadband, there's potential for future services to be added.
All-in-all, a promising looking box, and one to watch.
3View Box Specification
Twin Freeview HD tuners (DVB-T2 for Freeview HD)
Supports 720p and 1080p HD
Dimensions: 335 x 183 x 57mm
100Mbps Ethernet
Video streaming (supports UPnP and DLNA)
2 x USB sockets
Digital Audio (S/PDIF Out)
3view Box Connectors
On the back of the 3view box, you'll find the following sockets:


Rear View of the 3view Box
RF aerial In
RF Aerial Out
1 x HDMI
1 x SCART
S/PDIF Audio
RJ45 Ethernet
2 x USB
Alternatives to the 3View box?
With the future of 3View uncertain, we can't recommend a 3View box. As an alternative, you could consider YouView.
BT offers a high-spec YouView box with access to over 7200 TV shows on-demand, movies from Sky, as well as catch-up TV from BBC, ITV, Channel 4 and Channel 5. Details at youview.bt.com

Useful links: