Apple TV in the UK Explored
We take a closer look at the Apple TV box, the product that lets you stream video, audio, movies and pictures onto your TV set, as well as get your iTunes content onto your TV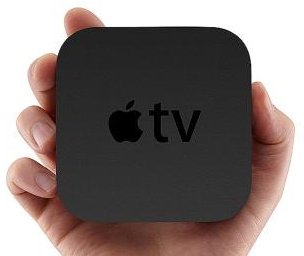 The new streamlined Apple TV v2 box launched in the UK in October 2010.
With this box, you can stream films, music, photos and more over a home Broadband connection onto your TV set. With Apple TV, you can watch video from iTunes, rent movies and get your iTunes content from your PC or Mac onto your telly.
Setting up the Apple TV box is simple. All you need to set it up is an HDMI cable, an Internet connection (wireless or wired) and an HD Ready Television.
What does Apple TV offer?
Streams films, TV shows, music and photos to your TV
Redesigned, slimline and cheaper than the first version
Connect to your TV and wirelessly sync your iTunes library
Rent films, ad-free and in HD.
HD films start from £3.49, Standard-definition from £2.49
Control with the free Remote app or stream content from your iPhone, iPad or iPod touch with AirPlay
Energy efficient with an incredibly small carbon footprint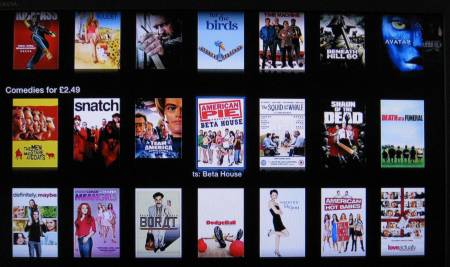 Order Apple TV now for around £99 from the following:
Apple TV Review
The Apple TV box is a thing of beauty, and is a nice addition to any lounge. Although you may think that, as it's Apple, you're tied to iTunes and Apple's content for the rest of your life, and although that's partly true, the Apple TV does have quite a bit to offer. As well as providing access to your Apple collection, you can also play content directly from your iPhone, iPod or iPad, as well as access content from YouTube
The Apple TV box gives you access to movies, TV programmes, photos and more. It doesn't have its own storage space like the first generation box, which means everything is streamed – no more managing storage or syncing to your iTunes library.
Apple TV hooks up to your TV using HDMI and to your router (via cable or wi-fi). It supports HD film rentals over the net, plus music, photos and TV shows streamed from your computer. Just like watching a DVD, you can fast-forward, rewind and pause.
Our team's completed a full review of the second-gen Apple TV box, and you can hear our podcast presenters Carl and Pete putting the Apple TV through its paces in one of our podcasts – See the box below to take a listen to the full hands-on review:
Apple TV Specification
Here are the specs for the 2nd generation Apple TV box:
Connectors: HDMI Out, Micro-USB (not active), Optical Audio Out, Ethernet In
Connectivity: 802.11n Wifi and 10/100 Base-T Ethernet
Dimensions: 99 x 99 x 23 mm
Weight: 272 g
Video Formats: H.264 video, MPEG-4 video and Motion JPEG (M-JPEG)
Audio Formats: MP3, , AAC and Protected AAC, HE-AAC (V1), Audible (formats 2, 3 and 4), Apple Lossless Audio, AIFF and WAV
Photo Formats: JPEG, GIF and TIFF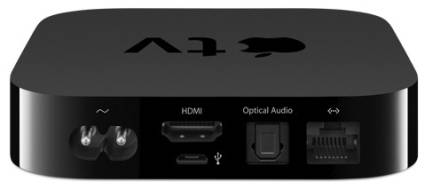 Rear of Apple TV Box, showing connectors
Your Apple TV Questions
Q. "Does Apple TV receive Freeview HD?"
No, it doesn't. Apple TV does not include a Freeview receiver, either for standard or HD Freeview.
Got a question about Apple TV? Please ask us – we're happy to help!
Useful links: