Blue Yeti USB Microphone Reviewed
Our look at the Yeti Professional USB microphone from Blue – a condenser mic that supports four different 'patterns' for premium podcasting and voiceover use. We also have a 5 minute audio sample of the Yeti in action.
The Blue Yeti?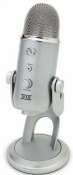 If you've not heard the name before, Blue is a US firm that makes a range of microphones for different uses. Their range includes the oddly-named Snowball, Snowflake, Bottle and Yeti – which is the mic we're looking at today.
Until recently, if you wanted to record your voice at home, perhaps for a podcast, online radio show or for voiceover work, you'd need a mixing desk – Into this, you'd plug a microphone on a stand, and then you'd connect the output of your mixer to an audio recorder or a computer.
All that's changed with the advent of the USB microphone. Plug it into a slot on the computer, and you can record your voice without a mic pre-amp or a mixing desk. Just one problem – the quality of USB condenser microphones hasn't been great so far.
That's where the Blue Yeti steps in. This is a USB condenser microphone that can plug into a USB socket on a PC or Mac to let you record voice or music with the minimum of fuss.
The mic is supplied with a sturdy stand and has a few rather handy little features that make it worth serious consideration for anyone looking to record without resorting to hiring a recording studio.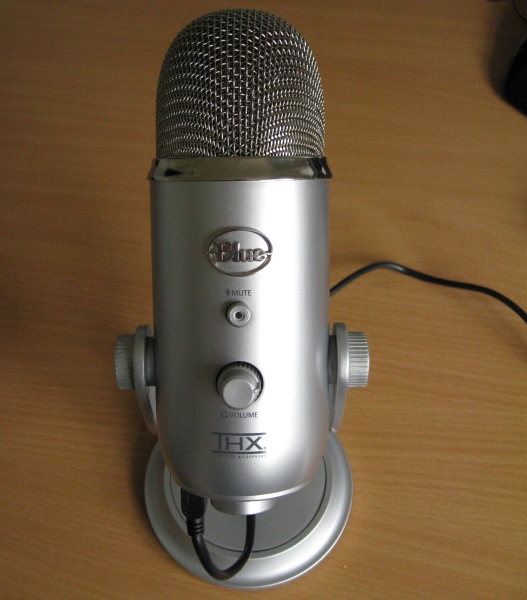 What's different about the Yeti?
This is where we have to get all technical and discuss 'patterns'. When discussing microphones, there are several different types, known as 'polar patterns':
| | |
| --- | --- |
| Type | Description |
| Cardioid | A type of uni-directional microphone most commonly used by broadcasters and musicians to record a solo voice. Very good at rejecting sounds from other directions. |
| Onmi-directional | Records in all directions – used to record an orchestra or a field recording |
| Bi-directional | Records sound from the front and back, but not the sides – great for interviews or duets |
| Stereo | Two elements for recording a concert or sound effects |
When thinking about picking a microphone, it's important to get one that's right for the job – a broadcaster or podcaster would be after a Cardioid, but these aren't great for recording ambience or a multi-instrument concert.
This is the clever bit – the Yeti supports all of the mic types we've listed above. Don't believe us? We were sceptical too, but sure enough – it's true. The Yeti has three capsules and can be switched to any of the patterns using a rotary control on the back of the mic.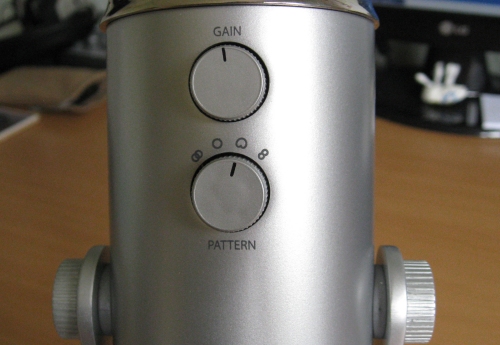 The Yeti carries a nice seal of approval – it's the world's first ever THX® certified microphone. THX is one of the names you may have been when watching a blockbuster movie at your local cinema identifying exceptional sound and performance.
Using the Yeti
Setup is a piece of cake. Ours took less than a minute to set up – We plugged the mic into a USB socket, waited while Windows found it (no drivers required), then we were done.
The product was reviewed by one of our podcast team, who was able to configure our recording software, Adobe Audition, to record from the Yeti in about 20 seconds (via "Audio hardware setup").

Then, we switched to Cardioid, and were off and running.
Audio Quality:
This is where it makes sense to stop typing, and let you judge for yourself. Pete, from our podcast FrequencyCast, gave us his thoughts – using the Yeti. Here's the audio to let you judge the audio quality for yourself. The audio has not been processed (other than as part of mp3 compression).
What we liked:
Apart from the ease of setup (common to most USB mics), a few other features impressed us:
The Yeti has a built-in headphone pre-amp, so you can connect a set of 3.5mm headphones and hear what you're up to. Handy for those without a mixer, although it's normally possible to listen via the PC to hear what you're recording. A nice touch though.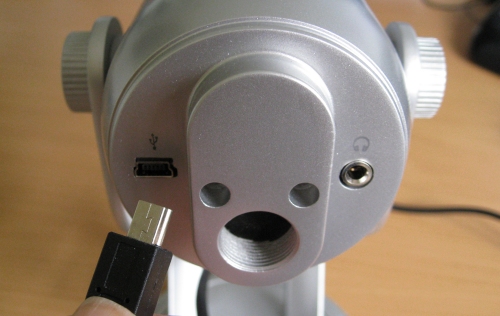 On the front of the mic, there's a headphone volume control, and a Mute button (that kills the audio, and flashes a handy red LED to let you know you're not recording. On the back, there's the 'Pattern' selector that we discussed earlier, as well as a mic gain (a.k.a volume) to help make sure you record at the correct level and don't overload the recorder or clip the recording.
What we didn't like:
Blue's done a decent job of reducing the "pop"s, but a pop shield of some type is still recommended. There's genuinely very little not to like about this mic.
Blue Yeti Summary
A very capable mic – the best we've seen for a USB microphone, and the ability to use it for a double-header interview, or live atmos recording is very handy. It's a good solid construction, and the mic / stand combined are comfortingly weighty.
We're more than happy to recommend this to podcasters, home broadcasters or anyone looking to make great quality recordings without the need for a mixing desk.
Blue Yeti – UK Availability
The Yeti costs around £100, and is available from the following online retailers in the UK:
Yeti Specification:
Polar Pattern: Cardioid, Omni-directional, Bi-directional and stereo
Mic type: Condenser
Connectors: USB and 3.5mm headphone
Power: 5V from USB
Frequency Response: 20Hz – 20kHz
Dimensions (in stand): 295 x 120 x 125 mm
The Yeti works with Windows XP, Windows Vista and Windows 7, as well as Mac OSX (10.4.11 or higher). Minimum RAM needed: 64MB.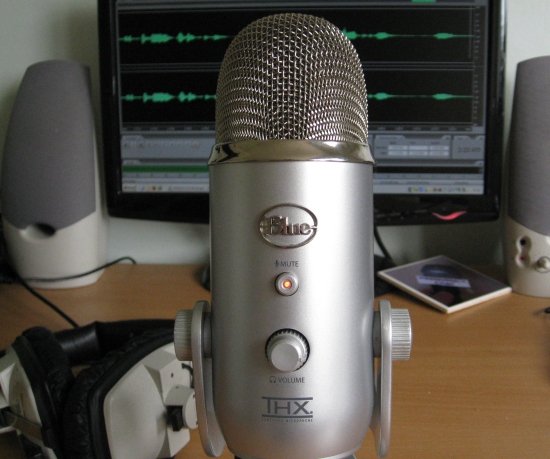 Your Yeti Questions
Handy links