HDMI – High Definition Cable Explained
HDMI connectors are used to connect high definition boxes to TV sets. Here's some help and advice on connecting with HDMI
What is HDMI

HDMI, stands for the rather scary-sounding High Definition Multimedia Interface.
HDMI is a connector that allows you to connect a piece of high-definition equipment, such as a Sky+HD box or a Blu-Ray player to an HD-Ready TV set. To the right is a picture of an HDMI plug.
TV sets and set-top boxes that support High Definition commonly have a 'female' HDMI socket, and you use a male-to-male HDMI lead to connect the two.
Where do I get an HDMI lead?
You can buy an HDMI lead in lengths running from 0.5 metres to 50 metres. Different quality cables are available – prices range from a few pounds to several hundred pounds.
It's important to be aware that if you use a very long HDMI lead, you may start getting signs of interference (white sparkles on screen). Leads over 10 metres are prone to picking up interference from mains electricity, so if you need to go over 10 metres, use a high-quality cable that's well shielded.
For basic HDMI cables up to 15 metres long, check out the Nikkai range at Maplin Electronics
For high quality cables, or very long cables, we recommend buying online from tvcables.co.uk
Not enough HDMI sockets on your TV?
If your TV doesn't have enough SCART sockets, consider an HDMI Switch.
Basic HDMI switch: This allows two HDMI devices to be connected to one TV set. Automatically switches between devices – HDMI Selector at Maplin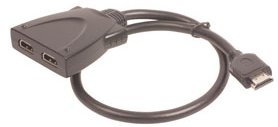 Basic HDMI 2-into-1 selector from Maplin
There are also a range of two, three and four way HDMI selectors available from maplin.co.uk and tvcables.co.uk

Three or Five Way HDMI switch with remote control from Maplin
Need to connect one HD box to two TV sets?
If you need to split one HDMI feed to multiple TV sets, you will need an HDMI splitter. These require mains power.
You can get a box that splits one source to two TV sets, or one that splits to four boxes. Look for HDMI Splitter at tvcables.co.uk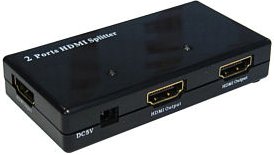 Connect two TV sets to a single HDMI device with an HDMI Splitter from TVCables
Your HDMI Questions
Q. Can I connect a USB memory stick to my TV using HDMI?
A. Well – no, not directly. You could consider a rather neat little solution though – the WD TV Media Player from Western Digital. A low-priced way of watching HD video from a USB device. See our review of the WD TV Media Player.