WD TV HD Media Player Reviewed
A hands-on review of the Western Digital TV HD Media Player – a tiny box that lets you view a range of different media types on your telly.
What is the WD TV HD?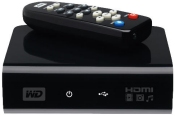 The Western Digital WD TV is an HD media player. To put it another way – it's a small box that plugs into your telly and will let you watch High Definition video content in a range of formats, as well as listen to audio and browse through your photo collection.
It's a tiny box that can be hooked up to your TV then tucked away, and it comes with a small remote control to let you get at your content.
You can connect just about any kind of USB storage device – a USB memory stick, or an external hard drive full of content.
Why would you want one?
If you've got any downloaded video content on your PC, you'll obviously be able to watch it on your desktop or laptop, but what if you want to watch it on your lounge HD TV? Alternatively, you've got a bunch of digital camera photos, but how can you put a full-screen slideshow in your living room?
There are already solutions to the problem of getting HD video and photos onto your telly – such as expensive streaming media solutions like Apple TV or Popcorn Hour. You could also get a small PC in your front room, or hooking up a laptop to your telly, but this is a slick, inexpensive and fuss-free way of getting your media onto your telly.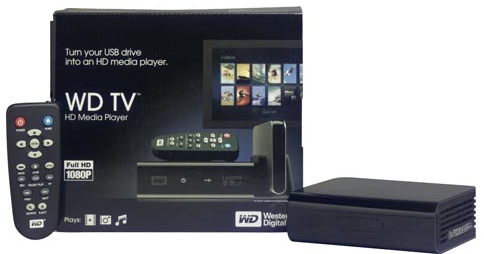 WD TV HD Media Player UK Availability:
You can get the WD TV HD Media Player from the following online retailers:
A network-enabled version, the WD HD TV Live (with Ethernet and support for a Wi-fi USB stick) is available from Play.com, and Amazon.co.uk
Review of the WD TV HD
Watching video on a laptop is great – no messing with DVDs or videotape – find your clip, press Play and you're watching. If your anything like us, you've probably got a decent collection of TV shows, films (legal of course!), digital camera clips, YouTube downloads, camcorder montages and other miscellaneous bit of video. All in different formats. But all viewable on a PC.
Showing it to your family, better half and friends can be tricky though – crowding round a laptop's not great, burning to a DVD takes time, and mucking around with leads is a faff.
That's where this little box from Western Digital comes in. We got one as one of our team's constantly complaining that it too tricky to get full-screen HD video on a TV, and we're sure glad we tried this.
Supported Formats
| | |
| --- | --- |
| Music | MP3, WMA, OGG, WAV/PCM/LPCM, AAC, FLAC, Dolby Digital, AIF/AIFF and MKA |
| Video | AVI (MPEG1/2/4, Xvid, AVC), MPG/MPEG, MP4/MOV (MPEG4, H.264), MKV (h.264, x.264, AVC, MPEG 1/2/4, VC-1), M2TS, VOB and WMV9 |
| Photo | JPEG, GIF, TIF/TIFF, BMP and PNG |
| Playlist | PLS, M3U and WPL |
Setting it up
Setup is easy – you can connect from the WD TV to a Tv set either via the high definition HDMI socket, or at standard definition using the three composite sockets. Next, turn it on, and give it something to play. We filled a memory stick with a collection of AVIs, MPEGs, MOVs, JPEGS, WAVs, WMVs, BMPs and MP3s, plugged it in to one of the two USB sockets and we were away. Full screen HD video, decent audio playback, and nifty photo display.
User Interface
Nicely done WD – Easy to use, and with some nice touches for the more technically-minded. It's worth hopping over to WD's support site to pick up the latest version of software – at the time of writing, v1.03 – which can be downloaded and installed easily via USB memory stick.
Using the WD TV is easy – from the main screen, you navigate between Video, Music, Photos and Settings.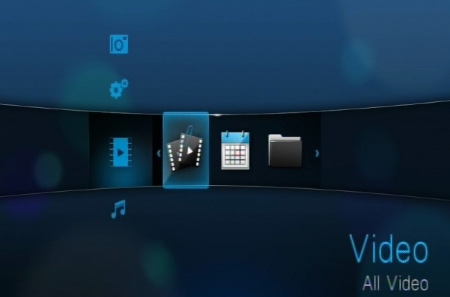 Video Playback
Video playback is pretty impressive, especially from the HDMI output, and the support for different formats is impressive. When in Video, you have options to see all video clips, clips by date, recent clips, or the contents of a folder. When playing back, a video file, you can press Options to pop up a menu with the option to change audio channel, enable subtitles, zoom the image, navigate a zoomed image, change shuffle type, or show information about a clip. You can also pause video, and fast forward rewind at up to 16 times normal speed.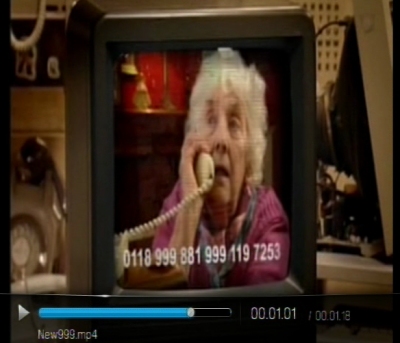 In settings you can control display resolution, output (composite or HDMI), aspect ratio (4:3 or 16:9 widescreen), audio out (stereo or digital), NTSC/PAL, sequence (normal, repeat one, repeat all) and subtitles (font size and border).
Photo
You have the option to view all photos, by date, by folder or recent images. The box will show a slideshow of your images. You can skip forward or backward, pause an image, zoom in on an image and rotate each image as required. When viewing photos, you can have your music playing in the background.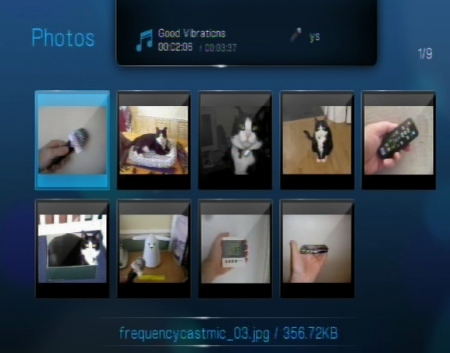 In settings, you can control list/thumbnail display, slideshow sequence (normal, shuffle, repeat all, repeat and shuffle), photo scaling, transition effects and interval time.
Music and Audio
For music playback, you can show all music, by artist, by genre by album, by date, recent, by folder, or a playlist. You're shown either a list or thumbnail view (including cover art where present).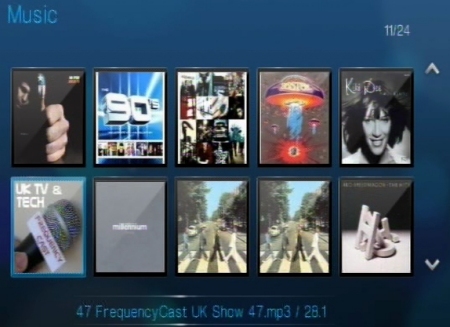 When playing track, you get to see now playing information, cover art and ID3 information. You also can see "Coming next".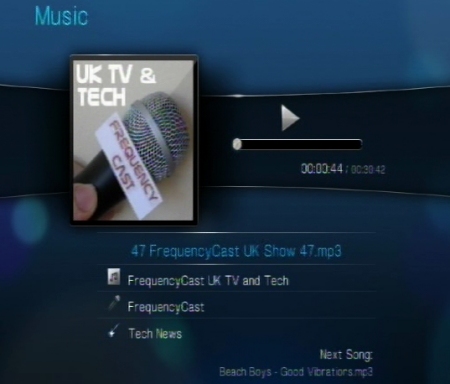 In Settings, you can control music sequence (normal, repeat one, repeat all, shuffle, repeat all and shuffle), what's displayed (filename or title), and thumbnail or list view.
Settings
As well as the media-specific settings, you can also alter the following: Change language, show media library, screen saver delay, show file size, and regional encoding support.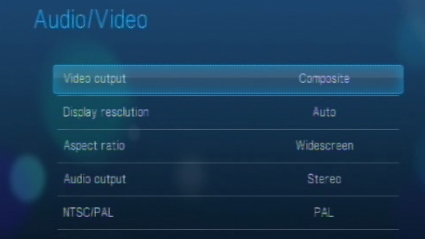 Search
There a dedicated button for Search. Handy for when you've got lots of media to wade through. Unfortunately, this is media-specific, so you can search for photos by filename, or music by artist/title/filename/album – but you can't do a blanket search across all media types. Not a major problem, just an odd omission.
Remote Control
The remote control is diddy, but usable. The buttons are as follows: Power, Home, 5-way navigation pad, back, stop, option, Rewind, Pause/Play, Fast Forward, previous, Next, Search and Eject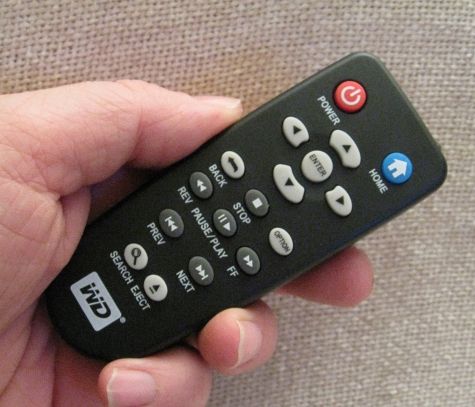 Connectors
The WD TV has the following connectors:
2 x USB for media
HDMI for connection to a high definition monitor
Composite out (video and two audio phono sockets)
Digital Audio S/PDIF out
Mains connector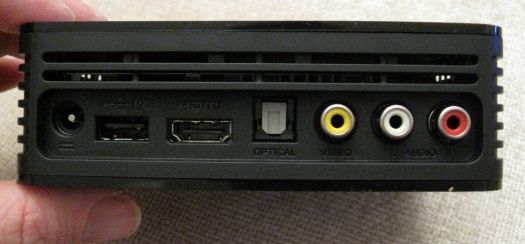 WD TV Supplied With…
Mains adapter
Remote control, plus two batteries
CD (Conversion software for Windows PCs)
Composite AV cable
Quick Start guide
CD 2 x AAA batteries for the remote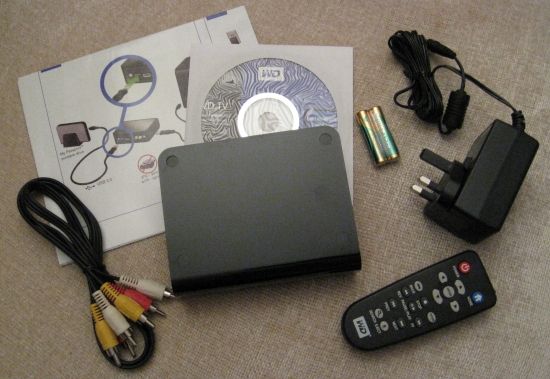 Summary
Great size, great support for different formats. Highly recommended. Go get one!
At the time of writing, little over £60 at PC World
WD TV FAQ