Peep Show – Channel 4 Series Details
Information on the hit UK TV comedy series from Channel 4, Peep Show
A look at the unusual Channel 4 comedy series, summed up on the rear of the DVD as "Hilariously disorienting"…
The series centres around two flat mates, Jeremy, played by Robert Webb (more recently seen in the BBC's Smoking Room) and Mark (David Mitchell)
You'd be forgiven for assuming that Peep Show is some kind of Game On / Men Behaving Badly hybrid – after all, the two main characters are dysfunctional males that are living together under one roof – one an introvert with a stable office job, and one cooler joy with his own set of character flaws). Once you've seen a few episodes, you'll realise that Peep Show is quite a bit different to those shows, covering a number of taboo subjects from a unique "first person" perspective.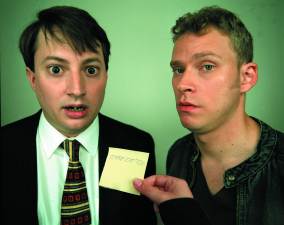 This gives you a peep into the rather distorted worlds of the two leads… Mark, the frustrated, overly shy office worker is desperately chasing co-worker Sophie (Olivia Colman). Jeremy's in a band, hoping that his big break is around the corner… Where this differs from your average 'two lads' sitcom, is that events are witnessed from the 'first-hand perspective, complete with unspoken thoughts.
This is one of those series that requires you to watch a few episodes before you 'get it'. The first-person perspective takes a little getting used to, and this isn't a 'funny' comedy in the obvious way. The camera work adds to the edgy feel of this series too, as it captures events from the star's viewpoint (sometimes through a pint glass).
Peep Show Series Summary
Series One – Six episodes, transmitted on late-night Channel 4 in September / October 2003.
Series Two – Six episodes, transmitted at 10pm, Friday nights in November / December 2004. Series 2 sees Toni and Nanci in Jez's line of fire, Mark not-stalking a college girl from a shoeshop, work with Super Hans on a film soundtrack, a double-bungee attempt, and wedding bells for Jeremy.
Series Three – Six episodes, transmitted at 10pm, Friday nights. The first episode in Series 3 was transmitted on the 11th of November 2005, and sees Mark being mugged by a bunch of kids – and losing his precious Blackberry. Jeremy's found a way back into Big Suze's life. Series 3 includes some long-distance phone sex with Sophie, Mark's sister moving in, the pair becoming pub owners, and Jeremy's brush with illegality during jury service. Completed its run in December 2005.
Series 4 – The fourth series took to the air in April 2007. Mark has accidentally proposed to Sophie, and is desperately seeking an exit strategy. Will Sophie's dad take "shotgun wedding" literally? With wedding bells the theme of the series, Nancy, the stunner that Jeremy married to help her get a visa, reappears. Could we really see the El Dude brothers happily married by the end of the series?
Series 5 – The ramifications of Mark and Sophie's disastrous wedding… oh, and Jeremy joins a cult. Transmitted in May 2008 on Channel 4
Series 6 – Started on Channel 4 on 18th September 2009. Sophie's in the family way, and Jez is up to naughtiness with a bisexual neighbour.
Series 7 – This series started its run on Channel 4 in November 2010. Mark and Sophie's baby arrive, and Mark, the reluctant father has a whole world of new stress. Jeremy's found love in the form of Zahra, just as long as her boyfriend remains in a coma, that is.
Watch Peep Show onlinePeep Show is available for on-demand viewing. Channel 4 has launched 4oD, an online video-on-demand service. many of their programmes are available for download to your PC. Watch recent shows and classic Channel 4 shows from your desktop.

Download the free player from www.channel4.com/4od. Shows are also available from www.apple.com/itunes
Peep Show Availability:
Series 1 DVD available from Amazon.co.uk. In the US, this was released in September 2005 – from Amazon.com
Series 2 DVD became available on the 14th November 2005 from Amazon.co.uk and Play.com. DVD extras include three audio commentaries over 3 different episodes featuring Robert Webb, David Mitchell, Jesse Armstrong, Sam Bain, Tristram Shapeero and Phil Clarke. Also, deleted scenes, behind-the-scenes feature & Gogs Film.
Series 3 DVD became available in November 2006 from Amazon.co.uk and Play.com. Another essential own – although note that controversially, the series 3 DVD has some heavy copy protection, and won't run on some DVD players, including Playstation 2, Xbox, and some Mac and PC players.
Peep Show Series 1 to 6 are available on DVD from Amazon.co.uk and Play.com
PEEP SHOW FREE: Watch Peep Show free online at www.blinkbox.com
Review of Series 1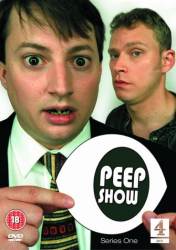 Unsurprisingly, the Series 1 DVD carries an 18 rating – mostly due to the language, but the subject matter is likely to be beyond the knuckle for those that prefer more mainstream comedy. The first episode sets the scene with Mark's obsession with Sophie, and his fear of a bunch of local kids taunting "Mark the Pedo" – Jeremy's trying to further his music career by seducing a music industry leukaemia sufferer. Episode two includes adventures with Hobbit porn, and use of Nazi Post-it notes to impress Sophie.. hardly 'Terry and June' sitcom material…
The Series 1 DVD includes a number of extras, including 6 specially filmed stand-alone scenes plus audio commentary over two episodes by the writers and the main characters.
The series saw something of a gear-change in Series 2… I can't help feeling that after reviewing the TV ratings, Channel 4's execs asked the producers to 'tune it down a bit', to de-weird it in an effort to increase its appeal to a wider audience.
If you liked another Channel 4 comedy gem, Spaced, you'll love Peep Show – personally, here in the office, we love it… one of the truly different comedies to grace our screens