Spaced – UK TV Comedy Series Information
Information on the hit UK TV comedy series from Channel 4, Spaced
What is Spaced?
It's a seriously good Channel 4 comedy about two perfectly-matched flatmates, who just don't know it. It ran for two series between 1999 and 2001. Clever use of classic TV soundtracks and camera angles make this a joy to watch – a refreshing change.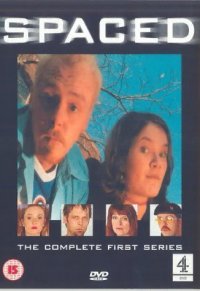 Spaced is an alternative sit-com that you either love or hate (if you've heard of it, that is) comedies around. I managed to miss some of the first run on Channel 4, so when I heard the DVD was due out, I didn't hesitate to place an advance order.
It's the story of two failed twenty-somethings, Tim and Daisy, living in a flat with some odd flatmates, Marsha and Brian (and Colin!), plus their friends Twist and Mike. Incredibly well written and making use of clever snippets of TV theme tunes, Playstation games and some very surreal camera angles, this is a truly excellent series.
Spaced: Cast
Daisy Steiner – Jessica Stevenson

Tim Bisley – Simon Pegg

Mike Watt – Nick Frost (The Boat That Rocked)
Brian Topp – Mark Heap (later in Green Wing)

Marsha Klein – Julia Deakin

Twist Morgan – Katy Carmichael
Spaces Series 1 Review
If you don't own a copy of Series 1 on DVD, you should. Although the series ran a while back (September 1999), it's still an awesome series with some great moments, and it seems to survive the test of time.
The series starts with Tim and Daisy trying to find a flat. The only way to find anything, is to pretend to be a couple. But will they fool Marsha, the odd landlady…?
On the DVD of the first series, you'll find a commentary track with Tim and Daisy discussing the making of the series, around ten minutes of bloopers and out-takes, a small selection of deleted scenes, plus the series trailers as aired on Channel 4.
The DVD of Series 1 is available: Go to Amazon Spaced Reviews for more.
The DVD of Series 2 was released in March 2002: Get it from Amazon
A CD soundtrack to Spaced is also available.
Collectors Edition DVD
In September 2004, a three-disc Spaced Collectors Edition DVD was released.
This contains all of the bonus material found on the previous Spaced DVD releases, plus a bunch of new stuff including interviews with the Spaced cast, and a behind-the-scenes tour of the locations used in the series.
Highly recommended for Spaced fans – get yourself Spaced : Definitive Collector's Edition
Watch Spaced online
Spaced is available for on-demand viewing. Channel 4 has launched 4oD, an online video-on-demand service. many of their programmes are available for download to your PC. Watch recent shows and classic Channel 4 shows from your desktop.
Download the free player from www.channel4.com/4od. Shows are also available from www.apple.com/itunes
Spaced on Region 1 DVD?… Thanks to site visitor Caterine Sweet for the following: "I wonder if anyone can help me by either passing along this request or dropping me a note informing me of an appropriate address. My request is: Please release "Spaced" on region 1 DVD! We are utterly deprived here in Canada of this show. I would think that with the success of Shaun of the Dead and the upcoming N.A. release of Hot Fuzz, this would be good timing (if not earlier). I've been so patient! :) Thanks, Catherine, Prince Edward Island, Canada (Feb 2007).
Well Catherine – We haven't got any useful info about a Region 1 release, but this might help. The rear of the Spaced Series 1 Region 2 DVD states that Spaced was a Paramount UK and LWT Production for Channel 4. Distributed by Video Collection International Ltd, 76 Dean Street, London W1D 3SQ. Best advice is to try contacting VCI, then Channel 4, then Paramount UK. If you get a reply, or have more information, please let us know or have your say about the series in our UK Comedy forum
Links
For more on Spaced, go to the unofficial Spaced Out site