Philips HDT8520 Freeview HD Recorder Information
Information on the Philips HDT8520, the first Freeview HD digital TV recorder available in the UK.

Since Freeview HD launched at the end of 2009, the wait has been on for the first Freeview HD recorder. In May 2010, that wait ended with the release of this machine from Philips.
HDT8520 Features:
The Philips HDT 8520 offers the following:
Twin Freeview HD tuners
500GB hard drive, for up to 125 hours of HD or 250 hours of standard definition
One-touch recording
Ultra-quiet operation
Low power consumption
Up to 1080p resolution
8-Day EPG
USB and Ethernet sockets (for future on-demand TV services)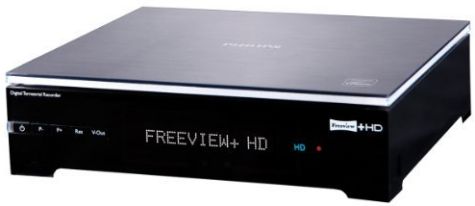 Philips HDT 8520 Freeview HD Set-top Box
Philips HDT 8520 UK Availability:
Became available in May 2010. Here's a summary of places to find the first Freeview HD PVR:
Philips HDT-8520 Specifications
Dimensions: 240 x 210 x 65 mm
Weight: 1.75kg
Power consumption: <15 W active, <1W standby
Hard Drive: 500GB hard disk drive
Tuners: Two tuners. DVB-T2, DVB-T, MHEG with interactive channel
Broadcast Resolution: 720p, 1080i, upscale to 1080p via HDMI
Dolby Digital 5.1 audio output
Aspect ratio: 16:9, 4:3 Letterbox
Pause Live TV with 3 hour time shift buffer
Up to x1/4 slow motion and x128 fast forward / rewind
Extra low noise levels in both active and recording modes: Lw (A)= 27.8 dB(A)
HD Alternatives? You may have dismissed the Sky satellite TV option (as it's not subscription-free), but if you want to make the most of your HD TV set, here's why you may wish to think again:
Channels: Over 200, plus 50 HD channels
Box: High-spec hard disk recorder with Series link

Price: Sky's HD box is free if you sign up to Sky's HD pack (HD subscription is an extra £10 a month). Otherwise, box is £49 (and you get BBC One HD and BBC Two HD free)
Full details and pricing info on Sky's HD site
Freeview HD links: