Radio Active Remembered
Broadcasting locally, wherever you are in the Nation, this is Britain's first National Local Radio Station – Radio Active.
Classic BBC Radio comedy from the 80's remembered by many – especially those working in the commercial radio industry! The series transferred to TV, becoming KYTV, the spoof satellite TV channel.
What was Radio Active?
Radio Active was a BBC radio comedy series that ran on Radio 4 between 1981 and 1987. The series later transferred to TV. On this page, we look at the history of the show, the characters, and the episodes of this much-loved radio comedy classic.
Radio Active Updates:
Aug 2008: Geoffrey Perkins died aged 55. He was responsible for much of the writing of Radio Active and KYTV, as well as the voice of Mike Hunt. He died in a car accident, and will be missed.
After Radio Active, the team moved on to create KYTV – the same winning Radio Active format, this time mocking satellite telly. The first series is now out on DVD, but not available from Sofa Shop (you spend, we send). Instead, you can sign up to a KYTV subscription at Amazon or Play.com.
Oct 2004 – Thanks to Mark M for letting us know that he's contacted BBC Radio 7 regarding
"starting Monday 20th December at 08.30, repeating 22.00".
Nov 2003 – Series 5 being repeated on Mondays, BBC Radio 7, 8:30am and again at 10:00pm. There are eight in the series, including: Wimbledon Special, Nuclear Debate, Out of Your Depth, Radio Active Down Under, Get Away with You, Wey Hey it's Saturday, Music Festival and Did you Catch it? BBC Radio 7 is available on Freeview and DAB
July 2003 – Series 4 being repeated on Mondays, BBC Radio 7, 8:30am and again at 22:00pm. Schedule as follows:
28/7/03 – 'Salute To New York'
4/8/03 – 'The Martin Brown Show'
11/8/03 -'Round Your Parts'
18/8/03 – 'Breakfast Show'
25/8/03 – 'Minorities Programme'
1/9/03 – 'Bio Show'
8/9/03 – 'Gigantaquiz'
Thanks to forum member Sir_Kobble for letting us know. BBC Radio 7 is available on Freeview and DAB
June 2003 –

New

Radio Active Forum added. If you remember Radio Active, please leave a message…
Feb 2003 – Radio Active Series 3 (1983) is being repeated on BBC Radio 7 (2:30pm on Saturday). BBC Radio 7 can be received on DAB Digital Radio, Freeview and satellite TV
Nov 2002 – Radio Active is back. Starting from 12th November, BBC Radio 4 is repeating selected episodes, starting with 'Euro Show'. They're running from 6:30pm on Tuesday nights.
NEW Radio Active (recorded 1st Dec 2002 – Transmitted 17 Dec 2002)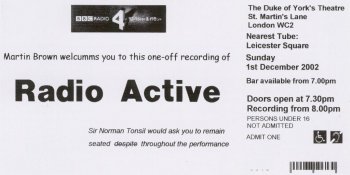 Radio Active's "Digital Turn On", the first new Radio Active in 15 years, was recorded as a 21st Anniversary tribute to Radio 4's Radio Active.
It's been 15 years since Radio Four last linked up with Radio Active, and a lot has changed. For a start, the station's ownership has changed, after Martin Brown inadvertently gives it away as a competition prize. With the advent of DAB, the station has gone Digital, and Radio Active is set to launch 25 channels of radio, including kids channel 'Tiny Mindies', and the 24 hour footwear station, 'Radio Active Shoes'.
The old favourites are there – Martin Brown, Nigel Pry, Oivind Vinstra, and Anna Rabies. Back in style too is the Drama Repertory Company with their moving adaptation of Doctor Zhivago and Mary, June and Honest Ron are still cropping up on commercials. Some superb writing (i.e. the Radio Active House), great musical performances from Philip Pope, and the usual top-notch performances by Helen Atkinson-Wood, Geoffrey Perkins and Michael Fenton-Stevens, plus, of course, one Angus Deayton (who was the subject of a little 'abuse' from the rest of the team). Superbly slick recording, introduced by producer David Tyler (earlier series producers Jamie Rix and Paul Mayhew Archer were in the audience too)…
Contents of "Digital Turn-on", Transmitted 17 Dec 2002, 18:30 on BBC Radio 4
Intro
Digital Promo
How does Digital work?
Digital phone-in
Promo – Radio Active Shoes
15 years of Radio Active
Sir Norman announces musical ads
News coverage that stops at nothing
Ad – Mary/June
Ad – Bob Dylan Album
Anna Rabies book "Hogging the Mike"
Talent balloons
Martin Brown becomes a Shock Jock
Nigel Pry sacked
Presenters in the Big Brother house
Drama Rep-Dr Zhivago
Sig and credits
Announcer-Radio Active re-union
Recorded, but sadly not making it into the final transmitted version, were: Intro theme, the Gwyneth Paltrow / Oivind Vinstra interview , the Martin Brown / Diana interview and the OwasteofSpace (Oasis) spoof song.
Presenters

Anna Dapter (Helen Atkinson-Wood)
Mike Channel (Angus Deayton)
Mike Flex (Geoffrey Perkins)
Martin Brown (Michael Fenton-Stevens)
Mike Hunt (Philip Pope)
Nigel Pry (Philip Pope)
Oivind Vinstra (Geoffrey Perkins)
Sir Norman Tonsil (Angus Deayton)
Uncle Mike Stand (Michael Fenton-Stevens)




Episodes:
Radio Active ran on BBC Radio from 1981 to 1987. Below is an episode listing, including the pilot, Christmas special, and the 2002 reunion show…
| | |
| --- | --- |
| Series 1 (1981) | 1. The Late Show, with Mike Channel |
|   | 2. Bedrock (Mike Flex Breakfast Show) |
|   | 3. The Midday Show with Anna Dapter |
|   | 4. Radio Active Roadshow |
|   | 5. What's News? |
|   | 6. Radio Active Awards |
| Series 2 (1982) | 1. History of Radio Active |
|   | 2. Radiothon |
|   | 3. Good Day Sport |
|   | 4. What's Going On? |
|   | 5. The Nigel Pry Show |
|   | 6. Pick of the Week |
| Series 3 (1983) | 1. Euroshow |
|   | 2. Probe Round the Back (Behind the scenes) |
|   | 3. Radio Active's Funday in Blackport |
|   | 4. Repeat After Three (Late Show) |
|   | 5. Lunchtime with Anna (Buy British Exhibition) |
|   | 6. Edinburgh Festival |
| Series 4 (1984) | 1. Salute to New York |
|   | 2. The Martin Brown Show |
|   | 3. Round Your Parts in Humpingham |
|   | 4. Radiovision Breakfast Show |
|   | 5. Minorities Programme |
|   | 6. The Bio Show (Sir John Leslie) |
|   | 7. Gigantaquiz |
|   | 8. Martin Chizzlenut |
| Series 5 (1985) | 1. Wimbledon Special |
|   | 2. Nuclear Debate |
|   | 3. Out of Your Depth (In at the Deep End spoof) |
|   | 4. Big Down Under Show (Australia) |
|   | 5. Get Away with You (Holiday show) |
|   | 6. Wey Hey, It's Saturday (Kids show) |
|   | 7. Music Festival |
|   | 8. Did You Catch It? |
| Series 6 (1986) | 1. Thodding By-Election |
|   | 2. The Fit and Fat Show |
|   | 3. Bogey Awards |
|   | 4. D-Day Show |
|   | 5. The Nice Film Festival |
|   | 6. Stop That Crime UK |
|   | 7. In-House Documentary (Fly-on-the-wall) |
|   | 8. Backchat |
| Series 7 (1987) | 1. It Was Twenty Years Ago (Last Tuesday) |
|   | 2. Radio Radio Programme |
|   | 3. God Alone Knows |
|   | 4. Probe Round the Back (Spycatcher) |
|   | 5. Here's a Bit of Talent |
|   | 6. Flu Special (send-up of AIDS programming) |
|   | 7. You and Your Things (send-up of consumer shows) |
|   | 8. Mega Phone-In |
| Specials | Pilot Episode: The Oxford Review (1980) |
|   | Radio Active's Christmas Turkey (1983) |
|   | Digital Turn-On (Dec 2002) |
Merchandise
"Radio Active" – BBC cassette ZCR471 ©1983

Side 1: Police file, shipping forecast, Ches-and-Des, Radio Active Shop, Wordplay Jackpot, Radiothon (Nigel Pry in the Ship's Tavern, Mike Stand in hospital, Kate Bosch), Soap Box Corner, SOS call.
Side 2: Good Day Sport (Fencing, Results, World Cup song), What's going on, Hymen and Carbunkle, Return to Slovenly Manor, MasterQuiz, Mike Stand Adventure Holiday.

"Radio Active" – BBC Canned Laughter BBC Enterprises cassette ZBBC1522 ©1993;

ISBN: 0563 402 318


Featuring the episodes: Martin Chuzzlenutt, Mega Phone-in. Try Amazon
"Radio Active" – BBC Audiobooks ©1995;

ISBN: 0563390549

Listing at Amazon says "Three episodes of the radio series featuring a spoof local-radio station, featuring Martin Chuzzlenutt and Mega Phone-in, a Thodding By-Election Special and Euroshow". Thanks to forum visitor Sir_Kobble for pointing out that the Amazon description is wrong. This double-cassette is in fact a combination of the compilation LP and the Martin Chizzlenut/Mega Phone-In release. Try Amazon.co.uk.
"Radio Active Times" – Sphere Books.

ISBN 0 7221 2806 1


66 page paperback published in 1986, originally priced £3.95. A spoof listings magazine for various Radio Active shows in the style of the Radio Times magazine… includes print versions of many of the radio commercials used on-air.
The Utterly Utterly Merry Comic Relief Christmas Book – Fontana Press;

ISBN: 0006371280


Published in 1986, this book features a small amount of Radio Active content amongst other goodies such as exclusive Hitchhiker's Guide stories and a Young Ones photostory. Edited by Douglas Adams. Amazon listing
Great moments from Radio Active:
Commercials – "Hello Mary… oh, hello June"
Commercials – "Honest Ron, Honest Ron – the others are a con… Honest"
The phone-in number: "4 85 6242" that's "0110100 10 000 1 0 … 9" (extract)
The handovers back to the Radio 4 continuity announcer (extract)
Timechecks – "It's … several minutes past, exactly!"
Radio Active on-air
For details of when you can next catch Radio Active or KYTV on UK radio or TV, give the DigiGuide listings service a try. For more on DigiGuide for TV and radio listings, see our Digiguide page.
Questions?
What was the theme tune?

According to the compilation LP, the Radio Active Sig Intro theme is: 'Out To Lunch' – The Client (Parker/Bond) / Andrew Heath Music, Ronnie Bond Music RCA 1979 RCAPB5214. Thanks to forum visitor Malcy B for getting in touch about this. Apparently, the theme was released as a 7″ single in the late 1970s, before Radio Active was on the scene – the theme was used for a Midland Bank advertising campaign on ITV – that's how the artist name on the record became "The Client". (theme extract)

How can I get hold of old episodes?

Either by buying the BBC cassettes, or listening out for the repeats (see above). Reports are that some shows are available for download over the 'net, but we can't advocate downloading these. You may also want to take a look in our Radio Active forum to see if there are any sightings of the show.
Behind the scenes
For what it's worth, here's my contribution – a couple of rather dog-eared pages from one of the old Paris Studio recordings. Click for a larger image…



Slice of history – the cover sheet and 1st page of the studio copy of "Out of Your Depth"
Radio Active Links