Freeview – The Free UK Digital TV Service
Information about Freeview,what the services offers, how to get Freeview, and answers to common questions about the free-to-view TV service.
What is Freeview?

Freeview is a Digital TV service that allows you to watch over 40 TV channels via your TV aerial. No dish required, no subscription, no ties, no contracts, and no installation costs. Just buy a set-top box for free access to the Freeview channel lineup…
What channels do I get on Freeview?
Below is a summary of the channels on offer to Freeview users: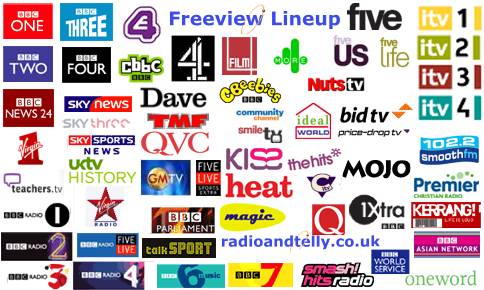 Entertainment
BBC One, BBC Two, ITV 1, Channel 4 and Channel 5, ITV 2, ITV 3, ITV 4, BBC Three, Pick TV, BBC Four, E4, More4, Film4, Yesterday, Dave, 5*, 5 USA, CNN, Challenge, Community Channel
News
/ Sport
BBC News,
Sky News,, BBC Parliament.
Kids
CBBC, CBeebies, CiTV
Shopping
QVC, Bid TV , Price-drop TV , Ideal World
Music
4 music,
The Music Factory
Radio
BBC Radio
1, BBC Radio 2, BBC Radio 3, BBC Radio 4, BBC Radio 5 Live, BBC Radio
5 Live Sports Extra, BBC Radio 6, BBC 1Xtra, BBC Radio 4 Extra, talkSPORT, BBC Asian Network, BBC World Service, Smash
Hits, KISS, Kerrang, Smooth Radio (formerly Jazz FM), Heart, Absolute (formerly Virgin), The Hits, Q, Magic, Heat & Premier Christian
Interactive
/ Info
BBCi, Teletext,
FourText, Sky Text, NHS Direct
How do I get Freeview?
Here's what to do if you're looking to get the Freeview channels:
Check Coverage – To receive Freeview, you must be in range of a Freeview transmitter. To check this, enter your postcode on the Digital UK Postcode checker. More: Freeview Reception help
Box – If you are in a coverage area, you'll need to get a free-to-air set-top box. Boxes cost from around £20 and can be bought from high-street stores such as Currys. Shopping online for a set-top box is often cheaper. For help choosing, see further down this page.
Connect – Plug your existing TV aerial lead into your Freeview set-top box, then connect a SCART lead from the box to your TV's SCART socket, and you should be ready to go. Follow the instructions supplied with the  set-top box, and scan for available Freeview channels.
The cost? There's no subscription costs or rental agreements, so the one-off cost for the set-top box is all you'll pay for the extra channels.
Freeview set-top boxes
There's quite a range of set-top boxes, with differing features and styling. Here are a few things to consider when buying a Freeview box:
Price: From around £20 – no subscription or ongoing costs.
Connectivity: All boxes have a single SCART socket for connection either to a TV or recorder. You may want to consider improving your options by getting a box with a second SCART socket, so you can connect to both a TV set and a video / DVD recorder.If connecting to a TV that doesn't have a SCART socket, you need to look for a Freeview box that has a modulated output (e.g. the Icecrypt T5000).
Features: Basic boxes tend to support Freeview's interactive services and subtitles. More expensive boxes come with two-week electronic programme guides, built-in games and programme timers. At the top-end, boxes have a built-in a hard-disk recorder – These hard-disk recorders, known as PVRs, support live pause, and many allow you to record one digital channel whilst watching another.
If you're looking to buy a Freeview receiver, take a look at our list of Freeview boxes for the full range of UK boxes. Below, you'll find our 'Quick Picks' – three different types of box, to suit differing budgets:

Radio and Telly's Freeview Quick Picks


GOODMANS GDB18FVZS2: Basic box with 2 SCART sockets. Amazon / Currys

£25

BT YouView: Freeview HD recorder plus on-demand content.
More info: get.youview.bt.com
Humax PVR-9300: Includes a hard-disk recorder that holds 160 hours of TV. Currys

£164
Freeview Interactive Services
Freeview offers digital services, such as programme listings, digital teletext and games. Check out BBCi on channel 105 for an example of the text services available.
Below are some screenshots of Freeview's text and interactive services (click the image to get a larger version):
| | | |
| --- | --- | --- |
| Teletext Weather | BBCi News Multiscreen | Channel 4 Listings |
Freeview problems?

Freeview Links