How to Manually Tune Channels on a Sky+ Box
The Sky+ Box allows you to add extra channels that aren't found on the Sky Planner. A small number of hidden free channels are available, as well as regional TV services. Here's our guide on how to find them.
What extra channels are available?
A bit of background first. Sky (and Freesat) use a group of orbiting satellites positioned at 28.2 degrees East. The satellites are:
Eurobird 1
Astra 2A
Astra 2B
Astra 2D
As the channel list changes quite often, we'd suggest you take a look at the excellent Lyngsat site, for the full list and frequencies. This link opens the Lyngsat list of all channels on that group of satellites in a new window: Satellite Channels at 28.2 degrees East
How to add a channel
Assuming you've had a look down the list and found a channel you want to add, you'll note that the channel you're after is in a "block" with a bunch of other channels. For that "block of channels, you'll need to take a note of four bits of information:
Frequency (in Gigahertz)
Polarisation (Horizontal or Vertical)
Symbol Rate (in megabaud)
FEC (Forward error correction)
Here's where you'll find those 4 bits of information on Lyngsat: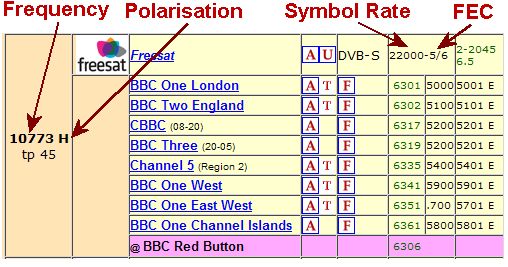 For the purpose of this walkthrough, we've picked the block called TP45, which contains BBC One, BBC Two, BBC Three and Channel Five, as used for Freesat. Here are the four bits of information
Frequency: 10773 (or 10.773GHZ)
Polarisation: H (horizontal)
Symbol rate: 22000 (or 22.0)
FEC: 5/6
With that information, you now go to your Sky box, and do this:
Press Services
Scroll over to "Add Channels" (under Options)
Enter the Frequency, Polarisation, Symbol Rate and FEC you got from Lyngsat
Press the yellow "Find Channels" button.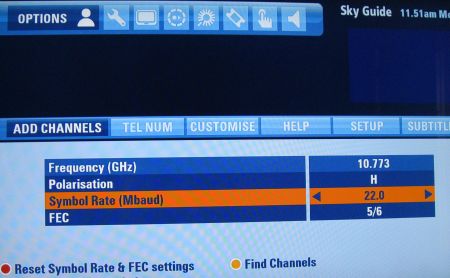 The box should search for a while, then give you a list of all of the channels found on that block.
You scroll to the channel you want to add, and use the Yellow button to add them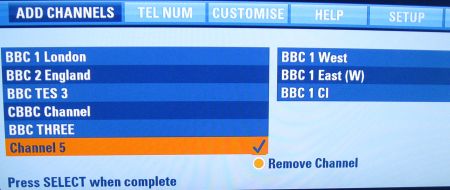 Press the Select button when you have added all of the channels from that block.
Now, your manually added channels will appear under the "Other Channels" option, available from the Services button.
Related Satellite Help: