Freesat – Your Questions Answered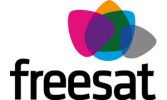 Freesat launched in 2008 and offers over 120 digital TV channels and over 25 radio channels via satellite. This page contains answers to frequently-asked questions.
The service is subscription-free. For more on the Freesat service, see our Freesat Review.
How do I get Freesat?
Dish: If you don't have a satellite dish pointing to where Sky Digital's satellites are – you'll need to get a dish installed. Contact a local TV / satellite installer for a quote.

Receiver: You'll also need a Freesat Set-top box (See next question), or a TV with a built-in Freesat receiver.
What set-top box receiver do I need?
You'll need a special Freesat receiver. These are available from Currys, Argos and John
Lewis. Boxes cost from £50 for a standard box, or £120 for a box capable of getting High Definition.

See our list of Freesat receivers
Can I get Freesat where I live?
Looking for a postcode checker to see if you can get Freesat where you live? There's no such thing. Freesat is distributed via an orbiting satellite, and that satellite covers the whole of the UK. All you need is a suitable satellite dish that's pointed at the right part of the sky. This means that 98% of homes can get Freesat.

Pretty much the whole of the UK is in the footprint of the Astra satellites – there are coverage maps here.

The main reason that the coverage isn't 100% isn't related to the footprint of the satellite – it's the fact that it's not always possible to point a dish at the satellite.
The dish needs clear line of sight to the satellites. The dish needs to be pointing at a compass heading somewhere between 139 and 147 degrees (i.e. South- East). Need help finding the satellite? See Installing a Dish.

Those that can't get Freesat are likely to live somewhere where there is no clear line-of-site to the satellite. In built-up areas, valleys, etc, this may not be possible. If you live in an area with limited line-of-sight, check with your neighbours to see if they can get satellite. Additionally, some properties can't have a dish, or it's not practical to have one installed. A professional local dish installer can advise you.

In the event that you can't get satellite TV where you live, check out some of the other digital TV options
Is there a PVR (disk-recorder) for Freesat?
Yes. When Freesat launched in May 2008, there was no PVR hard-disk recorder or twin-tuner in their receiver lineup.

The first Freesat PVR launched in November 2008 – the Humax Foxsat HDR (pictured below). These are available from Play.com

If you want to record from Freesat, you can connect a Freesat receiver to a DVD recorder or video recorder using a SCART lead. See our recording FAQ
I have a Sky satellite dish. Can I use this for Freesat?
Almost certainly, yes. As long as the dish is pointing in the same direction as the Sky satellites, all should be well. It certainly works for us.
Freesat channels
High Definition Freesat?
Yes – good news is that with Freesat, it's possible to get High Definition without a subscription. The bad news is that the channel choice is a lot less than on Sky's HD service. Here's some useful information:
Channels: As of December 2011,

Freesat offers five channels – BBC One HD, BBC Two HD, ITV 1 HD, Channel 4 HD and HNK World HD. This compares with the 50+ channels on Sky+HD (including Sky 1, Sky Movies and Sky Sport)
HD Formats: Freesat supports HD broadcasts in 720p and 1080i . More on HD formats.
More on HD on our HD TV Explained page.
Can I get other satellite channels?
Yes – at least with some Freesat boxes. By default, the Freesat channel lineup is a closed list of channels managed by Freesat – see our Freesat channel list. However, there are lots more free-to-view channels available on the Astra and Eurobird satellites. See the Free-to-air channel list to see what's available.

Some Freesat receivers are capable of tuning in to other free-to-air channels. The Humax Foxsat-HD Freesat receiver, for instance, is capable of tuning to these other free satellite channels. See our Humax FoxSat FAQ for details on how to do this.

We had a scan to see what we could other, non-Freesat channels we could see. In May 2008, our scan revealed 370 TV channels and 106 radio channels. A small percentage of these channels were encrypted and not viewable – this is because the broadcaster may be in a commercial agreement with Sky that prevents them being shown free-to-air (this is known as Free-to-View), or because the channels are subscription channels and you need to sign up to Sky to get them.

We were able to access a stack of free-to-air channels from our Humax Foxsat, including:

Business Channel, Baby Channel, Wine TV, Film 24, UCB TV, Sky News, Nuts TV, Bloomberg, CNN, JJB Golf, Fight Network, Luxe TV (in HD!) and Rockworld TV. There were also quite a few religious channels (such as the God Channel), a stack of shopping and quiz channels, plus a collection of free-to-air adult tease channels (such as Babestation, Essex Babes and Playboy 1). See the list of Free-to-air channels on Sky.

It's handy being able to switch between Freesat and Non-Freesat channels, for situations where a channel is not yet part of Freesat, or is a Freesat-only channel. Note that when scanning for non-Freesat channels, the numbering sequence will be a bit odd, and also they can't be accessed via the Freesat Electronic Programme Guide.

Scanning for non-Freesat channels on a Humax Foxsat
Connecting to TV and recorders
As standard, you can connect your Freesat box to a TV set and DVD recorder via SCART cables. The Freesat boxes that were available at launch have 2 SCART sockets – one for connection to a TV, and one for connection to a recorder. Boxes with high-definition output can be connected to an HDTV set via the HDMI socket. Some other notes on connectivity:
Yes – you can connect a Freesat box to a digital TV that has built-in Freeview (via SCART, or if HD, via HDMI).
How to record to DVD: See our recording FAQ
Connecting to a PC
If you have a TV receiver in your PC, you may wish to connect the output of your Freesat box into your PC receiver. Your PC TV receiver will need to support "analogue" input. If your Freesat box has a standard TV aerial output socket and is "modulated", you should be able to connect an aerial lead from the Freesat box to the PC TV receiver, then tune the PC software in to the Freesat box output channel.

Many Freesat boxes don't have a modulated aerial output, so you may need to connect from the Freesat SCART socket using an RF modulator. You can find more help on this subject on our Watch TV on your PC page.
Can I record from Freesat?
Sure. You can record Freesat onto DVD, video cassette recorder or using a box with a built-in hard disk recorder.

If you have a DVD recorder or a VHS video recorder, it should be a case of connecting from one of the Freesat box SCART output sockets, into a Line In SCART socket on your recorder. All Freesat receivers support recording via their SCART sockets.

Freesat PVR / DVRs? There are now a few PVRs on the market for Freesat – most popular appears to be the Humax Foxsat-HDR. See our PVR FAQ
Recording HD content? Yes – Consider getting a twin-tuner Freesat recorder such as the Humax Foxsat HDR – This records standard and HD content onto a built-in hard-disk recorder.
Sky+ / Sky+HD? We've been asked if you can use a Sky+ or Sky+HD box to record Freesat. The answer is "yes" and "no". You can't use Sky+ to record the output from a Freesat box – however you can use a Sky+ box to record over 200 subscription-free channels – however, note that if you're not a Sky subscriber, Sky will charge you £10 a month to use the Sky+ recording facility.
Can I use my Sky box (or another receiver) to get Freesat?
If you have a Sky box and dish, you'll be able to receive around 200 free-to-air channels without a subscription. More details on our Sky Freesat page.

Most of the channels on Sky's Freesat service are the same as those on the BBC/ITV Freesat service, but not all of them. Below is some information for those looking to get the BBC/ITV Freesat channels on a non-Freesat box:

The Freesat service is broadcast from the Astra 2 satellites at 28.2° east and Eurobird 1 satellites situated at 28.5° east.

If you have a Sky Digital receiver – a number of channels are available without subscription, including many of the Freesat channels – see Sky's free-to-air channel list
Freesat transmissions are not encrypted. Standard definition channels are transmitted in MPEG-2 ISO/IEC13818.
The Freesat receiver we're using, a Humax Foxsat, has a frequency range of 950MHz to 2150MHz. DiSEqC Control version 1.0, 1.2, USALS, SCD

Presumably, if your dish is capable of being pointed at the right satellites, and your receiver can cope with the Freesat specs, you'll be able to get the Freesat channels.

What you won't be able get though, is the Freesat Electronic Programme Guide and any other services offered by Freesat, as this is specific to the Freesat software. Additionally, you'll be unlikely to get Freesat HD. Can you help add to this answer?

If you need more advice, ask in our Freesat forum
Which satellite does Freesat use?
Freesat broadcasts from the Astra group of satellites positioned at 28.2º East and the Eurobird satellite at 28.5º East above the Equator. If you have a dish that works with Sky Digital, it should work with Freesat.

Need help finding the satellite? See our Installing a Dish FAQ.

BBC Channels are broadcast on the Astra 2D sat, and the Freesat EPG is broadcast from Eurobird 1. Want to chat about sats? Use our forum.
I'm outside the UK. Can I get Freesat?
Freesat is intended for the UK only. When you first connect a Freesat receiver, you're prompted for a valid UK postcode, but as the box has no data connection back to a control centre, there's no way that the satellite knows where you are.

The signal from the satellites that broadcast Freesat can be received outside of the UK. In theory, if you have a suitably-sized dish pointing at the Astra 2 satellites at 28.2° east and Eurobird 1 satellite situated at 28.5° east, with a clear line-of-site, you may well be able to get Freesat.

It's worth noting that many of the channels are on the Astra 2D satellite, which has a smaller footprint and is much harder to receive outside of the UK. Pictured to the right is the footprint of the Astra 2D satellite.

We're a UK site, and can't offer much in the way of advice on how to get Freesat elsewhere in Europe. We have some more information on our UK TV Abroad page, otherwise, if you want more help or advice, we suggest you ask in our Freesat forum
Can I get other UK TV regions?
When you first connect your Freesat box, you're asked for a postcode, to identify which TV region you should get. The BBC regional channels can also be accessed from channel 950 onwards. In May 2008, there was only a limited selection of BBC regions, but a new group went online in July 2008.

Other regions, plus ITV regions, are available in non-Freesat mode.
I can't have a dish where I live – any options?
Possibly – see our Satellite TV FAQ for our response.
Can I feed two satellite receivers from one dish?
The answer is, yes… sort of.

A satellite receiver needs to take control of the LNB (the bit that sticks out from the dish), so that it can tune to the right frequency and polarity. Two boxes can't control the LNB at the same time, so you either need a switch box, or better still, to have a multi-LNB. The best option is to use a multi-LNB and have a separate cable run for each receiver, allowing each box to control its own LNB.

More on this in our Satellite TV FAQ
How do I contact Freesat?
Address: 4th Floor, 58-60 Berners Street, London W1T 3NQ
Helpdesk: 08450 990990
More on Freesat?