SCART Switchers, Adapters and Splitters Explained
Not enough SCART sockets? A SCART switcher might be the answer. Here are the options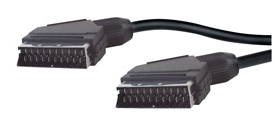 Too many SCART plugs?
What is a SCART Switch?
If you own a DVD recorder, Video recorder, Satellite TV box, PVR, Freeview box or games console, chances are, your TV set doesn't have enough spare inputs to handle all of your kit. For that reason, you may need a box that allows you to switch between inputs.
Typically, a SCART switch box allows you to plug in multiple SCART sockets, and connect them to a single SCART socket on a TV.
There are three main types of SCART Switch Boxes available:
Manual: Plug in your SCART leads, then press a button to decide which source you watch
Automatic: When you switch on a piece of equipment, such as a DVD player, the player sends a signal down the SCART lead to the switch box, which will automatically connect the DVD player to the TV
Remote control: Some switch boxes come with a remote control, so you can select what you watch
Manual SCART Switches
Manual switches don't require any extra power supply and will allow you to connect either 2, 3 or 4 SCART sources to one TV. You press a button to decide which SCART is routed to your TV.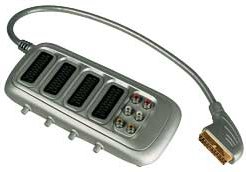 Bush 4 way switchable SCART from Argos
You can get a manual SCART switch for around £10. Get a 2, 3 or 5 source switch from Maplin. Alternatively, look at the Bush 3 or 4 switch with gold-plated connectors from Argos (search SCART Switch)
Automatic SCART Switches
SCART leads have 21 pins, and are quite clever. Pin number 8 is called the 'switching pin', and when you turn on a piece of equipment, a change is made to the pin 8 signal. The upshot of this, is that some SCART switches can detect when a piece of equipment is turned on, and switch to that piece of equipment.
For example – let's say you are watching a DVD via SCART. If you now turn on a satellite receiver box, the satellite box will send a signal on pin 8, and the SCART switch box will switch from DVD to satellite automatically.
If you have an automatic SCART switch, you'll find that if you are watching a DVD via SCART, you can switch to satellite by turning on the satellite box using the satellite remote. Much easier than getting up to press a button.
Automatic SCART switchers are available from Maplin.co.uk and at Tvcables.co.uk.
We recommend: The Bluedelta Smart-SCART. This allows you to connect four SCART leads to one TV… Unlike many of the SCART switchers on the market, this one is fully automatic – it detects which piece of equipment was just switched on, and makes the SCART socket live – a little red light indicates which SCART is active.

The Smart-SCART works on a priority basis, so SCART 2 overrides SCART 1, and SCART 3 overrides SCART 2. SCART 4 can be used for equipment

There's also a record loop – so you can get your video or DVD recorder to record from one source, whilst you watch another source. If you happen to have a Sky box, or a suitable Freeview box, you may be happy to know that this box works well with the PhantomPLUS (well, it's made by the same people).


The Smart-SCART

The Smart-SCART comes with a mains adapter, and is available from Maplin (Cat number L08BJ)
Remote Control SCART Switches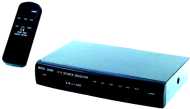 Typically, these are boxes that sit with your other AV equipment and have a small remote control that allows you to select what source gets switched to your TV. These are generally the more expensive option, and mean you have yet another remote control to clutter up your lounge.
Remote control SCART switchers are available from Maplin.co.uk.
Pictured here is a 6-Channel AV Switcher from Maplin. This will allow 6 sources to be connected to one TV, and comes with a remote control to allow remote switching. You can also switch using buttons on the front panel. The unit also has a built-in amplifier to compensate for insertion loss. Note that this unit only has two SCART sockets. The other four sources are connected using S-Video and video phono sockets. Here is a picture of the rear of the unit

The 6-Channel remote control switcher box is available from Maplin.co.uk.
If your question isn't answered here, please ask in our forum, and we'll try to help.