Slingbox – How to use Slingbox in the UK
Just what is a Slingbox, and do you need one? Read on…
| | |
| --- | --- |
| The Slingbox Classic (2006) | The Slingbox Pro (2007) |
Slingbox covered in our podcast:We reviewed the Slingbox back in Show 3, and featured the updated Slingbox Pro in Show 20.
What is the Slingbox?
The Slingbox is a gizmo that connects to both your TV equipment and to a home broadband Internet connection, and lets you watch your home satellite, cable, digital or analogue TV, over the Internet, from anywhere in the world.
With Slingbox connected to a UK home TV setup, you can use SlingPlayer (the Slingbox software) to watch TV, change channels, take control and even record on your home TV recording equipment, over the Internet.
With Slingbox, you can watch & control your TV and digital recorder using your home broadband connection, over the Internet. The Slingbox unit also has a built-in digital TV tuner (DVB-T), so can receive Freeview channels.
The Slingbox is perfect for use with a Sky+ box, as you'll be able to set your box to record a show while you're away from home.
Using Slingbox:
As requested by our visitors, here's a quick summary of what you need to do, to get Slingbox running. This is only a high-level summary, to help those thinking of purchasing a Slingbox – see later on this page for more detailed help.
At home

Here's a quick summary of what you need to do at the 'home' end. This is the end where you site the Slingbox unit. You'll need a broadband connection to the Internet, and an ADSL (Broadband) router.
Here's how you'd connect:

Connect the Slingbox unit to the piece of TV equipment that you want to control… such as your Sky+ box or a DVD recorder. You can connect via S-Video, composite (phone sockets) or co-ax aerial cable
Connect Slingbox to your ADSL broadband router (using an ethernet lead, or you can use wi-fi with an appropriate adapter and wi-fi router)
Set up Slingbox, using the supplied Slingbox software. To set up the Slingbox, you need to connect a PC or laptop to the Slingbox via your router. You also need to make some changes to your router configuration to allow external connection to your Slingbox. Once set up, you'll have a Finder ID that you'll need at the "away" end.

Need a Slingbox? See our Availability section.
Need Broadband? Try BT Total Broadband (Free wi-fi ADSL router on BT Total Broadband option 2 and 3) or Virgin Media.
Need a Router? Search for "ADSL router" at pcworld.co.uk or Dabs.com

Away

Here's a summary of what you'll need to do to make a connection to your home Slingbox to watch your TV remotely. You'll need a PC or Mac with high-speed Internet access:

Download and install the Slingbox software onto the desktop or laptop you want to use, from slingbox.com.
Connect the PC or laptop to the Internet
Start the Slingbox software, and enter the Finder ID for your Slingbox – this allows the Slingbox software to find your Slingbox over the Internet, and to start the streaming process – then, you're able to watch TV and change channels as required.

Need Broadband? Try BT Broadband
Need a Laptop or PC? We recommend www.dell.co.uk
Slingbox Classic Specification:
Model: Sling Media Slingbox SB150-110 UK
Dimensions: 10.6 x 1.6 x 4 inches
Inputs: RCA audio (Left/Right phono), Composite video, S-video, Coaxial (aerial)
Outputs RCA audio (Left/Right phono), Composite video, S-video, Coaxial (aerial)
Internet connection: Requires Broadband. RJ45 ethernet (adapter needed for wifi)
Software spec: Windows XP Home/Pro/2000. Also for Mac and mobile


Slingbox rear: Power, IR, Ethernet, S-video out, video out, co-ax out, co-ax in, S-video in, video in, reset button


Slingbox Pro – Rear view, showing extra sockets for component and composite inputs
What's supplied with the Slingbox Classic:
Two sets of A/V (phono cables), SCART-to-A/V Phono adapter, S-Video cable, IR control cable, Ethernet cable, co-ax aerial cable, power supply, quick-start guide.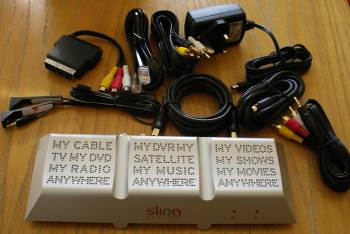 Slingbox: User comments
Some comments on Slingbox from visitors to our site:
I live in Norway (ex pat) and have been trying for a long time to get UK TV. I can get most channels via Sky, but not BBC and ITV (the ones I really want). I have tried in vain for such a long time, then I heard about Slingbox. I had doubts but I decided to give it a try.
I called my brother in the UK and sent him to buy one, we spent a couple of hours on the phone (Norway to the UK) and got it working the same day!
I have my pc connected to my 37 inch flat screen tv via wireless LAN and get great quality pictures.
Thank you Slingbox, thank you very, very much for giving me back UK TV.
(Pete Myring, Jun 2007)
We live in Rome and before moving tried to find out if we could get Sky UK. After loads of searching the only way we could get the true UK service was to have a 3½ or possibly 4 metre dish!
Saw the Slingbox and thought I'd give it a try. It is excellent, and we now have two set up back at home in the UK (one on our Sky+ and one connected to a DVD Recorder). Not only can we get UK TV via our media PC in Roma (on a 32″ LCD TV, connected via wireless to a TI 2mb service which averages out at 500-600kb!), but also when out and about on my Windows mobile phone on wireless. (Gary, Jul 2007)
What a product! I work away from home and spend 4 days per month at home..I was about to cancel my Sky subscription when I found out about this nifty device..

Well done, it's a bonus being able to change the channel. The picture quality is awesome as well.. 10/10 . (Russell Heath, Feb 2008)

I was a bit concerned about it at first, as here in Australia the internet speeds are not very good, but I was pleasantly surprised. It was a little bit jittery when I first changed channels, but soon settled down to a good clear stream.  Was a little bit blurry when i went to full screen but still watchable, but on the smaller screen it was great.. Sound was good too. (Louise, Oct 2007)
John Plumb accessed a UK Slingbox feed in Vienna, and reported: "Overall, I am very impressed with the Slingbox. After each channel change, the system takes 1-2 minutes 'optimizing' at around 375kbps. The picture then settled down, on most channels, to similar quality to watching a DVD on PC. In a nutshell, I want one!"
My daughter lives in Luxembourg and "normal" tv is available by cable. To obtain English speaking channels, a satellite dish is necessary. This is impossible for her given the location of her apartment. The Slingbox service is marvelous although there is a "freeze" from time to time after about a couple of hours viewing. (I suspect that this may be due to the broadband supplier in the Grand Duchy). Nevertheless the project has been well worth while and I commend it to others. (David Colton, Dec 2007)
Got a Slingbox and have an opinion? Send us your comments
Basic setup (Freeview)
There's a number of configurations you can use with the Slingbox, but we'll list a basic one here, to help those looking to get a feel for how to set up a Slingbox. This is the setup to use if you want to get Freeview sent over Slingbox for access via the web.
You need: A TV aerial feed, a mains power supply, an ADSL router that's connected to the Internet and has a spare Ethernet (RJ45) port, a PC (to configure your router)
Download the Slingbox software onto a PC that's connected to the same router as the one you want to connect with. The software is not supplied on CD with the Slingbox, so download it from www.slingmedia.com/software
Connect the TV aerial into the Slingbox aerial in socket
Connect the Slingbox Ethernet socket to a spare socket on your router, using the supplied Ethernet lead
Plug the power supply into the mains, then into the Slingbox
Run the Slingbox setup software. Here's what should happen: The software finds and detects the Slingbox – it checks the firmware version and updates the Slingbox if needed. You may get messages about no A/V source being connected – but for this config, that's fine.
When complete, you may get another message about no A/V source – continue and there'll be an option to select the input type. Here, select "Antenna (Free to air)", then press Scan TV channels. This may take a few minutes. Ours found 40 channels.
Set up the router config. The Slingbox software will try to use UPnP to configure your router automatically – for routers that don't support UPnP, you'll have to manually configure your router. We had to do this, and it means setting your router to allow incoming Internet requests through to the Slingbox IP address and port number. If you're up on how your router works, and how to set up Port Forwarding, this is something that you'll be familiar with – if not, the provided help can guide you (the Help button opens a fairly comprehensive help page on the Slingbox site).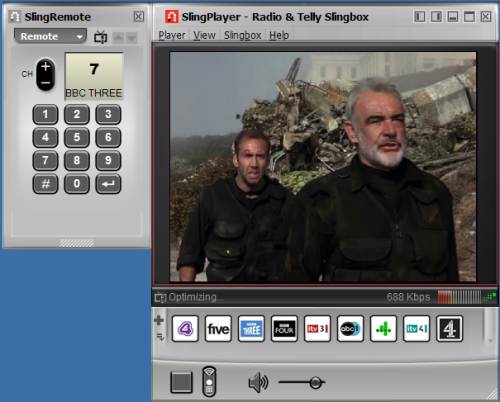 The Slingbox player in action
Slingbox FAQ
Got a question about Slingbox? Try our Slingbox FAQ
Links