Thameside Hospital Radio Memories
Thameside Hospital Radio started broadcasting in 1977, serving the patients and staff at Southend, Rochford and Westcliff hospitals. This page contains information on the radio station, and some nostalgia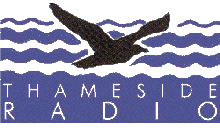 In 2005, the station changed its name from Thameside Hospital Radio to 'Southend Hospital Radio', and continues to broadcast to patients at Southend University Hospital from is radio studios based at Southend General Hospital, in Essex.
Southend Hospital Radio broadcasts seven days a week, providing a relevant and entertaining service to patients. The station broadcasts via a closed-circuit to wards around Southend General Hospital on Channel 13, and also has a 24 hour continuous music service, Thameside 2, broadcasting on Channel 14.
Like all Hospital Radio stations in the UK, Southend Hospital radio is run entirely by hard working volunteers, with funds raised by members from local activity, and from donations.
For more on Southend Hospital Radio, go to southendhospitalradio.co.uk.
Thameside Radio's History
Thameside Hospital Radio began broadcasting on February 5th 1977. Here are a few pictures illustrating Thameside's history.
| | | |
| --- | --- | --- |
| Day one, Feb 1997 | The team of 1990 | Master control room (1986) |
| Mike Royston Bingo Beat | The team of 1994 | Donated Tape machine |
| The studio (1986) | The team of 1993 | Flagday label licking |
Music on Hospital Radio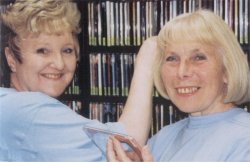 The hospital radio library has around 20,000 different tracks on the computer system, CD and vinyl, covering all musical styles from the 1920's up to the present day. The archives
also contain a selection of comedy shows, including classics like "The Goon Show", "Hancock" and more modern material like "The Fast Show" and "Mrs Merton".
With a few exceptions, the station relies totally on donations to stock the library.
To help Ward Liaison teams, Southend Hospital Radio has a music library computer system that can search music by artist, title, year or chart position. The station also records and broadcast local events such as Christmas Carols and Music Festivals.
The Studios
For the technically minded, here's a quick look at what goes on technically behind the scenes at the Southend-based studio complex.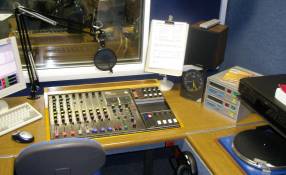 Audio and broadcast technology is changing all the time, and over the years, radio stations have moved on to make use of more reliable, durable and economical studio equipment. When Thameside Radio started broadcasting, what was state-of-the art in the 70's, is now seen as ancient technology. Audio tape has now been replaced by recordable CD and minidisk technology, and
vinyl records have moved on to CD, and now onto a computer-based hard-disk system.
Programmes are delivered to the listener on a closed-circuit digital multiplex, which also carries network and local radio plus TV sound, and a switching matrix allows either or both studios to be routed directly to one of our two allocated channels.
Thameside Radio Audio Clips
Some audio clips of old jingles and promotions as broadcast on Thameside Hospital Radio. Audio files are in MP3 format
You can find more Thameside audio clips at Mark Himsley's site: Thameside Audio Archive
Former Thameside Radio Person?
If you used to work at Thameside Radio, you might be interested in joining the Thameside Radio Facebook Group
Thameside Hospital Radio 2003 Schedule
For historical reasons, here's a copy of the May 2003 Thameside Radio programme schedule. If you're looking for the current schedule for Southend Hospital Radio, you'll find it at www.southendhospitalradio.co.uk
Monday
6:00pm

7:00pm

8:00pm

8.15pm

9.58pm

Continental Blend with Marion Timmermans

The Monday Alternative with David Massey

Sports Extra with Ken Merchant & Paul Cluderay

The Request Show with Ken Merchant including at 8:28pm " Your Stay in Hospital"

Thought For The Day
Tuesday
  6:00pm

7:30pm

8:28pm

8:30pm

9.58pm

"Dave Gowland"

"F.Y.E." With Nigel Dee (repeat from Sunday)

"Your Stay in Hospital" – Hospital Information

"The Request Show" with Maurice Jardine

Thought For The Day
Wednesday
  6:00pm

7:00pm

8:28pm

8:30pm

9.58pm

Top 40 Chart Show with James Michael

Solid Gold 70's with Dave Gold

Your Stay in Hospital – Hospital Information

The Request Show with Dean Baxter

Thought For The Day
Thursday
  6.00pm

7.00pm

7.30pm

8:30pm

9.58pm

Two From One with Steve Rogers

Easy Classics with Lorraine

All The Number One's with Lawrie Kurn

The Request Show with Dave Gold and Friends

Thought For The Day
Friday
  6.00pm

7.00pm

8:30pm

9.58pm

Nigel Waymark's Soul Show

"Here Come's The Weekend" with Chris Verity

The Request Show with Ray Machin

Thought For The Day
Saturday
10:00am

12:00pm

2.00pm

5:00pm

7.00pm

Phillip Baldwin's Morning Zoo

Midday Miscellany with Ron Guttridge

Vacant

The Chill-Out Zone" with Steve Tyler

Thameside's continuous music service
Sunday
 10:00am

1.00pm

3.00pm

5:00pm

6.00pm

8:00pm

The Sunday C.C.M Show  with John Staff

John D Fordham

The Sunday Supplement With Jonathan Johnson

F.Y.E. With Nigel Dee (repeated Tuesday's at 7.30pm)

Chartbreakers with Richard James

Michael Long
Handy Radio Links
Page
created by Southend Hospital Radio member Pete
Sipple