Trigger Happy TV – Series Information
Cracking TV series with Dom Joly bringing Candid Camera into the 21st Century. If you missed the Channel 4 series, catch it on video, or get the DVDs (with bonus material).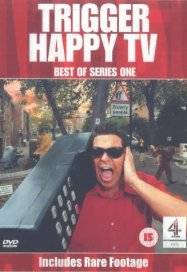 Trigger Happy TV, in it's day, was huge. Dom Joly burst onto our screens with an almost brand new style of comedy, and it was the talk of the country.
If, like us, you loved Trigger Happy TV when it was shown on Channel 4 many years ago, the you'll want to get hold of Trigger Happy TV on DVD.
The premise behind Trigger Happy TV is a simple one. It's a hidden camera show, where Dom Joly's out-and-about doing something odd – examples include:
Crawling across a zebra crossing dressed as a snail
Giving a ticket to a dustcart or a bus at a stop
Two people fighting in squirrel costumes
Asking how much stuff is in a pound shop
The one Dom's most well known for – "hello – I'm on a train"… with his giant phone.
To remind ourselves just how cool this series was, we're looking back to the Series 1 DVD. This contains eighty minutes of Trigger Happy goodness, and is the best from the first series. Around half an hour of the series has been cut in order to squeeze the best bits onto a single DVD, but the best stuff is definitely here.
What's great though, is the bonus stuff crammed onto the disc. There's an eleven minute section that contains a whole new section of material that I don't recall seeing on TV. After this Comedy Lab section, there's some background on how Trigger Happy TV got started,and what Dom Joly did before the series started. It seems Dom used to do various skits for satellite TV – in the Mark Thomas alternative comedy / political vein.
All of the Trigger Happy TV series are now available to buy, and you can also get them online. If you've not seen Trigger before, or not seen the series repeated recently, do yourself a favour and have a fresh watch.
Watch Trigger Happy TV online
Trigger Happy TV is available for on-demand viewing. Channel 4 has launched 4oD, an online video-on-demand service. many of their programmes are available for download to your PC. Watch recent shows and classic Channel 4 shows from your desktop.
Watch Trigger Happy online at www.channel4.com/4od. Shows are also available from www.apple.com/itunes
Own Trigger Happy
Series 1

Series 2

Series 3

This was released in November 2002 and includes the 'Being Dom Joly' mocumentary, audio commentary, and loads of unseen sketches including 3 celebrity interviews
What's New?
Been wondering what Dom's been up to since Trigger Happy TV? In January 2005, was back on our screens with "World Shut Your Mouth". More Trigger Happy-style antics, this time from around the world.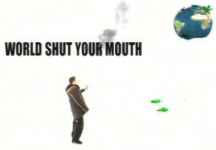 Trigger Happy FAQ
Useful links