Equinux TubeStick TV Receiver Explored
Details of the TubeStick – A tiny, Mac-friendly USB Freeview receiver
What is the TubeStick?

The Equinux TubeStick is the smallest Freeview TV receiver we've come across.
Not much larger than a standard USB memory stick, this is a powerful TV receiver that lets you watch and record Freeview, stream live TV to your iPhone, and schedule recordings remotely from a browser.
Although primarily a Mac product, the TubeStick can be used with a PC too – although you don't get the nifty features you get with the supplied Mac software – instead, you use it as a basic receiver and use Windows Media Center to control access to the channels, and recording.
Equinux TubeStick Review
We reviewed the Equinux TubeStick in Show 42 of our podcast.
The Tubestick is a truly tiny receiver – it plugs into a standard USB port and accepts an aerial via the mini-coax connector at the top.

The Tiny TubeStick
The Tubestick is supplied with an aerial which connects to the USB's mini-co-ax. The aerial has around 1 metre's worth of cable. Unless you're in a fairly strong Freeview coverage area, the aerial is unlikely to be of much use (due to the weak nature of Freeview signals), so you'll get best results connecting to a rooftop aerial. For that purpose, an adapter is provided that converts a standard TV aerial co-ax plug to the TubeStick's micro USB connector.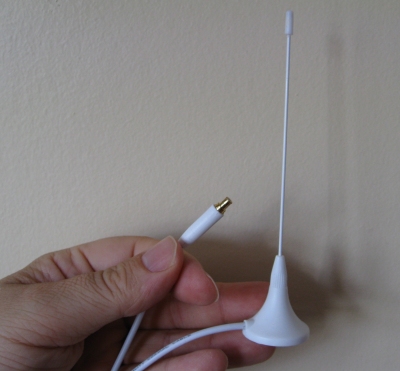 Equinux TubeStick DTT aerial
The Tube Software
Here's where we have to come clean. Here at Radio and Telly, we're not Mac users – we're PC boys. So, we've not been able to try out the lovely Mac software that comes with the TubeStick.
We tried in on a Windows Vista PC. There's no Windows application supplied, so we had to use Windows Media Center (bundled free with most Vista versions). We did need to install the TubeStick's Windows drivers. There was a small gotcha here, as the drivers are zipped on the supplied CD, so Windows can't find them. You need to unzip them to a folder first, then point the Windows Driver detector to that folder – asking Windows to install direct from the CD doesn't work. The drivers are in the Windows DriversTubeStick folder on the CD
For Mac users, the TubeStick comes with a lovely TV viewing application. With this, you can do a bunch of nifty things, including:
Browse the EPG (electronic programme guide) and schedule recordings
Pause and rewind live TV
Stream Freeview channels from your Mac to an iPhone
Schedule recordings remotely with an iPhone or a Safari browser
The software also includes BuddySurfing, which allows to you chat in real-time with your mates during a TV show.
TubeStick UK availability
TubeStick Specification
Dimensions: 54 x 21 x 10 mm
Mac: Mac with PowerPC G5 or Intel processor – Requires Mac OS x 10.4 or higher
PC: Requires Windows Media Center (supplied with Vista Home, Premium and Ultimate)
TubeStick Map
The top feature for us was the TubeStick Map. This lets you put in your postcode to see who in your local area has a TubeStick, and what channels they're able to get. Below is a snippet of what the map showed us: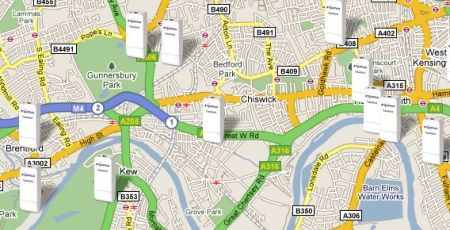 Try out TubeStick Map for yourself at www.equinux.com/tubestickmap
TubeStick Supplied with:
The Tubestick is supplied with the following:
TubeStick USB device
Aerial with magnetic base
Aerial adapter (standard co-ax to mini co-ax)
CD (Mac software plus PC drivers)
Getting started guide
Male to Female USB extension lead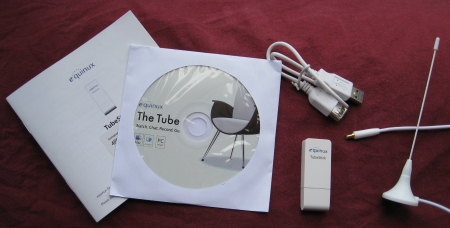 What's supplied with TubeStick