TVonics MFR-200 Freeview Box
Most Freeview boxes only work when connected to a TV using a SCART lead. The TVonics MFR-200 works with TV sets that don't have a SCART socket.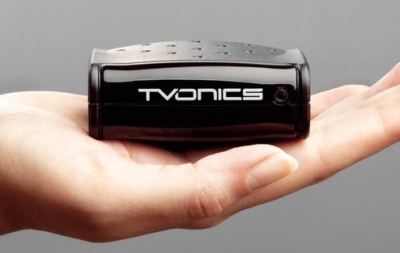 TVonics MFR-200
The MFR-200, from TVonics, is a tiny Freeview receiver. Most Freeview boxes connect to a TV's SCART socket, but what if you have an older TV that doesn't have a SCART socket, or you have a portable telly that you want to get ready for the Digital Switch?
This unit keeps its size down by not having a SCART socket. Instead, it has an RF modulator, that means that you can plug it in to a TV set via the standard aerial cable, then simply tune the TV in to the output of the TVonics Freeview receiver.
The upshot – no need to replace a TV set that doesn't have a SCART socket, and you can convert any TV to a Freeview receiver to get over 40 channels of digital TV.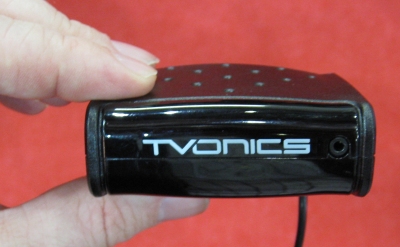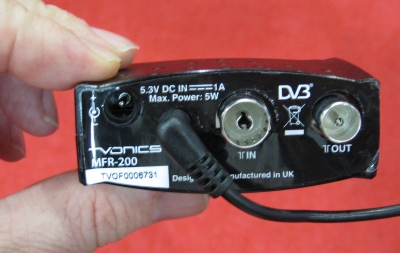 Rear of TVonics MFR-200, showing Modulated RF Output
We featured the MFR-200, and met with the team at TVonics, in Show 33 of our podcast – Listen to Show 33
TVonics MFR-200 Availability:

The TVonics MFR-200 is available for around £40 from the following online retailers:

Alternatives: If you're struggling to find this model, we'd also recommend the Icecrypt T5000, which also works on TV sets that don't have a SCART socket.
TVonics MFR-200 Features:
8 Day Programme Guide
Parental control
Low -power – just 1.5 Watts on standby
RF Modulator – No SCART needed
Auto-standby to conserve power
Tiny:

70 x 27 x 54 mm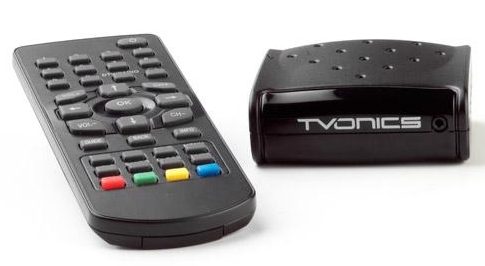 TVonics MFR-200, with Remote Control
Frequently asked questions
More details on the manufacturer's site: www.tvonics.com
Freeview Links: