Hitchhikers Guide to the Galaxy – The Movie
Our look at the movie of the book of the radio series that is… The Hitchhiker's Guide To The Galaxy
The Movie:
At last, after years of waiting, Douglas Adams' dream of a HitchHikers Guide film has been realised – The Movie was released in the UK on the 28th April 2005, and worldwide from May 2005.
For information on the whole HHGG universe, see our Hitch-Hikers page.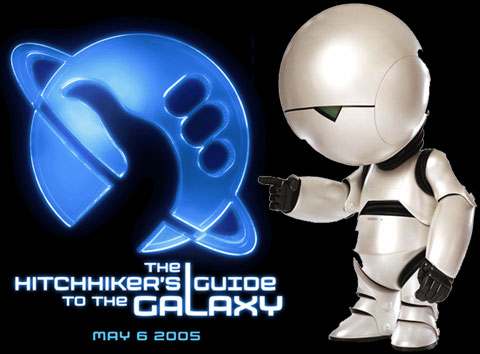 Who's in it?
Our look at the cast of HitchHiker's Guide To The Galaxy Movie:
Arthur Dent: Martin Freeman
Ford Prefect: Mos Def
Zaphod Beeblebrox: Sam Rockwell
Trillian: Zooey Deschanel
The Guide: Stephen Fry
Voice of Marvin: Alan Rickman
Slartibartfast: Bill Nighy (The Boat That Rocked)
The innocent-looking sperm whale: Bill Bailey (Black Books)
Watch out for Simon Jones (the original Arthur Dent), and the early Marvin making cameo appearances too…
Watch The Trailer
Just love this trailer. Stephen Fry is the voice of The Guide, and this trailer's voiced by Mr Fry on the subject of movie trailers. Classic:
HitchHikers Guide DVD Release
The movie was released onto DVD in the UK on the 5th of September 2005
The twin DVD set includes: an extended Babel Fish guide entry,
3 deleted scenes (why were these cut!), singalong "so long and thanks", a 10 minute "Making of" feature, and an excellent commentary
from director Garth Jennings, Producer Nick Goldsmith, and cast members Martin Freeman (Arthur) and Bill Nighy (Slartibartfast).
Save £9 by buying online… We've found it cheapest at Play.com (£7.99). Also at Amazon (£8.79)
Our comments on the film:
Our team went to see the movie on Day One of it's UK debut, and despite a few misgivings, found it to be a good watch – there's been a serious attempt to keep in much of what the original radio series fans will remember and relate to (with updates to the 1970s terminology), as well as to create a more general appeal to today's movie-goer. Personally, I felt that there wasn't a lot of time to get to know the characters – not a fault of the actors, but in an effort to get the story across, Ford and Zaphod just didn't come across as the galaxy-weary travellers from the radio series, and the less said about the Trillian love triangle the better!
Also, I felt there were a few attempts to 'Pythonise' the humour (for the US market, perhaps?)… but, hey, it's new Hitch-hikers, a good watch, and if it gets a few more people familiar with the epic, it gets my vote!
Some other film notes:
Great to see Simon Jones (the original Arthur Dent) paying a 'courtesy' walkon
Bill Bailey (from Black Books) as the whale? Inspired choice!
Some subtle H2G2 references for the diehard fans…. including the Vogon's chair
No mention of the Guide's entry on Earth, or Ford's revision… odd.
Star Wars knives… what a great idea!
The Magrathea shop floor… wow!
Don't leave the cinema as soon as the credits roll…
Anything to say? Comments on the film appreciated in our forum
Another two films to follow? Check out the BBC Story…
Links to the various versions of The Guide
| | | |
| --- | --- | --- |
| | | |
| The Original Radio Series | | |
| | | |
Related Reviews