The Boat That Rocked – Our Film Review
Our look at the British film comedy set in the world of 1960s pirate radio out on the rusty ships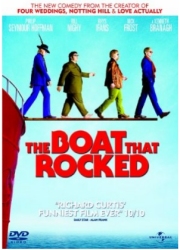 Here at Radio and Telly HQ, we loved this film. Probably something to do with the fact that we love radio, and this film looks back to the great days of rock and roll radio.
The film, released in April 2009, is written by Richard Curtis (Four Weddings and a Funeral, Notting Hill, Love Actually and Blackadder), and it's a comedy set aboard Rock Radio, a fictitious pirate radio station ship moored off the British coast in the 1960s.
Although it's hardly an accurate portrayal of what went on in the sixties offshore pirate world, it's a good solid watch. If you used to listen to the pirate stations such as Radio Caroline or Laser 558, or have any interest in the history of radio, then you'll get lots from the film – a lighthearted look at some of the challenges of being cast adrift at sea with a bunch of radio oddballs, and some of the battles with the UK Government of the day
The characters broadcasting from Radio Rock in the North Sea bear a more than a passing resemblance to some of the original sixties pirates (notably Tony Blackburn and the Emperor Rosko!). And as with all Richard Curtis films, there's a bunch of well-known names in there, and the characters are in general a lovable bunch.
This is a great comedy, and it's certainly a must-see for anyone with an interest in radio broadcasting in the UK, and it helps tell the tale of how we ended up with the radio industry we have today.
The Story
Young Carl is deposited aboard a pirate radio ship out in the North Sea, and he has a lot to learn
Radio Rock is blasting out pop to Britain, whilst the BBC is broadcasting the Home Service. The Government needs to shut down the pirate, whatever the cost.
On board shop, an old face returns to dominate the radio airwaves, and Young Carl loses the girl and wins a cup of tea
Watch out for John the weather guy, Bob (who's Bob?), and the game scene with Thick Kevin.
The Boat That Rocked Trailer
Want to get a taster of the film? Here's the official movie trailer:
The Boat That Rocked – Cast:
The Good Guys:
Quentin – Bill Nighy (Hitch-hikers Movie and Love Actually)
The Count – Philip Seymour Hoffman (Talented Mr Ripley)
Dave – Nick Frost (Spaced, Hot Fuzz)
Thick Kevin – Tom Brooke (Son of Paul Brooke from Kit Curran)
Will Adamsdale … News John
Felicity – Katherine Parkinson(IT Crowd, Doc Martin)
The Bad Guys:
Order The Boat That Rocked Now:
The DVD appeared in September 2009… go get one!
Download the film:
Key Dates:
UK Cinema Release: 1st of April 2009
UK DVD Release: 7th September 2009.
Movie Trivia
If you've got any thoughts on The Boat That Rocked, please post a message in our UK Comedy Forum
Links: