Black Books – Series Info
Information on the UK TV comedy series from Channel 4, Black Books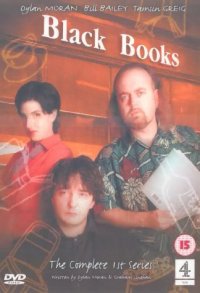 What is Black Books?
Black Books is an amazing, and fairly unknown, gem from Channel 4's Friday Night comedy line-up.
The Basil Fawlty of bookshops, Bernard Black demonstrates how now to run a bookshop, with the help of employee Manny and friend Fran from the shop next door.
If you missed the series, watch out for the repeats on Channel 4, or better still, get hold of the DVD. Cutting comedy, well-produced and highly entertaining, especially if you like the surreal!
This site contains some useful information on Black Books, news on new series and upcoming video releases, a brief episode listing, and some useful links. Please visit our Black Books forum and get talking about the series.
Black Books Cast
Bernard Black – Dylan Moran
Manny Bianco – Bill Bailey
Fran Katzenjammer – Tamsin Greig
The Series
Series 1

(Sept 2000)

Series 1 ran from September 2000 on Friday nights on Channel 4.

1. Cooking the Books – Manny's fired, and Bernard's having problems with his tax return

2. Manny's First Day – After an unusual interview, Manny starts at the y shop

3. Grapes Of Wrath – Asked to house-sit, Bernard and Manny try their hand at wine making

4. The Blackout – An overdose of caffeine launches Manny's career in law enforcement

5. The Big Lockout – After installing a burglar alarm, Manny's locked in, and Bernard's the wrong side of the door. Only a fast food restaurant and some bees can save them

6. He's Leaving Home – Manny find a new friend and sets off to a new life as a model

Series 2

(Feb 2002)

Series 2 ran from February 2002 on Friday nights on Channel 4.

1. The Entertainer – Fran starts piano lessons, Bernard starts dating, and Manny discovers a new talent

2. Fever – Manny's concerned about the rise in temperature, while Fran has a brush with the landlord

3. The Fixer – Fran starts a new job, while Bernard and Manny take up teaching

4. Blood- After starting to serve coffee instore, the team open a restaurant, and Fran finds family

5. Hello Sun – After some amateur psychology, Bernard realises that Manny is, in fact, mad – off to the Psychiatrist

6. A Nice Change – Time for a change – the Internet reveals the cheapest flights for a break away from the shop

Series 3

(Mar 2004)

Series 32 ran from Thursday 11th March 2004, on Channel 4

Recording of Series 3 started in November 2003 – See our report of the first episode recorded on 15th November in front of a studio audience on our Black Books forum. The last episode of the series was recorded on 20th December 2003

1. Manny Come Home – Manny's defected to Goliath Books, and Bernard can't fend for himself – Features Simon Pegg (Tim from Spaced)

2. Elephants and Hens – While Fran's off on a hen night, Bernard and Manny set out to write a kids book

3. Moo-ma and Moo-pa – Manny's parents come to visit

4. Bernard gets hit by the gambling bug, and we see how adept Fran is at Poker

5. A famous (and charming) explorer stumbles across the shop, while Bernard has problems Mr Benson, the feline landlord upstairs…

6. Party – Manny's keen to get off to a friend's party so he can leave a thimble lying around casually, and Fran reveals some information on Bernard's not-so-ex-girlfriend.

Series 4
Looks like there are no plans for a Series 4.

In a BBC Radio 2 interview with Dylan Moran back in 2004, it appeared unlikely that a fourth series would be put together, and at the time, there were murmurings of a Black Books stage show, but that appears not to have happened.

Several years later, it looks like there's no chance of any more Black Books, sadly, although it's worth seeing Bill Bailey and Dylan Moran live, should you ever get the chance.

On the off-chance you hear any news about Black Books, please let us know…
Videos / DVDs
Series 1

was released on DVD and video in the UK in March 2002. The DVD contains an excellent commentary soundtrack from the cast, and some great bloopers. You can order the Series 1 DVD or Series 1 VHS video from Amazon . See the Amazon reviews for more.

(No information on a Region 1 version)

Series 2 . The DVD and video were released on the

22nd March 2004

. DVD available from Amazon, and also available with free P and P from Play.com.Series 2 became available in March 2003 in Australia (See ABC Shop) as a Region 4 DVD, and on PAL format VHS video. Two site visitors have complained that the Australian DVD is only available in 1:1.33 ratio, and not widescreen (16:9) as with the Series 1 DVD, but another visitor reports that the Series 2 DVD is in fact widescreen, just wrongly labeled. Thanks to Gavin for reporting that the Australian release states it's a Region 0, which may be playable in other areas.
DVD Easter Egg: Extended/deleted scenes.
Series 3. The DVD and video were released on

4th October 2004

. Sadly, no audio commentary this time around, but a good collection of outtakes, a sizable amount of deleted scenes, a rather odd item called "Bernard's Letter" about a response to a rejection, and a collection of trailers and scrolling images. Available from the following link at Amazon.
The Box Set. A DVD box set of Series 1, 2 and 3 became available on

4th October 2004.

Price is £17.99 from the following link at Amazon.
| | |
| --- | --- |
| Black Books – Series 1 | Black Books – Series 2 |
| Black Books – Series 3 | Black Books – Box Set |
Black Books on TV
For details of when you can next see an episode of Black Books on a UK TV channel, give the DigiGuide TV listings service a try. You can find out more about the Digiguide service in our Digiguide Review.
"Did your non-returnable outgoings for the first half of the year exceed your deductions for quarterly VAT returns?"
Links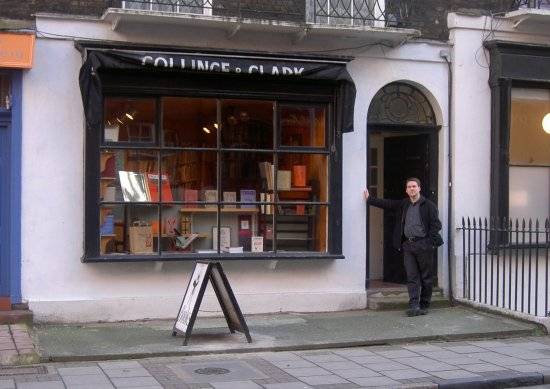 Pictured above, the shopfront used for the filming of Black Books – The 'Black Books' shop is actually the "Collinge & Clark" Bookshop, at 13 Leigh St, London WC1H 9EW