Oono MiniDAB One and 2plus2 DAB Recorders Reviewed
This page contains information on the Oono MiniDAB One, a portable DAB radio, MP3 player, MP3 recorder, FM radio and voice recorder.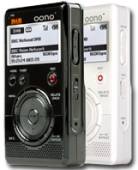 The oddly-named Oono MiniDAB One is a small and powerful little device. It combines a DAB radio, FM radio and MP3 player into one tiny unit – but also has recording capabilities.
The MiniDAB One is powered by a built-in rechargeable battery for up to 22 hours MP3 playback or 8 hours of DAB, and supports PC connectivity for transferring of content.
Best of all, the MiniDAB One has some impressive recording capabilities – it boats one-touch DAB radio recording, can record FM, has a voice recorder (with a supplied external microphone) and has a Line-in socket, so you can record directly from a CD player, hi-fi, or even another MP3 player. It records directly in MP3 format, so recordings don't need to be converted on a PC
The unit takes an SD card, and has a built-in speaker for radio and MP3 playback.
Key features:
Small, with features not found elsewhere
Digital radio – Band III DAB radio, plus FM
Built-in speaker
One-touch, or timed radio recording in MP3 format
6 line display, with backlight
Line-in socket, for recording from a range of external sources without a PC
Voice recorder, with external microphone (supplied)
SD Memory card slot, for up to 2Gig of storage
Availability
There's now a replacement model – the oono MiniDAB 2Plus2 2GB DAB Radio MP3 Player. Seems that there aren't many stockists of the Oono MiniDab, but here's what we know…
Oono MiniDAB 2plus2 Specification
Radio: DAB Band III stereo receiver (174-240MHz), FM
Power: 1550mAh Rechargeable Li-Polymer Battery
Screen: 6-line dot matrix (2 inch, 160×96) backlit LCD
Connectors: Line In, Headphones, USB 2.0
Dimensions: 99 x 56 x 19mm
Weight: 97 grams
Mobile Audio FAQ
This section includes the answers
to frequently-asked questions we've received…
How do I get music on my player?
There are several ways to get music onto your MP3 player…

You can 'rip' content from your CD collection – use your computer's CD player to extract songs from your CD collection into a format that can be copied to your MP3 player.
You can use Windows Media Player to copy existing songs (such as MP3 files) onto your player.
Download music from an online music store. The most well-known music service out there is iTunes, although you may wish to opt for the mp3 format, otherwise you may find you're tied to Apple's AAC music format that can't be used on other players.
Another store worth a look is Napster – Follow the instructions at www.napster.co.uk on how to find and download songs as MP3 files from their servers onto your PC, and then use Windows Media Player to copy the songs onto your audio player.

Something different to listen to?
Tired of listening to music on your player? Give your ears a treat and listen to something other than music on the move.Perhaps try a podcast… think of these as downloadable radio shows. You could do worse than give our podcast a try – FrequencyCast is a regular podcast that you can download to your device as an MP3 file. Each show looks at UK technology and information on digital TV and radio services. Find out more, and give us a listen at www.frequencycast.co.uk

If you fancy listening to audiobooks, classic comedy or drama , try an audio book, comedy file or one of the other 18,000 audio files available from Audible.co.uk

Headphones
If you do lots of listening… it might be worth considering getting a decent set of headphones for your portable device, as the cheapo headphones supplied often aren't that great.We're quite keen on Sennheiser headphones – either a set of top-quality earbuds, or if you're budget can stretch to it – a set of noise-cancellers – especially recommended for train or plane travellers! More on the Sennheisiers on our Accessories page

If you're after something more serious, try the Shure noise isolating earphone range. Available from Play.com, Amazon or AdvancedMP3players – Amazing sound and great isolation from external noise.

Home hi-fi?
If you're looking to connect your MP3 player to your hi-fi to play back audio from your home hi-fi system, then consider using the headphone socket.
You'll need to connect from the 3.5mm headphone socket to two male phono plugs. This will let you to connect to your stereo's line level AUX input, although note that you will need to turn the headphone volume down to a low setting to avoid overloading the line-in. You can find a suitable lead at AdvancedMP3players or Maplin (Part: L32BA)
In car?
If you want to listen to your MP3s in your car, there are a couple of options here. Probably the most elegant is to make use of a little gadget called an FM re-transmitter. These plug into your MP3 player, and transmit the audio from your player a frequency that you can tune your car radio into. Until December 2006, use of these was illegal in the UK, but Ofcom has now overturned this law, making the use of CE-approved short-range FM transmitters legal. Take a look at the range on offer from AdvancedMP3players or Play. The other option is an audio car adapter – these plug into the headphone socket of an MP3, walkman or portable CD player, and the 'dummy' cassette gets inserted into your car stereo's cassette deck – the sound will be played through your car's system.
There are several of these around. For under £10, there's the Ross Car Cassette Adaptor from Argos, with a 'bass boost' feature.

What about my old records?

Got a huge vinyl collection tucked away in the loft? Get yourself an ION USB turntable that connects to your PC – You can use this to transfer your old singles, albums and even 78s to MP3, WAV or WMV format – ideal for your iPod or MP3 player. Bundled software allows to you copy music at double speed, and can automatically remove crackles and noise from your records.
Available from Maplin , Firebox and I want one of those

Accessories?
If you're looking for accessories for your MP3 player, such as spare headphones or a case, try AdvancedMP3players.co.uk and Amazon. There are also some excellent bargains to be had on ebay, including new clear cases – try a search on ebay.co.uk.

Links
DAB radios – A list of DAB radios available in the UK
DAB forum – Get talking and ask for advice in our Digital Radio forum