Pure DMX-50 DAB Micro System Reviewed



The Pure DMX-50 was released in December 2005. We first saw the DMX-50 at the Best of Stuff show in London in the early half of November 2005 and were very impressed.
We now have access to the DMX-50 for review, and this page contains our look at this combined DAB/ CD / FM / SD Micro hi-fi system.
The DMX-50 is manufactured by DAB Digital Radio experts Pure Digital, and is a hi-fi Micro system with DAB / FM tuners, CD player and an SD slot to allow playback of MP3 files from an SD memory card.
In October 2006, Pure released an updated version, the DMX-60.
For more on DAB, see our DAB Digital Radio Explained page, or discuss digital radio in our DAB forum.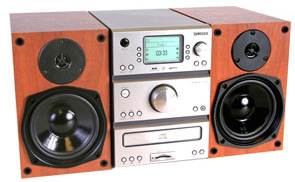 The Pure DMX-50 is the world's first DAB Digital Radio and FM micro system to include support for SD memory cards, bringing all the advantages of digital technology to a compact and stylish audio system.

Using Pure's ReVu technology, the DMX-50 supports pause and live-rewind of digital radio and can record multiple tracks or complete radio programs to a removable SD card. You can then play back the recordings on the DMX-50 itself, or when out and about with a compatible MP3 player.
The DMX-50 supports both DAB digital radio and FM radio with RDS, as well as CD Audio (including support for CD text). The FM receiver has RDS which provides station name listing and RadioText. DMX-50 stores FM station names to allow alphabetic display and selection by station name. Up to 99 radio presets are provided too.
MP3 files can be played back on the DMX-50 either from SD card or a CD containing MP3 data files – subfolders are supported. Two auxiliary inputs make DMX-50 the ideal companion for an iPod, Zen Micro, Zen VISION:M or other portable music player when users are at home. Digital SD card storage supports multiple recordings.
The DMX-50 offers 40 Watts RMS output power per channel and custom-wound 5 ¼" woofers, and 19mm Mylar-dome tweeters. It has a stylish metalised fascia and is accompanied with wooden speakers in a Rosewood coloured finish with removable grills.
The Pure DMX-50 also has a USB slot, allowing users to download any software upgrades that are made available via www.pure.com/support.
Availability:
In Oct 2006, Pure brought out an updated model, the Pure DMX-60. Here's what we have on availability of the DMX-60:
Please let us know if you can help us source this product at a lower price online
Pure DMX-50 Review
We've now had the Pure DMX50 for a couple of hours
(thanks to very prompt service and free next day delivery from AdvancedMP3players just before Christmas), and are very impressed.
The Pure DMX-50 Micro System supports a good lineup of audio: DAB, FM, CD and MP3 – We're strong supporters of both DAB digital radio, and radio recorded onto MP3 (so playback on the move), so this micro hi-fi unit combines the best of both worlds for us – we're able to record DAB straight onto an SD card, and we can play back existing MP3 files either from the SD card, from a CD (direct playback of MP3 data files, not just CD tracks), or by connecting our Zen Micro direct into one of the two Line In sockets.
For anyone with an existing MP3 collection, or someone that's looking to record DAB, this is a great unit, and currently top of our DAB recommendations list.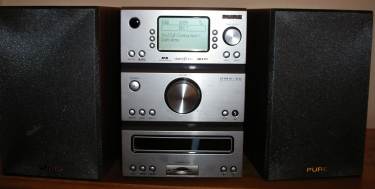 The DMX50 feels very well constructed and sounds great – we can't fault the construction or the sound quality. Personal favourite feature for us, is the large backlit LCD display, which shows date, time, station name, radio text, track listings, signal strength, and all sorts of other bits of information – nice clear readable screen with a smooth vertical scrolling DAB digital text.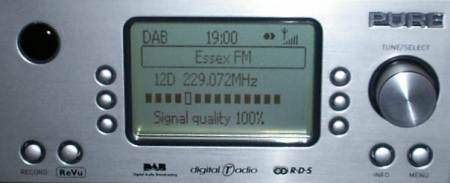 Controlling the DMX-50 via the knob to the right of the screen is very straightforward, and considering the features packed into this unit, usability is very easy, and there's no learning curve.
The DMX-50 has two line-level inputs, so with the right adapter, can be used to play audio through your Zen or iPod, or from a cassette deck or your set-top box, DVD player, etc.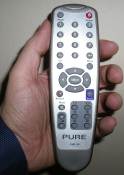 The remote supplied with the DMX-50 does the job well – it's a comfortable hold, seems to have a good range, and has all of the key features, including buttons for Mode, Info, Menu, Save, Record, ReVu and Mute.
If using the DMX-50 in the bedroom, you'll find that there are a couple of handy extras – namely a sleep timer, and an alarm.
Any negatives? Not as yet. Out of the box, the DMX50 comes with one of those T wire aerials (that we hate). We're in a weakish DAB area, so hopes weren't high with this type of aerial, but we got a strong signal on our local stations, and acceptable reception of our most remote station. The aerial socket on the back of the Pure is a F-type connector, not the standard UHF connector we were expecting, so sadly we haven't been able to try out the reception with our external aerial (a trip to Maplin for an adapter beckons).
Update Feb 2007: When we first reviewed this product, our one disappointment was that, even though the DMX50 has a clock, and the ability to record, there's no support for timer recording of radio shows (which seems such a logical thing for people to want to do). The good news is that in February 2007, Pure released an upgraded version of the DMX50 software (version 2.3) that added support for an electronic programme guide, and timed recordings. Nice one, Pure!
Summary: We're impressed. A good unit – CD, DAB and MP3 all in a small, smart system. Highly recommended
Update Jan 2006: Our DMX-50 developed a problem playing CDs – we're getting the message "Reading CD" followed by "No CD". We ended up returning our unit to suppliers Advancedmp3. A replacement unit has been received, and we can't reproduce the problem. Other forum users have reported a problem with "No CD" messages, and it seems that Pure Technical Support has a software patch for this, which we assume will soon be loaded to Pure's DMX50 support page.
Specification:
Amp: 40W RMS per channel
DAB: Band III stereo receiver (174-240MHz). 99 presets
FM: Supports RDS and Radiotext. 99 presets
Dimensions: 166 x 240 x 252 mm. Speakers: 150 x 240 x 255 mm
Speakers: 8 Ohms impedance, 40W RMS power handling
Connectors: 3.5mm headphones, RF F-connector (75ohms for external aerial), two sets of stereo line-level phono inputs (for AUX inputs), line-level or variable-level output (for connection to a recorder or other amp , S/PDIF digital audio output, USB connector (for software updates and access to the SD card via a PC), spring-clip speaker terminals.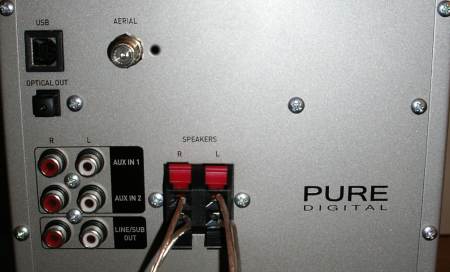 Rear of the Pure DMX-50
Frequently Asked Questions
Other options

The menu allows access to the following other features:

Audio: Adjust bass and treble, Balance, Subwoofer YES/NO (where one is connected to Line/Sub out)
DAB: Guide settings, autotune, station order, intellitext, manual tune, DRC
Screen: Brightness for active or standby modes
Timers: Set up a recording on a timer
Alarm: Wake up at a set time to DAB/FM or tone. Set alarm volume
Sleep: Switch off after intervals from 15 to 90 mins
Software version: Display version and serial number. Update software via USB

Software updates

At the time of writing, the version number of software is:

We assume if a new version appears, it'll be available here. If you know of a newer version, please let us know.

Speakers?
In some of the online pictures we've seen of the speakers, they look almost completely black, and in some cases, the speaker cones are visible, whilst in others, they're not. The speakers are in fact a pair of rosewood speakers with 5.25 inch woofers, and 19mm mylar-dome tweeters. The dark grey front panel of each speaker can be removed to reveal the cones. Click on the following two links to open photos of the speaker, side-on with cover and without cover.
Memory cards
The Pure DMX-50 supports playback and recording using SD Cards (Secure Digital). These postage-stamped sized memory cards come in sizes from 16Meg up to 1 Gig.

Buy cards? For a list of low-cost SD card suppliers, see the page at FileSaveAs
MMC? We've tried using a 32Meg MMC card (formatted with FAT). No luck. We've tried formatting the card in the Pure, but we get "Unable to format". Best advice is to stick with SD – if you need an SD card reader for your PC, these are only about £10

Aerial
The rear of the DMX50 has an RF F-type aerial connector (75ohms). The unit is supplied with a 'T' shaped wire aerial, but it's possible to use a different aerial if you prefer. It's best to go with an external aerial where possible, to ensure the best signal. If you're looking for DAB aerials or connectors, give Maplin Electronics a try.
iPod / MP3 players
We've been asked if you can connect an iPod, or other mp3 music player direct to the DMX-50. The DMX-50 has two sets of auxiliary Line In phono sockets, so you can connect the output of your portable music player to one of the spare Line Ins on the DMX50.

To do this, you'll need to connect from the 3.5mm headphone socket on the portable player to two male phono plugs. This will let you to connect to the Pure's stereo's line level AUX input, although note that you will need to turn the headphone volume down to a low setting to avoid overloading the line-in. You can find a suitable lead at AdvancedMP3players or Maplin (Part: L32BA)

Note that you can't use the USB socket for direct connection to an mp3 player.

Pure Bug Recordings

Thanks to Jeff G answering this question: "I have just contacted Pure help/services and the have confirmed that if a recording is made on the Pure BUG DAB radio, the SD card can be transferred to the DMX-50 for playback… very handy!"
Record onto SD card
We've been asked if it's possible to make a recording of audio on the AUX feed input onto SD card. We tried, and got the message: "Record only available in DAB mode".
Turntable
We've been asked if you can connect a Turntable / record player to the DMX50. The answer is yes, sort of… A standard turntable's output is unamplified. The Pure DMX does have two aux line phono input sockets, but they're designed for "line-level" inputs, like tape machines and sources that don't need the same level of amplification as a turntable. There are a couple of options to get a turntable to work with the Pure DMX-50:

If you don't have a turntable – consider the ION USB turntable. This has a pre-amplified output suitable for direct connection to a line-level input. Available from Maplin , Firebox and I want one of those.
If you have an existing turntable, get a stereo phono pre-amplifier from Maplin

Update: There's also a USB audio cassette converter available. Check out the USB Cassette converter from Firebox, Argos and Maplin.

What about AM?

The DMX-50 doesn't support medium wave (AM), just DAB or FM. Note than many of the AM stations out there are available on DAB, often in stereo

Supplied with…?

The Pure DMX-50 and speakers are supplied with a remote control (2 x AAA batteries included), 2 x 3m speaker cables, bootlace (T shape) DAB/FM aerial, 20 page manual

Reset?

To reset the DMX-50, press and hold the Menu button for three seconds, then select the option to reset
Cassette machine
A question from site visitor Janet Burrows: "Thinking of purchasing the Pure DMX50 is there a cassette deck that can be purchased for it?"

The Pure DMX-50 has a stereo output (two x RCA phono output sockets) so can be connected to any cassette deck that supports a 'line level' input. Cassette decks are in short supply these days, as they're being phased out in favour of CD and MP3, but you can still get them at Argos
Links
DAB radio models – View comments on the range of DAB receivers
DAB forum – Get talking and ask for advice in our Digital Radio forum