Green Wing – Series Details
Information on the UK TV comedy series from Channel 4, Green Wing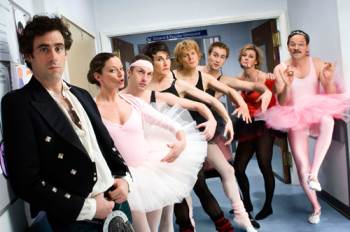 Top comedy from the Channel 4 Friday Night stable, this is a slightly surreal medical comedy packed with top comedy performers that you'll recognise from other favourite sitcoms such as Coupling, Black Books, Brittas Empire and Spaced.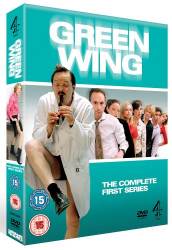 The BAFTA award-winning comedy series, Green Wing first screened on Channel 4's Friday night comedy slot in 2005, with a second series in March 2006, and centres around several of the doctors of the dysfunctional Green Wing. This is a fast-paced and off-the-wall creation devised and produced by Victoria Pile (Smack the Pony) – an odd hybrid between sitcom and sketch show, with some superb writing.
At the start of the series, we see new surgical registrar, Dr Caroline Todd (played by Tamsin Greig – 'Fran' in another top Friday night comedy, Black Books) join the team, and get a good introduction to the goings-on and the personalities.
We check in on the ongoing relationship between radiologist Dr Statham (Mark Heap) and the HR Director Joanna Clore (aka Mrs Brittas actress Pippa Heywood). Dr. Macartney (Julian Rhind-Tutt, who guested in Black Books) plays the suave medical man, there's the nervous junior doc Martin Dear (Karl Theobald) and the gorgeous Dr. Angela Hunter (Sarah Alexander, aka "Susan" from our number 1 favourite show Coupling).
Excellent cinematography, a cracking script, and some of the top new comedy faces – definitely one to watch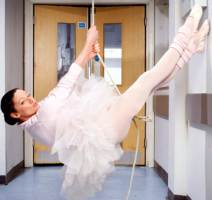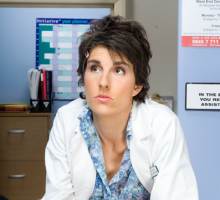 Green Wing Series 2
The critically-acclaimed Green Wing returned for a second series in March 2006. From the award-winning team behind Smack the Pony, this genre-defying comedy continues to prove that filming in a hospital doesn't have to involve any reference to medical issues. Part surreal soap, part comedy drama, its characters now face the unenviable task of clearing up the mess they left behind at the end of series one.
The series boasts a collection of award-winning writers: Victoria
Pile, Robert Harley, James Henry, Stuart Kenworthy, Oriane Messina and Fay Rusling, Richard Preddy and Gary Howe.
Green Wing Cast:
The top-notch cast include:
Dr. Caroline Todd – Tamsin Greig (Black Books)
Dr. Macartney – Julian Rhind-Tutt (Notting Hill, Black Books)
Dr. Alan Statham – Mark Heap (Brass Eye, Brian from Spaced, Big Train)
Dr. Angela Hunter – Sarah Alexander (Coupling)
Guy Secretan – Stephan Mangan (I'm Alan Partridge)
Oliver Chris (The Office, Nathan Barley)
HR Director Joanna Clore – Pippa Heywood (Brittas Empire)
Staff Relations Counsellor Sue White – Michelle Gomez
Junior Doctor Martin Dear – Karl Theobald
Watch Green Wing online
Green Wing is available for on-demand viewing. Channel 4 has launched 4oD, an online video-on-demand service. many of their programmes are available for download to your PC. Watch recent shows and classic Channel 4 shows from your desktop.
Download the free player from www.channel4.com/4od. Shows are also available from www.apple.com/itunes
Green Wing News
Series 1 DVD released on 3rd April 2006. The complete Green Wing Series 1 features all nine episodes plus 40 minutes of exclusive DVD extras. The extras include: cast and crew audio-commentaries, deleted scenes, the making of Green Wing featurette and cast/crew biographies. The DVD is available at Amazon.co.uk for £14.99 (2 disk set)
Series 2 – Started on Friday 31st March 2006

If you've got any thoughts on Green Wing that you'd like to share, admit yourself to our UK Comedy Forum