Technika Smartbox 8320 HD Freeview Recorder
Details of this Freeview HD Recorder with online TV service, wi-fi connectivity, export to USB and more.

Released in the second half of 2010, this is a high-spec Freeview HD recorder that also offers on-demand content over the Internet.
Here are the Smartbox 8320 headlines:
Freeview HD – BBC, ITV and Channel 4 HD subscription-free
Twin Digital tuners – Record two programmes at the same time
Pause, rewind and record live television, with Series Link.
Thousands of hours of on-demand content (BBC iPlayer, Sky Player, Fetch TV , Movies)
Share photos, music and video from your PC to your TV.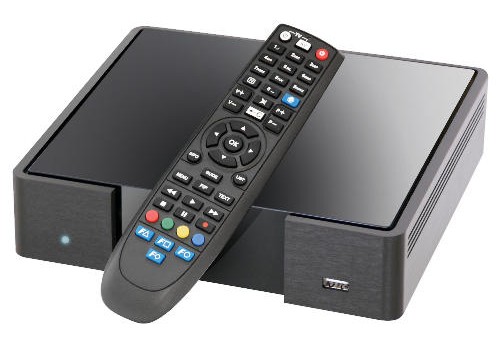 Technika Smartbox 8320 Freeview HD Recorder
What does the Smartbox 8320 Offer?
The Technika SmartBox 8320 has a 320GB hard drive for recording Freeview content in standard definition or high definition. Provided you're in a Freeview HD coverage area, you can watch BBC One HD, BBC Two HD, ITV 1 HD and Channel 4 HD – all without subscription.
The box can also upscale standard definition Freeview for improved picture quality, supports digital audio and has two recorders to allow you to watch one channel while recording another.
There is an 8 day one screen programme guide, as well as, an online TV guide with remote recording capability to set recordings on your SmartBox when you are on the go. There's also an iPhone app to enable you to set a recording over the Internet.
Fetch TV iPhone app

Thanks to this free app, you can use an iPhone, iPad or iPod Touch to set up recordings remotely on a Smartbox 8320. The app provides access to programme listings for Freeview, and allows you to select a show for recording. The request is sent over the Internet to add an upcoming programme to your box's Programme Guide.

The app makes for a handy, searchable Freeview listings guide, with the advantage of being able to pick an interesting show for advance recording.

The Fetch TV App is available fore free in the iTunes Store. Fetch TV App Link
Smartbox 8320 Media Support
The Smartbox 8320 has two USB ports that let you export and store TV programmes on an external drive.
The Technika SmartBox 8320HD has a built in Media Centre that can be used to watch photos and video, plus listen to music, streamed from your PC to your TV.
Smartbox 8320 Online Services
The Technika SmartBox 8320 connects to the Internet either using wi-fi or an Ethernet cable, and gives you access to the Fetch TV service.

When connected, you get access to the following:
Movies and TV on demand
Other web video
Technika Smartbox 8320 Connectors
Here's an overview of the connectors and sockets on the Technika 8320:

HDMI Output
10 Pin DIN for SCART connectivity
S/PDIF Digital Audio
Ethernet RJ45 network in
2 x USB socket
RF Aerial In
RF aerial Out (loop – not modulated)
Stereo audio phono out
Supplied with: HDMI lead, remote control, 2xAAA batteries, power supply, DIN-to-SCART adapter, RF aerial cable.
More on the Smartbox?
We have some discussion about this model in our Fetch TV forum – take a look
Useful Links