Unofficial Guide to the BBC iPlayer
We take a look at the BBC's iPlayer video on demand service, including the various ways to watch on-demand content from the BBC.

What is the BBC iPlayer?
The BBC iPlayer launched in December 2007. It's the BBC's catch-up TV service, providing free access to recent BBC TV shows. With the catch-line "Make the unmissable, unmissable", the BBC iPlayer offers the following:
A streaming TV service – watch BBC TV shows from the last 7 days without having to wait for them to be downloaded
A TV download service – Download recent BBC TV shows to your PC within 7 days of broadcast – you have thirty days to watch them before they self-destruct
Radio – Listen live to the BBC national stations, and access the BBC Radio "Listen again" service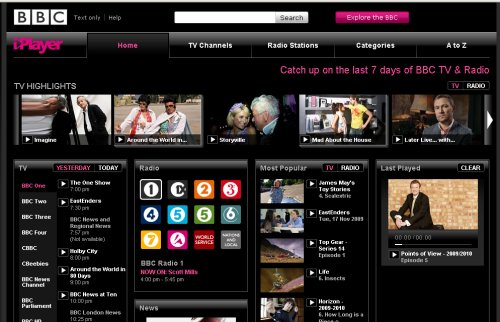 BBC iPlayer on a Windows PC
TV shows are available from the following channels: BBC1, BBC2, BBC3, BBC 4, BBC News, BBC Parliament, CBBC, Cbeebies and BBC Alba.
42 million TV shows were accessed in the three months after launch, with 17 million shows accessed in March 2008.
Note that for rights reasons, not all shows and films shown on the BBC are available on the BBC iPlayer, and it's typically only BBC shows, not films or US shows that are screened on BBC.
BBC iPlayer: Watching on a PC or Mac
Streaming runs on PC, Mac and Linux from www.bbc.co.uk/iplayer via a web browser.
Downloading content requires you to download the BBC iPlayer Desktop client, which is available for Windows, Mac and Linux.
BBC iPlayer: Watching on a TV
Virgin Media: At the end of April 2008, the BBC iPlayer became available to over 3 million Virgin Media customers via the Virgin cable set-top boxes. Virgin Media customers can access iPlayer via the Red Button.
YouView: The BBC iPlayer service is available on YouView set-top box. Pick up a free BT YouView box here: youview.bt.com
Freesat: BBC iPlayer became available on Freesat in December 2009 (BBC iPlayer on Freesat).
Freeview: BBC iPlayer is available on some Freeview HD boxes and most Internet-enabled Freeview HD TV sets.
Sky Satellite TV: BBC iPlayer is now available on a Sky Digital Sky+ HD box.
iViewer TV with BBC iPlayer – 32" HD TV with connection to Broadband to get iPlayer direct without a box or PC. iViewer Details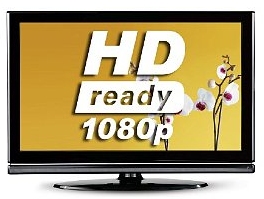 BBC iPlayer: Apple iPhone and iPad

In March 2008, the BBC iPlayer became available on Apple iPhone and the Apple iTouch. BBC iPlayer is accessed through the phone's Safari web browser (via www.bbc.co.uk/iplayer), and it requires a wi-fi connection to handle video playback.
In February 2011, a dedicated BBC iPlayer application became available for the Apple iPad (available free on iTunes App Store)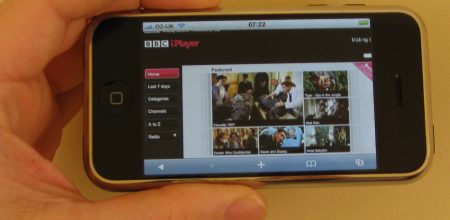 BBC iPlayer on the Apple iPhone
BBC iPlayer: Games consoles
In April 2008, BBC iPlayer became available on the Nintendo Wii games console, via the Wii's Opera browser. From November 2009, the BBC iPlayer got its own channel on the Nintendo Wii.
At the end of 2008, BBC iPlayer became available on Sony's PS3 console. In September 2009, a link was added to the PS3's XMB menu, linking straight to the iPlayer site, and apparently the PS3 accounts for a sizable amount of iPlayer usage now.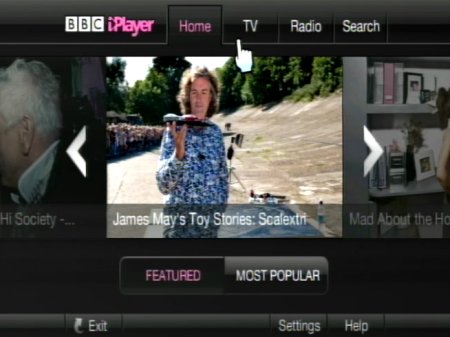 BBC iPlayer on the Nintendo Wii
What about shows over 7 days old?
The BBC iPlayer only supports BBC programming broadcast over the last seven days. However, a sizable range of BBC programmes is now available over iTunes.
Shows purchased from iTunes aren't free – as an example, an episode from Series 2 of Torchwood costs £1.89. Once purchased though, a show is yours to keep. BBC shows can be downloaded from www.apple.com/itunes.
BBC iPlayer: The Future
What's the future for iPlayer? Well, there have been rumours of auto "series link" downloads being made available, as well as the addition of the option to buy older BBC shows from BBC iPlayer as you can now with iTunes.
In February 2010, a service called SeeSaw launched, and this service offered a selection of older BBC shows, as well as content from ITV, Channel 4 and Channel 5. It was originally planned that SeeSaw will be adding extra BBC content on an ad-funded or pay-to-view basis. More info on SeeSaw: SeeSaw TV Service Explored.
There's also the YouView product (codenamed Project Canvas), which should launch some time in 2012.

BBC iPlayer issues?
At the start of April 2008, Internet Provider Tiscali (now TalkTalk) started making public noises about BBC iPlayer – specifically that with more and more people watching TV over Broadband using BBC iPlayer, there was a danger of the Internet slowing down.
With 42 million shows downloaded in the first few months of BBC iPlayer going live, Internet providers are going to start having to make changes to their infrastructure to support this increased demand… and Tiscali think that it should be the BBC that pays the bill for these upgrades. Again, we'll have to wait and see.
Useful Links