Fetch TV – Digital TV Service Explored
This page offers an overview of the UK digital TV service, Fetch TV.
What is Fetch TV?
Fetch TV launched in November 2008 – It's a digital TV service that combines Freeview with downloadable content over Broadband.
The service offered by Fetch TV is broadly similar to what's on offer with BT Vision, although the main Fetch TV site doesn't go out of its way to outline what content is available for download over their service, or go into too much detail about what content Fetch TV offers.
There's some discussion of Fetch TV over in our forum – Fetch TV Forum
Fetch TV Overview: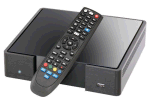 The service went live in 2008. Here is a quick summary:
Price: The service is subscription-free. The Fetch TV Smartbox 8000 costs around £170, and the Smartbox 8320 (which includes Freeview HD) costs just over £200.
Content: A number of movies are available, as is streaming content from BBC iPlayer, CNN, and from 2010, Sky.
The service: We don't have much information on the actual content on offer, as the Fetch TV site doesn't go into much detail. It's worth noting that two similar Video-on-Demand services have launched in the past using NetGem boxes – TVMax (2006-2007) and a service using the Evesham iPlayer. Both services were short-lived, and are now no longer available.
Fetch TV Alternatives?
It sems that Fetch TV is no longer available. As an alternative, consider either YouView. From BT, you can get a high-spec set-top box to subscribers of their TV service, over 7200 TV shows on-demand, movies as well as catch-up TV from BBC, ITV, Channel 4 and Channel 5.
If you're looking to watch content over the Internet and are unsure about Fetch, you may want to look at youview.bt.com

Fetch TV User Reviews
Whilst we've not been able to review Fetch TV ourselves (as Fetch TV don't seem interested in loaning us a box), some of our visitors have supplied reviews:
Thanks to Robin Banerji for the following:
Re. the Fetch TV Smartbox 8000. They need to rename their product to the dumb-box. This has got to be one of the most awful bits of kit I have ever purchased. It just doesn't work. Programmes recorded on the box have gaps missing in them so that you could watch the first ten minutes of a programme and then suddenly find you have jumped forward 5 or 10 minutes. It makes programmes completely unwatchable.

I am not surprised that John Lewis has stopped selling it – the only place this bit of kit should be put is in the bin. It is also probably why Fetch TV are not inviting any reviews or responding to customer complaints. I e-mailed them months ago and have heard nothing.
Thanks to Wendy Reid for the following:
I purchased the Fetch TV Smart box and whilst it isn't a complete disaster, it is pretty awful. Worse of all is the sound quality which keeps jumping around, one minute loud the next soft. It also occasionally stops recording and frequently won't respond until you pull out the power lead and re-connect it.

Some updates have helped such as the one that fixed the 'no sound at all' problem but I wouldn't recommend it.
Thanks to S.J Day for the following response:
I couldn't disagree more with the previous comments. I got my Smartbox 8000 in July and it is the best digibox I have ever had and, definitely, my purchase of 2010. It is fantastic. I have my house networked so it can access all my media files with the Smartbox and it streams every video file I have. The quality is also better than on my PC. It will also record TV, which can be exported via usb and, or course, the BBC iPlayer, which is brilliant. My 6 year old daughter can access media files and the iPlayer with ease, so clearly it is easy to operate. I did pay £15 to see what Sky Player was like. I immediately cancelled, so you can draw your own conclusions! Fetch content is also pretty poor, but so what. This is a great piece of kit. Occasionally it does freeze but not often. Then again, it does do more than any other digibox on the market. I, for one, would not swap it. 10 out of 10.
Technika Smartbox 8320:
The Technika Smartbox 8320 appeared in mid-2010 at Tesco. Here's what it offers:
Freeview HD (BBC, ITV and Channel 4 HD without subscription)
320GB hard drive recorder
BBC iPlayer, Sky Player and online movies
wi-fi and Ethernet
Steaming media and USB support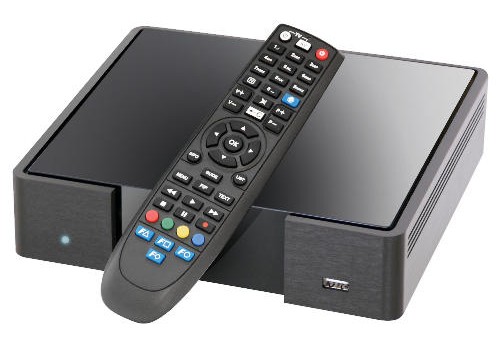 More details: Technika Smartbox 8320 information
Fetch TV 8000 Smartbox:
The Smartbox 8000 is the second generation of Fetch TV box. It became available in July 2009.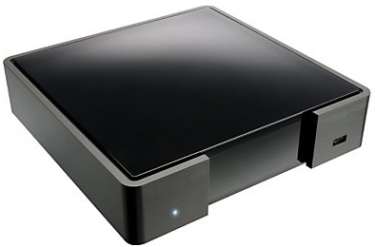 The Fetch TV Smartbox 8000
Here's what the Smartbox 8000 offers:
Record around 80 hours of TV with the 160GB hard drive
Freeview receiver – over 40 channels of live TV (channel list)
Pause and rewind live TV
Catch-up TV service from BBC iPlayer, and Sky Go, plus web videos from Channel 4 and Discovery Channel
8-day programme guide
Download music and TV shows – no subscription, just pay-to-view content
Play music and video files, plus view photos from your PC (or via USB) on your TV
Upscale Freeview for a better viewing experience on an HD-ready TV (via HDMI)
Availability:
No discontinued at John Lewis, Currys and Carphone Warehouse. Seems you can only get this from Fetch TV's site
Alternatives? Consider a YouView box
Fetch TV Smartbox 8000 Specification
Dimensions: 205 x 205 x 50mm
Hard drive: 160GB
Inputs: RF aerial, Ethernet, 2 x USB
Outputs: HDMI, mini-DIN A/V, 3.5mm stereo headphones, S/PDIF digital audio, RF loopthrough (not modulated)
Connectivity: Ethernet or wi-fi
Fetch TV 7000 Smartbox
The Fetch TV Smartbox is manufactured by French firm NetGem, the makers of the now obsolete BT iPlayer unit. We've previously been big supporters of NetGem, although NetGem has been criticised by some members of our NetGem forum for not providing long-term support and updates for their products.
Smartbox 7000 availability: Originally priced at £150.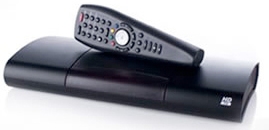 Details on the Smartbox 7000:
Freeview Receiver
80Gig PVR hard disk recorder (for 40 hours of Freeview recordings)
High-definition HDMI output
8 day EPG (Electronic Programme Guide)
Pause and rewind live TV
Internet browser
Export recordings to a connected storage device (via USB)
Share content from a PC.
Fetch TV iPhone app

Thanks to this free app, you can use an iPhone, iPad or iPod Touch to set up recordings remotely on a Smartbox 8320. The app provides access to programme listings for Freeview, and allows you to select a show for recording. The request is sent over the Internet to add an upcoming programme to your box's Programme Guide.

The app makes for a handy, searchable Freeview listings guide, with the advantage of being able to pick an interesting show for advance recording.

The Fetch TV App is available for free in the iTunes Store. Fetch TV App Link
Fetch TV: Our verdict
We've not been able to put together a full Fetch TV review as yet, and IP Vision don't seem in a hurry to get back to us about a review. Accordingly, at this time, it'd be unfair of us to make a judgment.
Pro's: Boxes made by NetGem do seem to have something of a following, and we were always impressed with our old iPlayer set-top box.

Con's: Warning sign for us is that two previous TV-over-Broadband services launched in 2006/2007 using NetGem hardware, and both have since been discontinued. Also, there's no mention on the Fetch TV site of the type of on-demand content on offer – if the content were great, surely they'd be boasting about it? In April 2010, the Fetch TV box was discontinued by John Lewis.
Fetch TV Alternatives?
It sems that Fetch TV is no longer available. As an alternative, consider either YouView. From BT, you can get a high-spec set-top box to subscribers of their TV service, over 7200 TV shows on-demand, movies as well as catch-up TV from BBC, ITV, Channel 4 and Channel 5.
If you're looking to watch content over the Internet and are unsure about Fetch, you may want to look at youview.bt.com

Useful links: