How to Get ESPN on Freeview
Looking to get sports channel ESPN on your Freeview TV set, or set-top box? We'll provide you with details on whether you can get ESPN on Freeview.
ESPN on Freeview?

Until 2013, it was possible to get ESPN with a suitable Digital TV or Freeview set-top box via a TV aerial. Since BT acquired ESPN's UK service, this is no longer possible.
Looking to get ESPN without signing to Sky?
Consider getting a BT YouView box – you'll get BT Sport 1, BT Sport 2 and ESPN. Full details here: BT Vision Sport
My TV has a slot – Can I get ESPN?
Many newer digital TV sets have what's called a CI slot. Into this, you need to slide a CAM (Conditional Access Module). Into a CAM, you can insert a subscription card.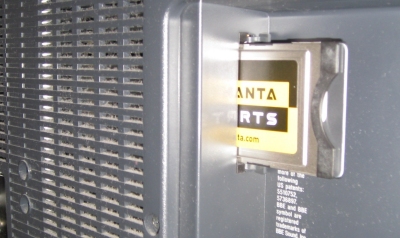 If your TV has a socket suitable for a CAM and subscription card, then you should be able to get ESPN.
Need a CAM and card? Go to www.topuptv.com – Top Up TV manage the ESPN subscriptions on Freeview, and can provide the CAM, card and subscription.
Want to know how to use a CAM? See our CAM Help and Advice section
My Freeview box has a slot for a card. Can I get ESPN?
Probably. While most Freeview boxes are basic, and don't have a card slot, some do, and unless the box is a very old box, you may be able to insert a subscription card and start watching.
If your box is suitable, go to www.topuptv.com and get yourself a viewing card for ESPN.
No card slot?
If your TV has no card slot, and your Freeview box has no card slot, you'll need to get yourself a set-top box that accepts a subscription card. There are three options:

Basic Box


Top Up TV can supply you with a basic Freeview box, the T215. This will be able to receive the main Freeview channels. It has a card slot suitable for ESPN and Sky Sports.

At the time of writing, this costs £49.99, and the first month of ESPN is free. Details, and to order: www.topuptv.com

This box is a little more advanced than the basic box. It supports Freeview HD – high definition TV, and also can get the BBC iPlayer if you connect the box to the Internet

This seems to be a fairly popular box, and is capable of getting ESPN and Sky Sports 1 / Sky Sports 2. As it's a bit more advanced, this is a more expensive box – at the time of writing, the box costs £129.99

Details at www.topuptv.com


BT Vision V+ Box


BT Vision combines Freeview and on-demand TV… movies and TV shows over the Internet.

The BT Vision box is a hard-disk recorder, supports HD films and a decent library of on-demand content.

The box supports ESPN and will soon be offering Sky Sports. Currently, ESPN is free if you subscribe to the BT Vision Unlimited package. Go to vision.bt.com for the details.
ESPN Freeview FAQ:
To discuss ESPN, or for help with Freeview or ESPN, please contact us, or visit our forum

Other links: