Hauppauge TV and Radio PC Cards
Hauppauge provide a range of products that allow TV on your PC. These include TV viewers, TV and radio viewers, and PVRs (that let you record video onto your PC, live a video recorder). Digital TV (Freeview), Satellite, Teletext and Radio is also supported on some of their range.
For more on connecting TV and radio to your PC, see our on your PC page.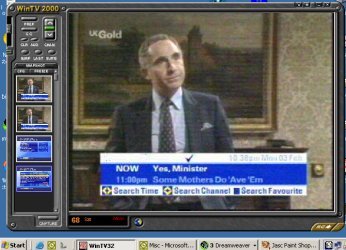 Watch TV on your PC, with Hauppauge



Hauppauge WinTV Go

This is a basic PCI card for your PC, that allows you to watch TV on your PC. It's not stereo, doesn't support radio or digital TV/satellite, but is great for watching the main TV channels, or signals from a video recorder or Freeview set-top box. It allows you to view and download Teletext, take still images/screenshots from TV broadcasts, and record short AVI video clips. The card plugs into a free PCI slot inside your computer, and is supplied with a lead to connect to your soundcard's line-in socket, plus a CD of extra software, and the drivers needed to install the card. Accepts TV signals via a co-ax socket mounted on the card.

Available for £31.50 from John Lewis
Available for £32.90 from Amazon





Hauppauge Win TV PVR

Watch TV in a resizeable window on your PC screen. While watching TV, WinTV-PVR takes up no system resources, so you can surf the net without any loss of performance. Pause and replay your TV shows, record them to disk or burn them onto CD-ROM. Schedule your TV watching and recording with WinTV-Scheduler and create Microsoft AVI or MPG movies.
Available as a PCI card (slots inside your PC), or as a USB device.

Available priced £149.99 from PC World (USB)
Available priced £159.99 from PC World (PCI)
Available priced £179.99 from Amazon (PCI)
Available priced £199.99 from John Lewis (PCI)




Hauppauge PVR250

Watch TV in a resizeable window on your PC screen. Pause and replay your TV shows, record them to disk or burn them onto CD-ROM. Schedule your TV watching and recording with WinTV-Scheduler. Create MPG movies and turn into a DVD using the bundled Ulead DVD Moviefactory SE. MPEG-2 hardware Encoder – newest technology of iCompression. MPEG-2 software decoder (playback). 125-Channel storage. 2 Channel Stereo – Nicam Stereo. Record from videos in MPEG-1/MPEG2-Format. PCI card fits into a PCI slot inside your PC.

Available priced £64.99 from Amazon
Available priced £129.99 from John Lewis
Available priced £119.99 from PC World





Hauppauge DEC1000-T

The DEC 1000-t is designed for receiving, decoding and displaying Digital Terrestrial Free-to-Air TV and Radio (Freeview) on a standard analogue TV set or video recorder (and not via your PC, as with other Hauppauge products). The DEC 1000-t comes with all the cables to allow you to connect to a TV set through the supplied SCART cable, and also has a modulated output for TVs without a SCART socket. Launched Feb 2003 – Black and Silver versions available.

Available for £65.89 from Amazon





Hauppauge DEC1100-T

The DEC 1100-t is designed for receiving, decoding and displaying Digital Terrestrial Free-to-Air TV and Radio (Freeview) on a standard analogue TV set or video recorder (and not via your PC, as with other Hauppauge products). The DEC 1100-t comes with all the cables to allow you to connect to a TV set through the supplied SCART cable, and also has a modulated output for TVs without a SCART socket.

Hard to find, but listed for £47.99 from Amazon



More details on our Hauppauge DEC1100 page





Hauppauge DEC2000-T

Receive digital TV on your PC. Run either in full-screen mode making your PC monitor behave as a TV, or having a smaller TV screen sitting in the corner of your desktop while you work. Teletext, radio (note that digital radio on Freeview is not the same thing as DAB), video recording and remote control are available accessories for this product. This box also comes with a SCART output, so you can connect to a standard TV or video. It also has a modulated output for TVs without a SCART socket.
Manufacturers site: Click here

Available for £129.99 from John Lewis




Hauppauge WinTV Nova

Receive digital TV on your PC. Run either in full-screen mode making your PC monitor behave as a TV, or having a smaller TV screen sitting in the corner of your desktop while you work. Teletext, digital radio (not DAB), video recording and remote control are available accessories for this product.

PCI version available for £44.97 from PC World.
Both models are available from Amazon.co.uk – prices vary
The Hauppauge range is available from Dabs.com , Amazon.co.uk
, PC World, and Maplin Electronics
Links
Accessories – Including signal amplifiers to improve your Freeview signal

Manufacturers site: www.hauppauge.com

Alternatives?Maplin Electronics has a range of PC cards available, by less well-known names, at lower prices.
Digital TV – The Digital TV options explained
TV FAQ – Frequently-asked questions on TV
Sky+ – Pause live TV and never miss an episode of your favourite show