Hauppauge DEC1100-T Freeview Digital TV Receiver
This page contains information on the Hauppauge DEC1100-T Freeview Digital TV Receiver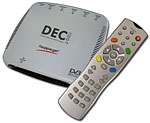 The DEC 1100-t is designed for receiving, decoding and displaying Digital Terrestrial Free-to-Air TV and radio on a standard analogue TV set or video recorder (and not via your PC, as with other Hauppauge products).
With the DEC 1100, you can receive Freeview TV and radio channels via your TV aerial without a contract or a monthly subscription – the one-off purchase price of the box is all you need to pay for access to channels such as BBC3, ITV2, ITV3, E4, Film 4, News 24, UK History, cBBC and more, as well as around 25 channels of digital radio and interactive content.
For more on Freeview, and to check you can receive Freeview in your area, see our Freeview Basics section.
Availability
The DEC 1100-T became available in October 2004 via Amazon, BT Shop, PC World and other outlets. As of November 2005, it only seems to be available from a small number of retailers, with stocks very low:
Know of another supplier? Contact us

Hauppauge's "Digital Entertainment Centre" – DEC1100-T is easy to install and converts your TV into a widescreen entertainment centre with more than 40 digital TV and radio channels. Digital TV gives you a larger choice of TV channels, with clearer picture quality and better sound. And better still, there's no monthly subscription fee or contract.
This box supports widescreen TV (16×9) as well as standard 4×3. If you have a widescreen TV, this is obviously a bonus, but for standard tellies there's a letterbox mode. The DEC1100T also supports digital teletext and interactive content, subtitles, a timer, software updates over-the-air, parental lock, auto-scan for new channels, and connection to a hi-fi.
The DEC1100-t comes with all the cables to allow you to connect to a TV set through the supplied SCART cable, and also has a modulated output for TVs without a SCART socket.
Mini-Review
Here's our quick look at the DEC 1100T: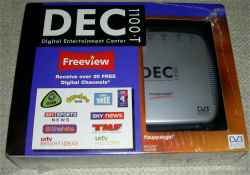 First impressions – tiny! Compared with some of the boxes we've seen, this is a pretty small receiver. We've taken a snap of the box with a £10 note, to give you a feel for scale.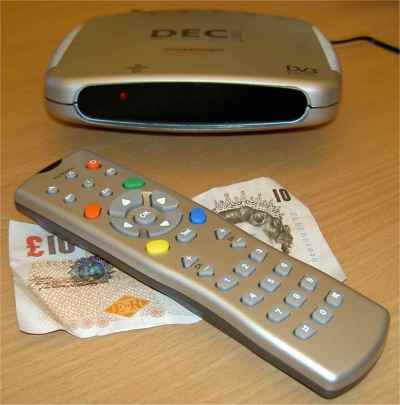 Connecting the box was very straightforward – the main TV aerial goes into the unit, and a supplied co-ax cable needs to go to your TV (or video if using one). If your TV or video has a SCART socket, you should connect the DEC1100t using the supplied SCART lead too (for better quality). To keep the box size down, the SCART connector is via a 9 PIN DIN socket (the supplied lead connects this to a SCART plug).
On connecting the power, the box started up and welcomed us with a message. If not connecting via a SCART, you need to tune your TV (or video if connecting through the video) into the preset channel. For us, this was channel 21 (but you can alter this from the menu later). For general connectivity help, see our Freeview Connectivity Help.
We were then prompted to scan for channels, and the box detected over 70…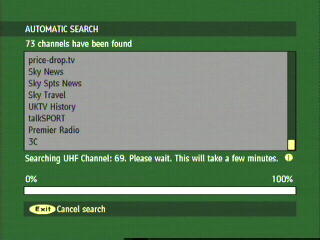 Picture and audio quality was pretty sharp as we'd expect for a Freeview box, and it's pretty easy to use. the remote is not as comfy to hold as some we've looked at, but it does the job, and has a unique 'Zap' button to allow you to hop between the two most recent channels.
The menu button provides access to the channel list, setup, timers and language options. From the setup screen, you can adjust subtitles, widescreen mode and output settings – all very easy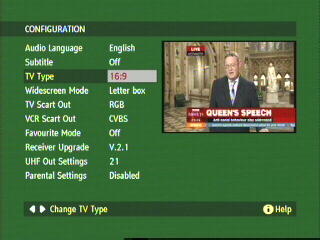 The remote offers an EPG button, which at the moment offers the Now-and-Next Electronic Programme Guide, allowing you to see what else is on whilst keeping the show in vision – a text description is also shown. Alternatively, you can simply press the 'i' button to pop up a transparent now-and-next banner, which also shows the channel's signal strength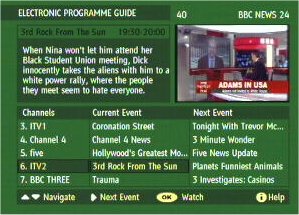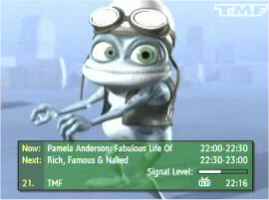 The box supports subtitles, Interactive 'red button' programmes, and digital teletext. This offers extra text or pictures to enhance interactive shows. You can also access digital teletext for the latest news, sport and TV listings from the BBC, ITV and Channel 4.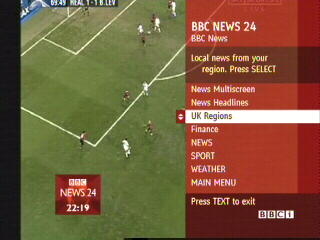 In summary, this is not a bad box! It's recommended for anyone without a spare SCART socket (as it has a built-in modulator). It's also small, and very easy to set up and use – more so than many other boxes out there. Here's a quick summary of some of its nicer features:
Ability to delete channels
Five timers
Favourite channels
Channel zap (swap between two channels quickly)
Parental Lock
Included in the DEC1100 package: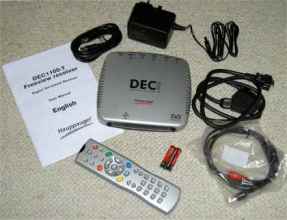 DEC1100-T digital adapter
1 metre RF co-ax cable
1 metre SCART cable (with a 9-PIN DIN socket at the other end)
Instruction Manual
Quick Installation Guide
Remote Control with 2 batteries
12 volt power adapter
Audio lead (3.5mm to 2 x phonos)
Warranty card
System Requirements:
You must be in a Freeview coverage area – check here
Outputs:
The DEC1100-T supports both RGB SCART and RF aerial outputs. SCART provides the best TV picture possible, while the RF output can be used with millions of TV sets with standard TV aerial sockets and no SCART socket.
The DEC1100T also has stereo audio outputs, and digital audio outputs, for connection to your hi-fi or home cinema system.

Links:
FAQ
This section includes the answers to frequently-asked questions we've received…
Connecting your box
The 1100-T can be connected to a TV or video via SCART or CoAx (aerial) socket. It has a pass-through, so you can connect it so that the incoming TV aerial is 'looped through' the box, to feed a video recorder – this means that if connected correctly, you can record terrestrial TV while watching Freeview on the TV set. The Co-ax output is "modulated", so the box can connect to a TV or video that doesn't have a SCART socket.
You can also use the modulated output of the 1100-T to feed a splitter (to allow you to feed other rooms in the house with the box'sFor help with connecting your Freeview box to TV and video equipment, try our Connection advisor, or see our help page

Watch & record digital?

Like most Freeview boxes, the Hauppauge 1100T only has one digital tuner built-in. This means that you can only watch/record one digital channel at a time.
As long as you've set up correctly though, you should be able to watch a digital channel while recording a analogue channel, and vice-versa (see above).

9-pin connector pinouts

To keep the size down, the 1100T doesn't have a SCART plug on the back, it has a 9-pin D plug. This connects to a TV or video via the supplied lead that connects from the 9-pin plug to a SCART socket. We've been asked for the pin connections by a site visitor, so here they are:

D plug -> SCART
1 – 7 (Video Blue)
2 – 15 (Video Red)
3 – 11 (Video Green)
4 – 20 (Video Input)
5 – 6 (Audio In Left)
6 – 16 (Blanking)
7 – 8 (Switching)
8 – 4 (Audio ground) and 21 (common ground)
9 – 2 (Audio Input Right)

Software upgrades
As far as we know, the latest version of software for the DEC1100T is v2.1 – we're not aware of any software updates being released, but it's assumed that these would be sent over-the-air, as opposed to an Internet download. If you have an update on this, please let us know via our Freeview forum

RF Loopthrough

The 1100T has a modulated output plus RF in and RF out sockets, to let you 'loop through to another piece of equipment (such as a TV or a video). This is in addition to the SCART output.
We've been asked if the loopthrough works when the 1100T is in standby – the answer is yes, although it doesn't work if the 1100T is not plugged into the mains.
Use in a caravan?
The 1100 has a 12V power supply connector. We've been asked if it's possible for this box to be powered from a 12v car or leisure battery, as most caravans have a TV which can be powered from 12v DC as well as a mains supply.
Short answer is, we're no experts on such things, and don't have a caravan to test it with, so we don't know. All we can tell you is what we've found from looking at the 1100T box, adapter and manual, to let you make your own call…
The supplied adapter is a 240 volt AC to 12 volt DC adapter, made by TechnoTrend. It's rated at 600mA 7.2VA. 12W max. Centre pin is positive, and the plug has a diameter of approx 5.5mm
If that's enough to help you make a choice, glad we could help! Thanks to site visitor Ian for pointing out that it's important to get the polarity correct, and stating that the unit runs at 12watts (with the appropriate battery drain).
For caravans, also consider the Maplin 8″ Freeview LCD TV