The IT Crowd – UK Comedy Series
Information on the UK TV comedy series from Channel 4, The IT Crowd
"Have you tried turning it off and on again?"
What is the IT Crowd?
The IT Crowd is a UK sitcom that started its run on Friday February 3rd 2006 on Channel 4, and has since had a run of four series. A fifth series is on the way.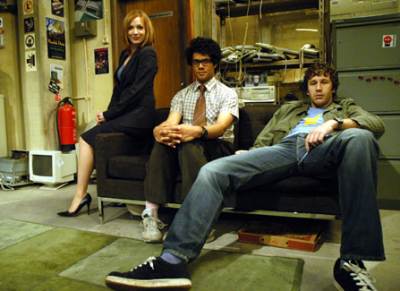 The IT Crowd look at the staff at the heart of centres around the corporate HQ of Reynholm Industries. Whilst in the shining office tower, all is well, in the company's dark basement lies the unloved IT Department.
The two technical support chaps that keep the company's computers running are Roy and Moss. Roy's the lazy one – finishing is donut is far more urgent than a broken PC upstairs, and he's frustrated that most calls can be solved by getting the user to "switch it off and on again". His rude and arrogant attitude is tempered by Moss, who's a socially-inept geek.
To try to shake the IT department into action, the boss of Reynholm Industries (played superbly by Chris Morris) recruits Jen as the IT Relationship Manager – there's just one problem – she knows bog-all about computers.
The series focuses on the day-to-day dealings of this dysfunctional IT Department, and although the series are a little disjointed in places, there are some truly great bits of comedy – such as the plan to replace 999 with a new number – Click here for the YouTube Clip
If you've had to work with or for an IT team, you'll love it – Lots of IT and tech jokes have been cunningly woven into the series, to appeal to tech geeks out there (such as the team here at Radio and Telly!)
This comedy is written by Graham Lineham, the co-creator of Father Ted, and our personal favourite – Black Books.
The IT Crowd Cast:
Roy – Chris O'Dowd (FM, Red Cap)
Moss – Richard Ayoade (Nathan Barley)
Jen – Katherine Parkinson (Doc Martin)
Mr Denholm – Chris Morris (Brass Eye and On The Hour)
Douglas Denholm- Matt Berry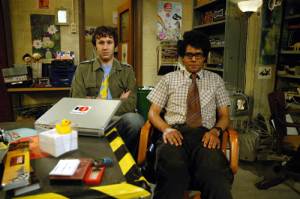 Watch The IT Crowd online
IT Crowd episodes are available for on-demand viewing. Channel 4 has launched 4oD, an online video-on-demand service. many of their programmes are available for download to your PC. Watch recent shows and classic Channel 4 shows from your desktop.
Download the free player from www.channel4.com/4od. Shows are also available from www.apple.com/itunes
IT Crowd Series News
Series 1 DVD: The first DVD, called "Version 1.0" is was out in November 2006 – Available from Amazon.co.uk
Series 2 – Started on 24th August 2007. The IT Crowd Series 2 DVD is out now at Amazon.co.uk
Series 3 – Started on 21st November 2008 on Channel 4. The IT Crowd Series 3 DVD is out now at Amazon.co.uk
Series 4 – Started its run on Channel 4 on 24th June 2010. The IT Crowd Series 4 DVD is out now at Amazon.co.uk
Series 5 – Series 5 of the IT Crowd has been commissioned! Watch this space. We'll update you when we know more!
DVD Box set

– Series 1, 2, 3 and 4 at a silly price – from Amazon

The IT Crowd is a great, slightly quirky comedy that's likely to appeal to those who've worked in the IT sector, or had to deal with the lads and lasses that work behind the scenes of a tech support operation.

If you're into geeky humour – keep an eye out for the US series The Big Bang Theory. Not quite the same kettle of fish as The IT Crowd, but some great tech jokes…

If you've got any thoughts on this show, please demonstrate your IT skills by posting a message in our UK Comedy Forum